« previous post | next post »
"Judge likely to hew jury's prison recommendation in slay sentencing of ex-U.Va. lax player", Washington Post (from AP) 8/27/2012: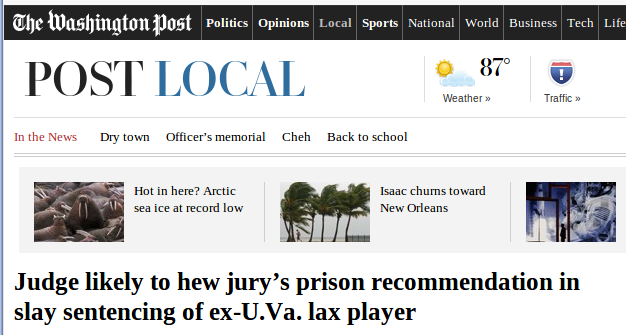 Does this headline mean that, compared to the jury's recommended prison term, the judge is likely to
A) Increase the term slightly
B) Increase the term substantially
C) Decrease the term slightly
D) Decrease the term substantially
E) Leave the term as recommended

If you answered C) or D), you presumably understood the verb hew in the OED's sense 3, glossed as "To cut with blows so as to shape, smooth, trim, reduce in size, or the like". If you answered D), you were probably influenced by association with the force and scope of cutting associated with sense  2, "To strike forcibly with a cutting tool; to cut with swinging strokes of a sharp instrument, as an axe or sword; to chop, hack, gash".
But the answer is actually E), as revealed in the first sentence of the article:
When former University of Virginia lacrosse player George Huguely V is sentenced for the slaying of his ex-girlfriend, the odds are a judge will heed a jury's recommended 26-year sentence and Huguely will serve his time in a state prison without the prospect of parole.
This generalizes a usage that's not in the OED's entry for hew, but is glossed by the American Heritage Dictionary as "To adhere or conform strictly; hold: hew to the line". The underlying metaphor seems to be one of cutting in a way that follows a pre-defined pattern. Thus the motto of the 19th magazine Our Society Journal, "It Hews To The Line, Not Caring Where The Chips May Fall".

The Post's headline generalizes this to a simple transitive form.  This is not unprecedented — thus in the 1912 Proceedings of the Grand Commandery, Knights Templar and Appendant Orders of the District of Columbia, we find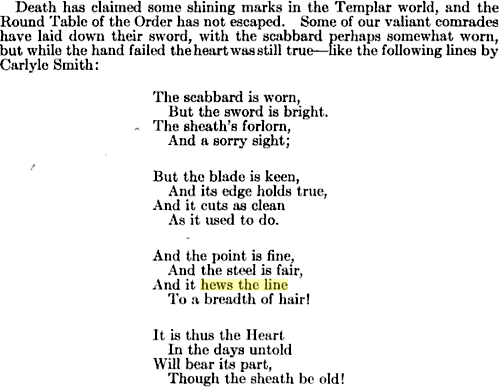 But still, "hewing" a jury's prison recommendation is not a very clear way to describe agreeing with it.
[Tip of the hat to Dan Milton]
---