« previous post | next post »
It is common for Chinese to claim that their ancestors have been drinking tea for five thousand years, as with so many other aspects of their culture.  I always had my doubts about that supposed hoary antiquity, and after many years of research, Erling Hoh and I wrote a book on the subject titled The True History of Tea (Thames & Hudson, 2009) in which we showed that tea-drinking did not become common in the East Asian Heartland until after the mid-8th century AD, when Lu Yu (733-804) wrote his groundbreaking Classic of Tea (ca. 760-762) describing and legitimizing the infusion.
Since people in the Chinese heartland were not regularly drinking Camellia sinensis qua tea before the mid-8th century, I long suspected that they did not have a Sinograph for tea (MSM chá) either.  Rather, based on my reading of texts and inscriptions dating from the 7th c. AD and earlier, I hypothesized that the character now used for "tea", namely chá 茶, was a sort of rebranding (by removing one tiny horizontal stroke) of another character, tú 荼 ("bitter vegetable").
Adam Smith, a specialist on early inscriptional materials, has assembled the following observations to flesh out our findings with more specific details.  [N.B.  Beyond this point is for those who are advanced in the study of the Sinographic writing system.]
Was just thinking about your interesting question. There are a lot of confused opinions about this, and it is quite complicated. I think your sense that 茶 appears only after ca. 8th c. is correct. In fact, 

* seems to be the most common writing before that. There must always have been weird, or incorrect, or non-standard ways of writing cha "tea", just like with any other character, but what you are asking about, I suppose, is when do we start seeing 茶 contrasting with 荼, with the former as the normal way of writing cha "tea".
[*VHM:  U+2363B  木荼 (joined together left and right as one character); pronounced tú or chá in MSM.  This character also appears several times below and is marked with an asterisk.]
The following are the most relevant things that come to mind.
1. 茶 is not so much a substitution for 荼, as just another way of writing it. In medieval mss. the bit at the bottom of 茶 is sometimes written as in 茶, sometimes as in 荼, sometimes like 未, and sometimes like 示. I guess a really fussy transcription might try to distinguish some of these, but I think it is better just to think of them all as 荼.
See the forms in this Qieyun ms. fragment from Dunhuang.
2. 荼 makes historical sense as a character, since yu 余 would be a perfectly regular speller for the Old Chinese source of the Middle Chinese pron. of cha "tea". The bottom half of 茶 has no meaningful analysis: the 艸 makes sense, but the bottom bit is just an arbitrary collection of strokes.
Although 余 is a regular OC spelling for cha "tea", it *looks* (or *sounds*) a bit irregular by the MC period (and in Mandarin, too – we tend to think of 余 as spelling "yu", "chu", "xu" or "tu", not "cha", right?). That is because cha "tea" is a division ii (二等) word, which meant that it developed an MC initial (retroflex stop) and rhyme (ma yun 麻韻) that were rare amongst words spelled with 余. So 余 became opaque as a spelling for cha, and was reproduced purely visually, and therefore inexactly.
3. We can track the appearance and spread of the distinction 荼-vs.-茶 by comparing Qieyun rhyme-book manuscripts with each other and the Guangyun. There seem to be four Qieyun mss. in which the relevant page survives.  They all assert that 

* is the regular writing for cha "tea" (while listing 荼 as a homophone, but only in sense "bitter vegetable 苦菜").
S. 2071 (切三)       

*:春蔵草葉,可為飲,西南人曰葭荼。
"cha: leaves of a plant stored in spring, which can be made into a drink. The people of the Southwest call it ­jia-tu (jia-cha?)."
(Easy to read on the ms.)
P.2011(王一) 

*:…草葉,可為飲,巴南人曰葭

。
(I can't actually see most of this on the ms.)
王三       

*:春蔵草,可為飲用。                  
(This is the complete 706 CE ms. in the Gugong collection.)
王二       

*:一本作梌。春蔵草葉。亦茶。
(I haven't seen the image.)
Only the last mentions 茶 as an alternate writing (and actually one would need to check the ms. image, since the transcription might be an error for 荼).
So, I would say that ca. 700 CE, 茶 has not yet attained any kind of established status contrasting with 荼, not even that of an acknowledged 俗字.
With the Guangyun (1007 CE), the modern graph茶 gets an entry of its own, but it is still the 俗體 to the 正體 of 

*:

*             春藏草葉,可以爲飲,巴南人曰葭

。
茶             俗。
http://ytenx.org/static/img/DrakDzuonDang/volume2/p022.jpg
4. The seal you are referring to is probably the seal which reads "Chaling 荼陵" from a Han tomb, 魏家堆 M19, near Changsha. I can't find the report, if there even is one, but the seal is illustrated in this book.
(No page number on Google Books, but I've attached the seal impression.)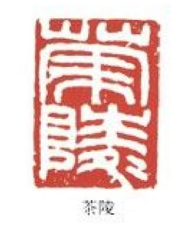 One could argue about whether the bit at the bottom of 荼 on the seal is written as in 荼, or more like 未, or something else. But in the end, it is best just to think of the character as荼, and there is no need for stroke-by-stroke hair-splitting. Regardless, it is certainly not 茶-distinct-from-荼.
This Chaling 荼陵 appears in the Han shu "Di li zhi". Yan Shigu gives two alternative fanqie spellings: ye 弋奢切 and cha 丈加切. These sound pretty different in Mandarin, but they probably come from the same OC source (something like *lˤra) via two dialects. The same place name also appears in the "Wang zi hou biao" of the Han shu, and then Yan Shigu says it is pronounced tu 塗. That would be OC * lˤa. It is sometimes said that this Chaling is named for the tea which was grown there. I've no idea whether that is true.
5. The Hanyu da zidian has a couple of interesting discussions by Wei Liaoweng (early 13th c.) and by Gu Yanwu (17th c.). It is clear that by Wei's time, 茶-distinct-from-荼 was the normal way of writing cha "tea". Wei notes that this was already true in the time of Xu Xuan (a.k.a. 徐鼎臣, 10th c. editor of the Shuowen).
It is interesting to see that both Wei and Gu are making a version of the argument that I made in 2., above, but without the modern understanding of regular sound change, and without a clear distinction between the written and spoken word. In essence they are saying that cha "tea" used to be pronounced homophonous with tu 塗 "road", and that when the pronunciation tu "turned into" (zhuan ru 轉入) cha the change stimulated the new writing 茶 (somehow). Gu Yanwu says that "in old times, the ma rhyme (麻韻) had not yet separated."
What we would now say is that the source of the Middle Chinese division II rhymes like ma 麻 was a medial *r, largely ignored by Old Chinese spelling. So 余 could spell both cha < *lˤra "tea" and tu < *lˤa "road". By Middle Chinese, regular sound changes conditioned by that medial *r meant that this pair no longer looked such a good candidate for a common spelling: cha < drae "tea" vs. tu < du "road".  So the writing for "tea" was free to wander off away from 余.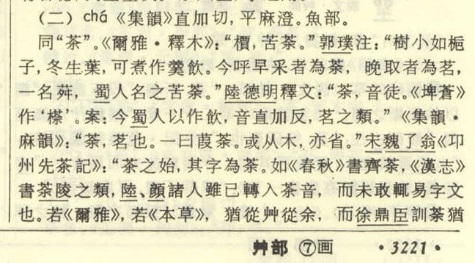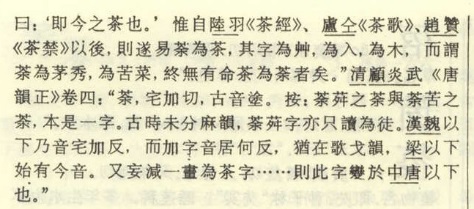 I was especially pleased with Adam's finding that the seal from a Han (206 BC-220 AD) tomb that supposedly reads Chálíng 茶陵 ("Tea Ridge") — and is often cited as evidence for the existence of the character chá 茶 before the Tang period (618-907 AD) — looks for all the world as reading Túlíng 荼陵 ("Bitter Vegetable Ridge").
Adam's phonological analysis of chá 茶 vs. tú 荼 is also most reassuring, and comports well with what I've been saying for decades about "chá" as being a late pronunciation in comparison with tú.
I am particularly grateful to Adam for his detailed documentation and analysis of the character 

*, which is key for the understanding of the transition from tú 荼 ("bitter vegetable") to chá 茶 ("tea").  What it indicates is that this plant was arboreal (as Camellia sinensis in its wild, non-domesticated state grows, not as a low bush) and that it was clearly mù 木 + tú 荼, not mù 木 + chá 茶.
Taking all of the above into consideration, this Language Log post constitutes the most concentrated, convenient, comprehensive, and integral presentation of the epigraphical, inscriptional, paleographical, and phonological evidence concerning the development of the Chinese character for tea, viz., chá 茶.
Readings
"Caucasian words for tea " (1/26/17)
"Multilingual tea packaging " (4/7/18)
"Trump tea " (1/13/17)
"Kung-fu (Gongfu) Tea " (7/20/11)
"Two brews " (2/6/10)
"Mandarin Pu'er / Cantonese Bolei 普洱" (8/5/11)
Victor H. Mair and Erling Hoh, The True History of Tea (London:  Thames and Hudson, 2009), especially Appendix C on the linguistics of "tea").
---