« previous post | next post »
Brendan O'Kane received this image posted to Facebook from a friend of a friend, and he kindly passed it on to me: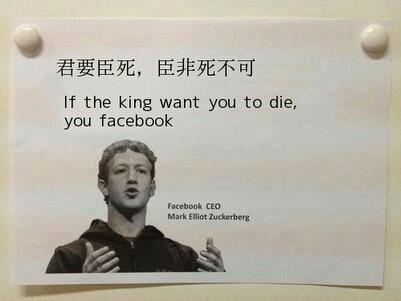 A very common Chinese character transcription of the name "Facebook" is fēisǐbùkě 非死不可. The characters have been carefully chosen and literally mean "cannot not die", i.e., "must die".
The entire legend accompanying the image of Mark Elliot Zuckerberg reads as follows:
Jūn yào chén sǐ, chén fēi sǐ bùkě 君要臣死,臣非死不可
("If the ruler wants his vassal to die, then he must die.")
It is all in Classical Chinese, so if you plug it into Google Translate, Baidu Fanyi, Yahoo Babel Fish, and the like, which are programmed to translate Modern Standard Mandarin (MSM), you will obtain some really amazing, amusing gibberish.
---