« previous post | next post »
Simon Hunter spotted the following on a student's desk: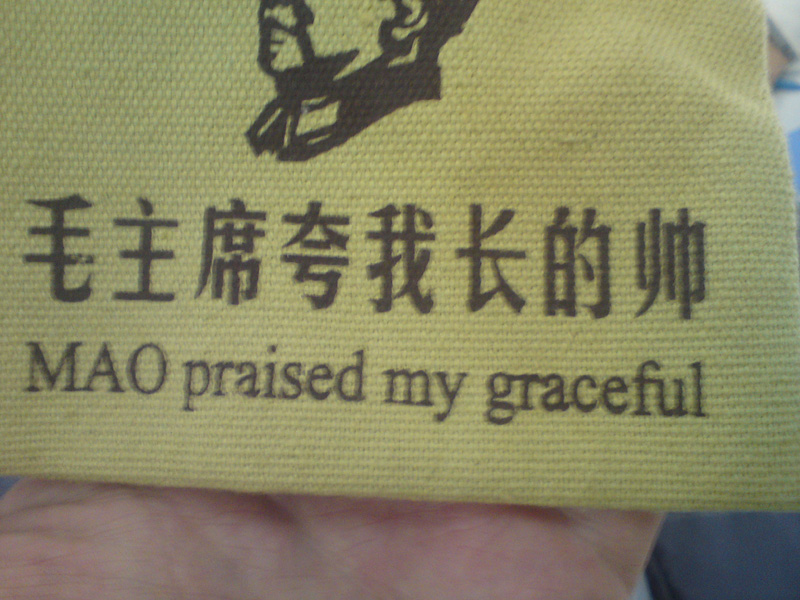 Máo zhǔxí kuā wǒ zhǎngde shuài
毛主席夸我长的帅
"Chairman Mao praised me for being handsome."
The author of this breathless sentence was evidently straining to come up with an elegant way to render the colloquial expression shuài 帅, perhaps to make amends for their discourteous reference to Chairman Mao by his surname alone.
Although people write zhǎngde shuài ("looks smart; is handsome", more literally, "has grown up to have a handsome appearance") both ways in characters, technically 长得帅 is grammatically more appropriate than 长的帅, since shuài 帅 ("handsome") is a complement of the verb zhǎng 长 ("to grow up"), and de 得 is the marker of the complement, whereas de 的 indicates the possessive, acts as a relativizer and subordinator, and has other functions as well.
Incidentally, shuài 帅 usually refers to a handsome male but occasionally can be used to describe a female with masculine beauty. For example, you can say a lady in navy uniform looks hěn shuài 很帅 ("smart; sharp"), or it can be used facetiously with reference to a woman.
[Thanks to Rebecca Fu, Zhao Lu, Gianni Wan, and Jing Wen.]
---