« previous post | next post »
Sign at a hotel in Anchorage, Alaska, spotted by Marc Sarrel: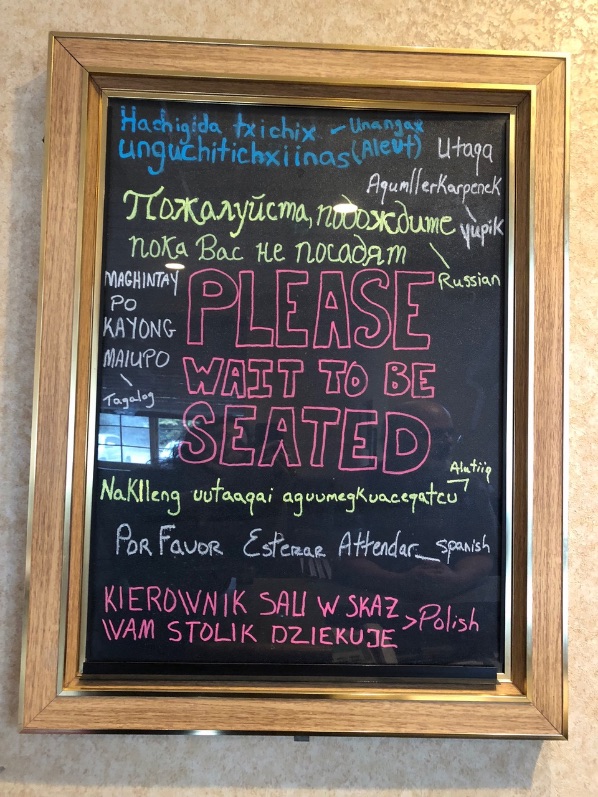 Marc writes:
I particularly like that each language seems to have been written by a different person.  Crowd sourced if you will.  Grass roots.  The mix of languages is also nice:  three Alaska Native languages, one Asian, and four European.  Apart from simply wanting to share such a wonderful find, I was hoping that Language Log readers might comment on the difficulty of translating this common English sentence. The hostess offered that she's received comments from other guests that not all of translations are as idiomatic as they might be.
And I like that each language is helpfully identified at the end, apparently by the person who did the translation.
Conjecture
Since the seven translations and original English sentence are arranged in a fairly orderly fashion and the whole composition is framed and behind glass (notice the reflection from the street outside), I hypothesize that the different versions may be the work of the hotel staff.  In my travels around the world, when I visit hotels, restaurants, and coffee / tea shops in distant places, I've often been amazed by how cosmopolitan the personnel of such establishments are.
---