« previous post | next post »
Karl Smith saw this sign in Taichung, Taiwan: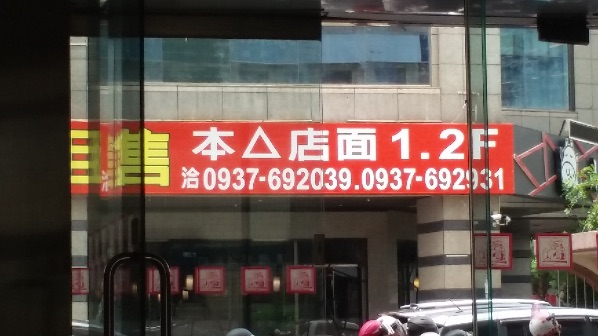 It reads:
Běn ∆ diànmiàn 本∆店面 ("this ∆ storefront")
But what does the ∆ mean here?
Karl said that ∆店面 reminded him of jīn diànmiàn 金店面 ("gold storefront"), which means a storefront in a good location.  As Michael Cannings says, "It's a rather overused real estate term: I've seen some shabby backstreet cubbyholes given the same moniker by overeager agents."
Melvin Lee explains:
I think the triangle stands for the Taiwanese term "sānjiǎo chuāng 三角窗" ("triangular window").  It usually means the first floor of a building located at the intersection of two streets, which is considered an ideal spot for stores.
Fair enough.  Now we know what "∆ diànmiàn ∆店面" means — "storefront with a triangular window" — but we don't know how to pronounce it, at least not in a standard way.  For me, ∆ could be "delta" or sānjiǎo 三角, but I suppose other people will read it in different ways, e.g., dé'ěrtǎ 德爾塔 ("delta").

Readings
---