« previous post | next post »
Jonathan Smith just saw this sticker in 798 Artzone in Beijing: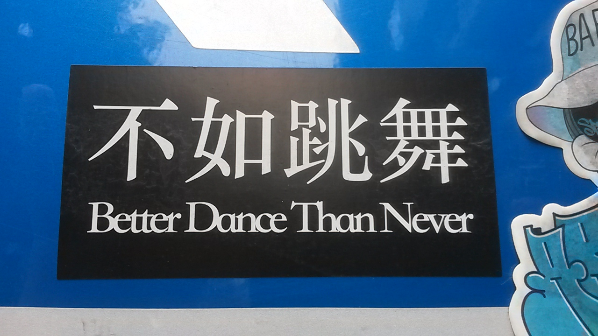 The Chinese says:
bùrú tiàowǔ
不如跳舞
it's better to dance / it would be better to dance / would rather dance
Bing / Microsoft Translator offers "Why not Dance?".
The key to understanding this sentence is the bùrú 不如 part (tiàowǔ 跳舞 means "dance").  Character by character, bùrú 不如 literally means "not like / as / resemble", but that explanation does not begin to convey the ineffable quality of this marvelous little expression:
not as good as
be inferior to
be unequal to
cannot compare to
it would be better to
would rather
might as well
let's
Jonathan's comment on the sticker:
Satisfying semantic resonance between "不如X" and "better late than never" but marginally interpretable as an English message… True creativity? Unlikely to be machine translation at any rate
My reply to Jonathan:
love it!
beautiful utterance, although you have to keep gnawing on it to make sense….
For those who are curious, and there are undoubtedly many, the usual translation of "better late than never" into Chinese is "chídào zǒng bǐ bù dào hǎo 迟到总比不到好", which lacks the gnomic quality of the English.
---