« previous post | next post »
Steve Kass found this curious expression in the nutrition facts (where "Saturated Fat" usually is) on a package of imported-from-Taiwan crackers at his local Chinese grocery, Jīnmén 金门 ("Golden Gate"; Quemoy [Hokkien Kim-mûi]) in East Hanover, New Jersey. Here is a picture of the label: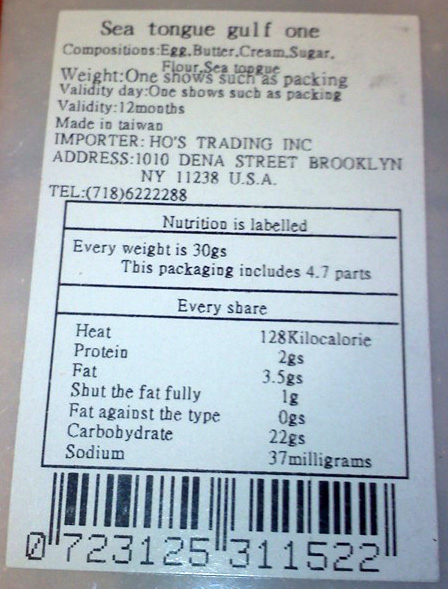 Scans of the front and back of the package are shown below.
It's pretty easy to figure out how the translator arrived at "the fat fully", but the "shut" part is a little bit more challenging.
The usual way to write "saturated fat" in Chinese is bǎohé zhīfáng 饱和脂肪, where bǎohé 饱和 is a disyllabic term meaning "saturated" and zhīfáng 脂肪 is a disyllabic word meaning "fat". It's hard to mess up with zhīfáng 脂肪 ("fat") because both characters used to write it have the "flesh" radical, the phonology is straightforward, and it's a very common word.
In contrast, bǎohé 饱和 looks simple enough, and its first syllable, bǎo 饱 ("full") is a piece of cake; e.g., wǒ chī bǎole 我吃饱了 ("I've eaten my fill; I'm full"). But when we look more closely at hé 和, the seemingly innocent second syllable of bǎohé 饱和 ("saturated"), all hell breaks loose.
First of all, hé 和 has multiple pronunciations and numerous widely different meanings:
1. hé ("harmonious", as in the current pseudo-Confucian buzzword, héxié shèhuì 和谐社会 ["harmonious society"]; amiable; gentle; achieve peace; settle a dispute; together with; and; toward, to; a surname; part of a word used to designate a Buddhist monk [héshàng 和尚]")
2. hè ("join in singing; write a poem in the style / theme of someone else; compose a poem in reply")
3. huó ("mix [e.g, flour / powder / clay] with water into a dough / paste")
4. huò ("mix [e.g, flour / powder / clay] with water into a dough / paste; measure word for rinsing; measure word for adding water to a decoction of herbal medicine")
5. hú ("success [term used in mahjong or cards]")
This is disappointing, since — despite the plethora of meanings for hé /hè / huó / huò / hú 和 — "shut" is not to be found among them. We have to look elsewhere.
An exact homophone of hé 和 is hé 合. The fact that they both sound the same, have relatively few strokes (8 and 6 respectively), and incorporate the 口 component lead people to frequently confuse them.
Let us see what the usual meanings of hé 合 are: "close; shut [bingo already!]; join [together]; contract; agreement; cooperative; whole; total; fitting; corresponding; equal to; add up to; one of the notes on an ancient musical scale"). 合 also has another pronunciation, gě ("a unit of dry measure for grain; a container for measuring / holding one gě of grain"), but we won't linger over that because we've already found the culprit. Namely, the text the translator was working from must have had bǎohé zhīfáng 饱合脂肪 instead of the correct bǎohé zhīfáng 饱和脂肪. Indeed, this is a common lapsus calami:
bǎohé zhīfáng 饱合脂肪 98,600 ghits
bǎohé zhīfáng 饱和脂肪 2,230,000 ghits
Enough on "shut the fat fully". The next item on the label, "fat against the type", may be disposed of much more quickly. In this position on a food label, we would expect "trans fat". Now, the usual Chinese translation of "trans fat" is fǎnshì zhīfáng 反式脂肪. We are already familiar with zhīfáng 脂肪 ("fat"), so we only need concern ourselves with fǎnshì 反式. Individually, fǎn 反 means "reverse, opposite, against, contrary to", etc. and shì 式 means "type, style, form, pattern", and so forth. Together, as fǎnshì 反式, this is the term that Chinese chemists have chosen to render "trans". The translation error here, "fat against the type", is the result of taking each syllable separately instead of treating them as parts of a disyllabic prefix signifying the relationship of identical atoms on opposite sides of a double bond in a chemical compound.
There are other infelicities and errors on the nutrition label, but I think I've done my part in explaining the fatty ones.
---