« previous post | next post »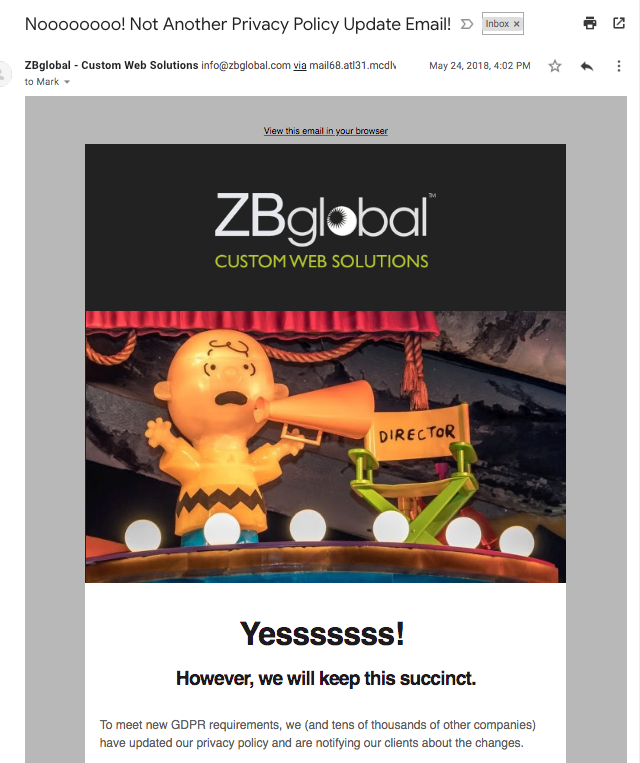 As the Washington Post explains ("Europe, not the U.S., is now the most powerful regulator of Silicon Valley", 5/25/2018):
Europe implemented a sweeping overhaul of digital-privacy laws on Friday that has reshaped how technology companies handle customer data, creating a de-facto global standard that gives Americans new protections and the nation's technology companies new headaches.
It's also unleashed a flood of email notifications, typically consisting of long unreadable lists of legal weaseling. (Though I've gotten a few more entertaining instances, like the one in the image on the right, from a company that I was unaware of having any relationship with…)
Today's xkcd satirizes these notifications brilliantly: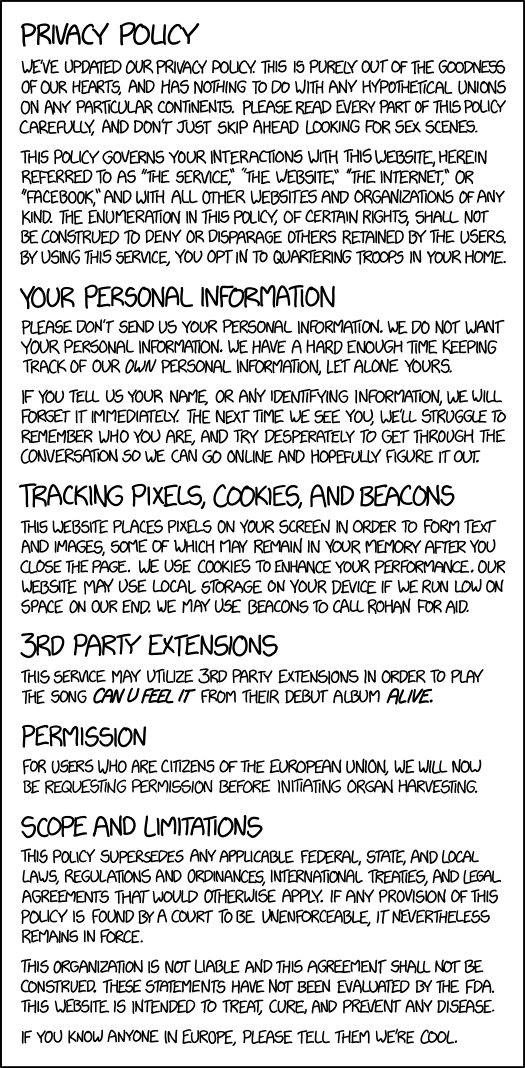 Mouseover title: "By clicking anywhere, scrolling, or closing this notification, you agree to be legally bound by the witch Sycorax within a cloven pine."
The source of all of this is a regulation, passed back in the spring of 2016 and coming into effect yesterday, "on the protection of natural persons with regard to the processing of personal data and on the free movement of such data […] (General Data Protection Regulation)", or GDPR for short. (The GDPR itself is 260 pages of legalese, so if you're actually interested in its content, you might want to start with the eugdpr.org information portal.
The Guardian lists some other GDPR-related creativity (Chloe Watson, "Last-minute frenzy of GDPR emails unleashes 'torrent' of spam – and memes", 5/23/2018), like this one:
DO YOU STILL WANT TO GET OUR EMAILS AFTER GDPR TAKES EFFECT? pic.twitter.com/oyx65FHNTC

— Cirque du SoLame (@_Katenip) May 23, 2018
More seriously, the GDPR was extensively discussed at the recent LREC conference in Japan, for example in Pawel Kamocki et al., "Data Management Plan (DMP) for Language Data under the New General Data Protection Regulation (GDPR)". Among the less important things that (I think) I learned was that the regulation's restriction to "the protection of natural persons with regard to the processing of personal data" means not only that non-natural legal persons (like corporations) are outside the regulation's scope, but also that the regulation's protections go away when you die, since dead people are apparently not "natural persons" in this context.
One GDPR provision that puzzled me until I looked into it is the "Right to be Forgotten" — as eugdpr.org explains:
Also known as Data Erasure, the right to be forgotten entitles the data subject to have the data controller erase his/her personal data, cease further dissemination of the data, and potentially have third parties halt processing of the data. The conditions for erasure, as outlined in article 17, include the data no longer being relevant to original purposes for processing, or a data subjects withdrawing consent.
On the face of it, this seems to create some implausible scenarios, for instance requiring all data about your debts to be erased. So unsurprisingly there are all sorts of take-backs on the Right to be Forgotten, laid out in Article 17 on pp. 140-142 of the regulation:
Paragraphs 1 and 2 shall not apply to the extent that processing is necessary:
(a) for exercising the right of freedom of expression and information;
(b) for compliance with a legal obligation which requires processing by Union or Member State law to which the controller is subject or for the performance of a task carried out in the public interest or in the exercise of official authority vested in the controller;
(c) for reasons of public interest in the area of public health in accordance with points (h) and (i) of Article 9(2) as well as Article 9(3);
(d) for archiving purposes in the public interest, scientific or historical research purposes or statistical purposes in accordance with Article 89(1) in so far as the right referred to in paragraph 1 is likely to render impossible or seriously impair the achievement of the objectives of that processing;
or
(e) for the establishment, exercise or defence of legal claims.
I've put clause (d) in boldface because it's especially relevant for people interested in linguistic datasets. Implementing the Right to be Forgotten in such cases would be difficult, and more importantly would make it impossible to compare processing results across time. The details in Article 89 (pp. 252-253) are suitably vague, but seem to provide reasonable protection in all directions.
Meanwhile, I wonder whether there's any other law or regulation in recent years that has occasioned the billing of as many lawyers' hours.
Update — Of course there's a WordPress GDPR plugin…
Update #2 — This link to an apparently genuine GDPR email, referenced by Yuval in the comments, is the best that I've seen:
This wins the GDPR email notification contest! pic.twitter.com/5ciuWp8gHI

— Ian Thornton-Trump (@phat_hobbit) May 25, 2018
---