« previous post | next post »
Is nothing sacred?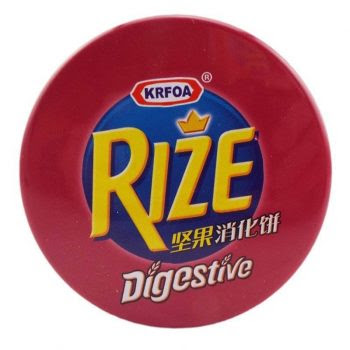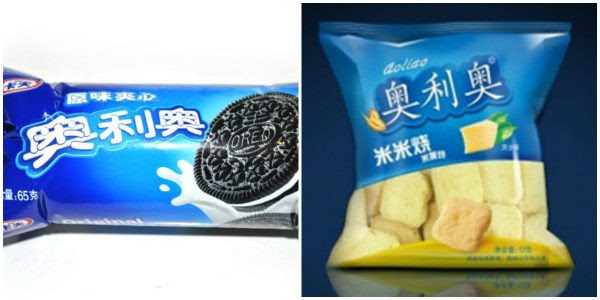 Source:
"Chinese Imitation of Ritz Crackers Sued for Trademark Infringement", by Frank Fang, Epoch Times (May 20, 2018)
The Chinese writing on the ersatz Ritz package says:
jiānguǒ xiāohuà bǐng 坚果消化饼 ("nut digestive cake")
In the pair of photographs below the fake Ritz crackers, on the left is a package of genuine Chinese Àolì'ào 奥利奥 ("Oreo") cookies.  What is in the phony Àolì'ào 奥利奥 package on the right is not entirely clear to me, but it sure as shootin' isn't Oreo cookies.  The contents are described as mǐmǐ shāo 米米烧, which sounds like some kind of crispy rice snack.
Judging from this product, even cookie crumbs are saleable in China if they come with the Àolì'ào 奥利奥 name on them: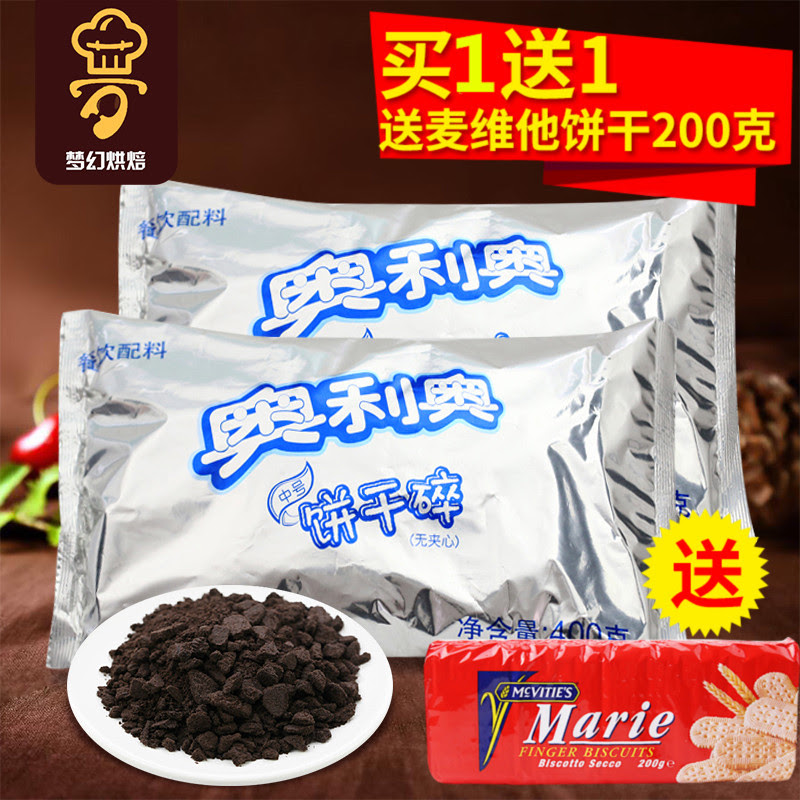 The smaller writing below the Àolì'ào 奥利奥 name reads:
bǐnggān suì 饼干碎 ("cookie crumbs / bits / pieces")
The two characters inside the balloon to the top left of the "cookie crumbs" indicate that they are medium size (zhōng hào 中号). !!
And the tiny writing to the bottom right says:
wú jiāxīn 无夹心 ("without filling") !!!
Examining the Àolì'ào 奥利奥 ("Oreo") bǐnggān suì 饼干碎 ("cookie crumbs / bits / pieces") silvery package still more closely, I see at the very top left (hard to read because of the crease) that they are being sold as:
cānyǐn pèiliào 餐饮配料 ("catering / food and beverage ingredients")
Since they may be found all over the web, these Oreo cookie crumbs seem to be quite popular.  Looking further, however, I see that Oreo cookie crumbs are also marketed in the West (for baking purposes, etc.).  It is apparent that these Chinese Oreo cookie crumbs are readily available to be shipped in bulk, presumably to be purchased by stores that sprinkle them on or mix them in ice cream, etc.
Wandering through the Google Images galleries of photographs for Oreo knockoffs, I found many other bizarre products.  Ditto for copycat Ritz — you wouldn't believe! (take a gander).  They really make me wonder….
[Thanks to Yixue Yang]
---