« previous post | next post »
Panels two and three (of six) from David Malki's most recent Illustrated Jocularity, "The Wish of the Starhorse":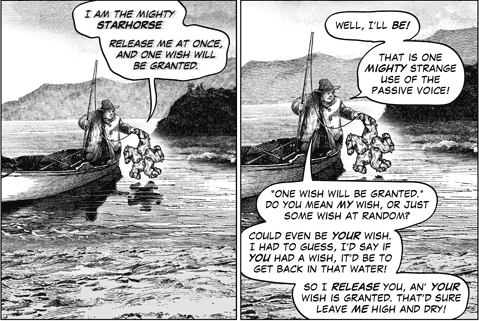 The trickiness of wishes is a common theme, but this is the first time that I've ever seen an explicit within-fairy-tale grammatical analysis. And the fisherman even uses the technical term "passive voice" correctly, at least in the sense that "One wish will be granted" is indeed passive! But as usual in such fairy tales, the potential wisher has focused on the wrong problem.
The Starhorse's offer would be trickily ambiguous in pretty much the same way if it were phrased in an active-voice form: "Release me at once, and supernatural powers will grant one wish". The most important trickiness in this case has to do with who does the wishing, not who does the granting.  This vagueness is also a matter of unclear agency, and perhaps that's why Mr. Malki's fisherman thinks of the passive voice — in which case, alas, it's purely accidental that the main verb of the clause in question actually happens to be passive.
Of course, the fairy-tale lawyers on both sides of the contract will want to specify many other things, like how the wish to be granted is selected and delimited, how its terms are to be defined, what methods are allowed in executing the wish, when the granting will take effect, in which jurisdiction disputes about the wish will be litigated, and so on.
Meanwhile, David Malki reminds us that Sunday, March 4, was National Verb Day:
On one of the only dates that's also an imperative, usually families and communities get together to make up new verbs. The official U.S. national verb this year was "scraddling," defined by a ceremonial Act of Congress as:
scraddle (v): to rub a part of the body against an object in such a way as to scratch an itch
You probably saw the Chancellor of the National Verb Council make her speech calling for parents to begin using the word with their children "so that a new generation will grow up never knowing a world without the joy of scraddling," and of course President Obama released a statement urging "Americans of every race, color, and creed to come together, scraddle against the obstacles before us, and keep America strong."
[Tip of the hat to Rick Rubenstein]
---