« previous post | next post »
Jeff Demarco writes:
My son snapped this photo on his way home from Hong Kong Disneyland. Wasn't quite sure what was intended…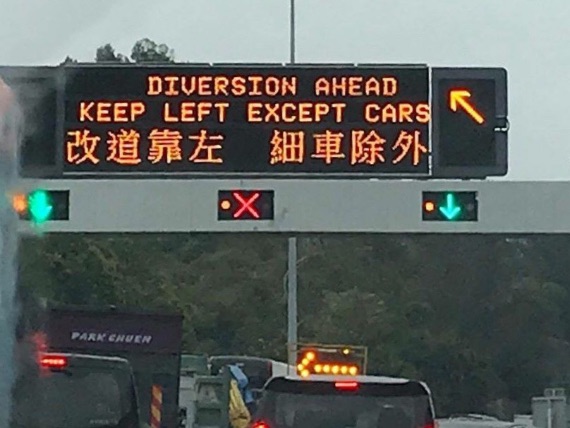 Since most people driving on this road will be in cars, the English wording may prove to be confusing to many drivers.
For Mandarin speakers, the Chinese wording is even more opaque:
gǎidào kào zuǒ —  xì chē chúwài
改道靠左 — 細車除外
"diversion, keep left — except for fine cars"
You'd have to ask yourself if the car you're driving counts as a "fine car".
Reading the same eight characters in Cantonese yields:
goi2dou6 kaau3 zo2 — sai3 ce1 ceoi4ngoi6
改道靠左 — 細車除外
"diversion, keep left — except for small cars"
The usual, common Cantonese word for "little, small" is sai3 細.  The term "sai3 ce1 細車", literally "small vehicles", supposedly refers to cars such as sedans, SUVs, station wagons, etc., as opposed to "daai6 ce1 大車" ("large vehicles) like trucks and lorries.
Bob Bauer notes:
The expression "細車  sai3 ce1" looks like a specialized Hong Kong Chinese / Cantonese word, and I don't think that it occurs in mainland China standard Chinese. Given that it has been translated into English as "cars", I'm going to assume that it is has been specially created by a HK government department, such as the Highways Department. I would translate it literally into English as "small vehicles", that is, "cars, automobiles", as opposed to large vehicles, such as buses, trucks, semi-trailers, etc.
So, if you're literate in Cantonese, you shouldn't have too much trouble with this sign, but if you're only literate in Mandarin or English, it may take you a while before you figure out what you're supposed to do.
See: Keith Tse, "Hong Kong Cantonese: a fascinating hybrid", Asia Times (4/4/18)
[Thanks to Abraham Chan and Zeyao Wu]
---