« previous post | next post »
Lorena Barba, "Terminologies for Reproducible Research", arXiv.org 2/9/2018:
Reproducible research—by its many names—has come to be regarded as a key concern across disciplines and stakeholder groups. Funding agencies and journals, professional societies and even mass media are paying attention, often focusing on the so-called "crisis" of reproducibility. One big problem keeps coming up among those seeking to tackle the issue: different groups are using terminologies in utter contradiction with each other. Looking at a broad sample of publications in different fields, we can classify their terminology via decision tree: they either, A—make no distinction between the words reproduce and replicate, or B—use them distinctly. If B, then they are commonly divided in two camps. In a spectrum of concerns that starts at a minimum standard of "same data+same methods=same results," to "new data and/or new methods in an independent study=same findings," group 1 calls the minimum standard reproduce, while group 2 calls it replicate. This direct swap of the two terms aggravates an already weighty issue. By attempting to inventory the terminologies across disciplines, I hope that some patterns will emerge to help us resolve the contradictions.
This is a careful, exhaustive, and detailed survey of an unfortunate development that has introduced considerable confusion into a crucial area of science and engineering.
Barba notes that the current confusion divides up by discipline this way: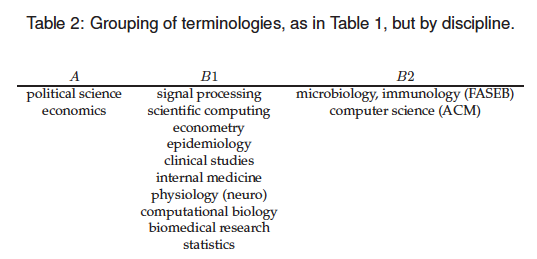 Her summary of the historical events that led to this debacle:
The Claerbout/Donoho/Peng terminology [(myl) her B1] is broadly disseminated across disciplines (see Table 2). But the recent adoption of an opposing terminology by two large professional groups—ACM and FASEB—make standardization awkward. The ACM publicizes its rationale for adoption as based on the International Vocabulary of Metrology, but a close reading of the sources makes this justification tenuous. The source of the FASEB adoption is unclear, but there's a chance that Casadevall and Fang (2010) had an influence there. They, in turn, based their definitions on the emphatic but essentially flawed work of Drummond (2009).
And her recommendations for the future:
It seems that any attempt to unify terminologies can only start by conversations with ACM and FASEB to explore how slim the chance might be that they backtrack their adoption to align with the predominant usage. Conversations with leaders in the fields of political science and economics, where 'replication' is predominant, should follow. Use of the term here often applies to a new study that aims to confirm findings reported in a publication (and thus aligns with Peng's), but it also spills over to calling the research compendia 'replication files.' This custom in the American Journal of Political Science is unlikely to be reversed, but it can be absorbed into the Claerbout/Donoho/Peng convention, as reproducible research is also necessary for successful replication. Whereas economics and political science are predominantly empirical disciplines, using software for statistical analysis is ubiquitous. A feasible way out would be if these fields accept calling 'reproducible research' that which openly archives full sets of 'replication files.'
Some past LLOG coverage of the general issue of reproducibility:
"Reproducible research", 11/14/2008 (see also here)
"Reproducible Science at AAAS 2011", 2/18/2011 (see also here and here)
"Literate programming and reproducible research", 2/22/2014
"Reliability", 2/28/2015
And a note about the terminological mess that Prof. Barba documents and explains in depth and detail:
"Replicability vs. reproducibility — or is it the other way around?", 10/31/2015
---