« previous post | next post »
Johanna Decorse, "Case of anti-white racism on trial in France", AP 12/14/2011:
TOULOUSE, France—As protesters massed outside, the spokeswoman for a movement representing immigrants from France's former colonies went on trial Wednesday for allegedly insulting white French in what may be the first anti-white racism case in France.
The verdict, expected Jan. 25, may turn on a hyphen.
The trial grew out of a legal complaint from a far-right group, the General Alliance Against Racism and Respect for French and Christian Identity, Agrif, against Houria Bouteldja for using a word she invented to refer to white French that she claims was misconstrued. She was charged with "racial injury" and, if convicted, risks up to six months in prison and a maximum €25,000 ($32,500) fine, though courts usually issue far lighter sentences.
The background is as follows. In June of 2007, Houria Bouteldja appeared on a television talk show, Ce soir (ou jamais!) ["This evening (or never!)"], where she argued against the view that immigrants to France need additional cultural education in order to become better assimilated, countering that in fact it's the native population that needs historical and cultural remediation. In doing so, she referred to the non-immigrant population of France as "souchiens", an ethnonym derived from the noun souche.
According to Émile Littré's Dictionnaire de la langue française, the core meaning of souche is "Le bas du tronc d'un arbre, accompagné de ses racines et séparé du reste de l'arbre" — "the base of the  trunk of a tree, together with its roots and apart from the rest of the tree". Like its English counterpart stock, souche has a figurative genealogical sense, so that "souche paysanne" means "peasant stock".
Therefore, as the French-language Wikipedia explains,
Français de souche est une expression courante ou une catégorie statistique désignant, dans son sens le plus communément admis, les personnes de nationalité française n'ayant pas d'ascendance étrangère immédiate et n'étant donc pas issues de l'immigration récente.
Français de souche is a common expression or a statistical category designating, in its most widely accepted sense, people of French nationality without immediate foreign ancestry and not from a recent immigrant background.
And just as gens de Paris ("people of Paris") in French are Parisiens, and gens d'Egypt are Egyptiens, it's plausible to call gens de souche by the invented term souchiens.
So what's the problem? Why is Ms. Bouteldja in court? Well, some people have argued that that she intended a punning equivalence between souchiens and sous-chiens. Literally "under-dogs", sous-chiens is felt to be interpreted as in the French translation of the Nazi racist term Untermenschen, "sous-hommes", thus suggesting that Français de souche are lower than dogs. The complainant is the organization AGRIF, apparently an acronym for "L'Alliance Générale contre le Racisme et pour le respect de l'Identité Française et chrétienne" ["The general alliance against racism and for respect for French and Christian identity"].
The AGRIF website explains that
Houria Bouteldja a déclaré avoir joué sur l'homonymie entre les termes de « sous-chiens » et de « souchiens » puisqu' « il faut bien leur donner un nom à ces blancs ! », ne dissimulant ainsi nullement sa claire volonté d'injure raciste. Mais cela était renforcé encore par sa précision de mépris : « Il faudra bien les rééduquer ces blancs ».
Après les atrocités exterminatrices des camps nazis, communistes, ou encore de ceux du FLN algérien où moururent atrocement au long des années les milliers de françaises et de français enlevés en 1962 à Oran et ailleurs, on sait ce que cela signifie !
Houria Bouteldja has proclaimed that she played on the homonymy between the terms "sous-chiens" and "souchiens" because "we need to give them a name, these whites!", thus not hiding at all her clear intent of racist insult. But this was further reinforced by her detailed contempt: "These whites must be re-educated".
After the exterminating atrocities of the camps of the Nazis, the communists, or indeed those of the Algerian FLN where thousands of French women and men died atrociously who were seized in 1962 in Oran and elsewhere, we know what that means!
And amazingly enough, from the perspective of an American, it's apparently a crime in France to insult a racial or ethnic group, even punnishly and in passing. Putting aside the absurdity of such laws, let's take a look at what Ms. Bouteldja actually said. Here's the relevant part of the audio, along with my attempt at a transcription (she talks very fast, so parts are no doubt wrong — corrections to the transcription and the translation will be gratefully accepted):
Audio clip: Adobe Flash Player (version 9 or above) is required to play this audio clip. Download the latest version here. You also need to have JavaScript enabled in your browser.
On met toujours la focale sur les quartiers populaires
euh les quartiers populaires sont en déficit de connaissance,
de conscience politique, euh il faut les éduquer, etc.
et on ((et ja- et )) on occulte complètement le reste de la société et ses privilèges
les privilèges du reste de la société
et moi, j'ai envie de dire, c'est le reste de la société qu'il faut éduquer,
c'est le reste de la société à qui il faut dire par exemple
((ne serait-ce que sur la question)) de l'histoire c'est- c'est-
c'est le reste de la société ((occidenta-))
de ce qu'on appelle, nous, les "souchiens", parce qu'il faut bien leur donner un nom, les "blancs",
euh à qui il faut inculquer l'histoire de- de- de- de l'esclavage, la colonisation, ((j'en reviens toujours là-dessus)) parce que c'est tres important, la question de l'identité nationale,
elle doit être partagée par tout le monde,
et c'est là qu'il y a un déficit de connaissances.
People are always focusing on the immigrant ghettos,
"the immigrant ghettos lack understanding,
lack political awareness, uh we need to educate them, etc."
and they completely ignore the rest of society and its privileges,
the privileges of the rest of the society,
and me, I want to say, it's the rest of society that needs to be educated,
it's the rest of society which needs to be told for example
it's the rest of west-
of what we call the "souchiens", because it's necessary to give them a name, the "whites",
uh who need to learn the history of- of- of- slavery, of colonization,
I keep coming back to this
because it's very important, the question of national identity,
it needs to be shared by everyone,
and that's where there's a lack of understanding.
For what it's worth, I personally disagree with Ms. Bouteldja's rejection of the idea that France has failed to assimilate its immigrants, and that something should be done to fix this. And contrary to her assertion, my impression is that French students of all backgrounds are already thoroughly educated in the history of slavery, colonization and so on (or at least as thoroughly educated as they are in any other aspects of history). However, it seems preposterous to me that her use of the term souchiens constitutes a criminal insult to les Français de souche, even if we grant that insulting speech ought to be criminalized in such cases.
Specifically, I don't see any evidence in the passage cited above that she intended the term souchiens punningly, any more than than the center-right politician Jean-Louis Borloo did in a 2006 TV interview:
Audio clip: Adobe Flash Player (version 9 or above) is required to play this audio clip. Download the latest version here. You also need to have JavaScript enabled in your browser.
… pour la premiere fois de l'histoire de france, monsieur duhamel,
il y a des français arabes, des français africains, des français asiatiques,
des français bourguignons, des français d'ile de france.
Ils ont le meme passeport,
mais ce qui est en train de s'installer dans la société française,
c'est l'idée que si je suis de souche,
si je suis souchien,
je ne comprends pas les autres.
La république elle est belle et grande,
pourquoi on- on- on a ces tensions, cette incomprehension, cet ((enfin))
Et si on est non souchien,
on n'a pas le sentiment que la république donne un avenir.
… for the first time in the history of France, Mr. Duhamel,
there are arab french, african french, asian french,
burgundian french, french from the ile de france.
They have the same passport,
but what's becoming established in french society
is the idea that if I'm of [original French] stock,
if I'm "souchien".
I don't understand the others.
The republic is big and beautiful,
why do we have these tensions, this lack of understanding, this ???
And if someone is non-"souchien",
they don't have the idea that the republic offers a future.
The worst thing that happened to Mr. Borloo as a result of this passage, as far as I can tell, was a joke at his expense in Bernard Leconte, À la recherche du bon français, 2007 (a collection of French-style French style-peevery):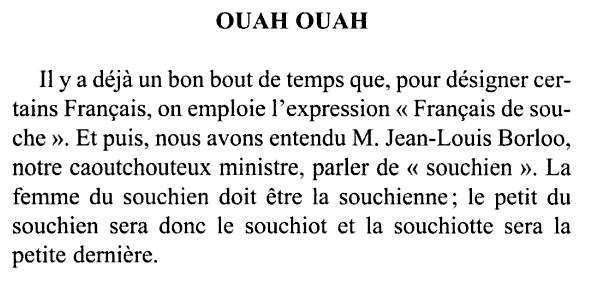 And Borloo doesn't even get credit for the neologism — there's apparently an earlier history of usage in Quebec (Pierre Gendron et al., Le pays de tous les Québécois: diversité culturelle et souveraineté, 1998):
Si le calcul des immigrants est juste — et ils ne peuvent tous être dans l'erreur en même temps — , alors pourquoi les Québécois francophones, les fameux «souchiens», voudraient-ils se priver de tout accès à l'école anglaise?
If the reasoning of the immigrants is correct — and they can't all be wrong at the same time — then why would francophone Quebecois, the famous "souchiens", want to deprive themselves of all access to English schools?
---