« previous post | next post »
Valerie Hansen gave me the following package: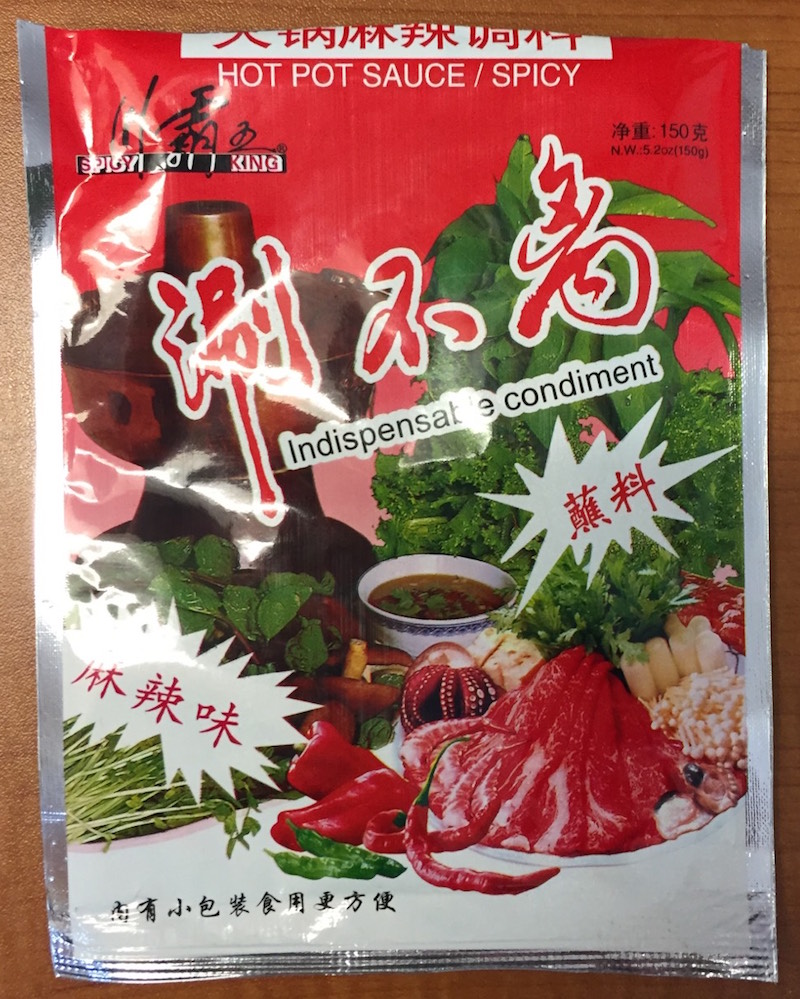 I was pleased that I could read the cursive script without hesitation:
shuàn bùlí 涮不离
Figuring out exactly what this expression means is another matter altogether.
The last two characters are relatively easy:  "[can]not separate / be apart (from)".
The first character is harder; it basically means "rinse; swill", but — in a more specialized sense — it also means "scald thin slices of meat (especially mutton) and vegetables in boiling water".  It's the Northern Chinese variant of huǒguō 火鍋 ("hot pot") , which was well established under the Mongols and then elaborated under the Manchus, but is now best known by its Sichuanese and Chongqing exemplars.
Shuàn yángròu 涮羊肉 ("instant-boiled mutton") may be thought of as the Chinese equivalent or parallel to Japanese shabu-shabu (that's an onomatopoeic term describing the sounds of the ingredients being swirled in the boiling water; shuàn 涮 itself might also be onomatopoeic).
Now that we know what shuàn 涮 means as a cooking technique ("scald thinly sliced meat, vegetables, etc."), let's proceed to try to make sense of the whole expression, shuàn bùlí 涮不离:
"scald not leave / separate / part"
Even some native speakers of Chinese to whom I showed this expression didn't know quite what to make of all three character together.  After giving it some thought and pondering the package as a whole, it begins to dawn on you:  as a dipping sauce for shuàn yángròu 涮羊肉 ("instant-boiled mutton [and other thinly sliced meat or vegetables]"), you can't be without it.
"[when you] scald [meat, etc.] [you] cannot be separated / apart from it"
In other words, it's an indispensable dipping sauce for this style of hot pot.
[Thanks to Yixue Yang]
---