« previous post | next post »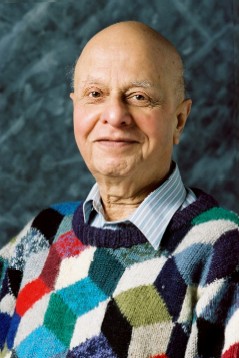 I learned this morning that Aravind Joshi died yesterday at his home.
Among Aravind's many awards are the 1997 IJCAI Award for Research Excellence; the first ACL Lifetime Achievement Award, in 2002; the 2003 David E. Rumelhart Prize; and the 2005 Benjamin Franklin Medal, "[f]or his fundamental contributions to our understanding of how language is represented in the mind, and for developing techniques that enable computers to process efficiently the wide range of human languages."
Among his many fundamental contributions are the invention of Tree Adjoining Grammar, a "mildly context-sensitive" grammatical formalism that provides enough power to handle the phenomena of human language syntax while remaining computationally tractable; and the elucidation and application of Centering Theory, a framework for exploring "relationships among focus of attention, choice of referring expression, and perceived coherence of utterances within a discourse segment".
Aravind's personal influence has been just as important as his intellectual contributions. In nearly every academic and industrial research group in computational linguistics around the world today, you'll find his former students, postdocs, and colleagues. And you'll also find Aravind's connections widespread among theoretical linguists, sociolinguists,  psycholinguists, and even philosophers interested in language.
The Rumelhart Prize award page gives an excellent summary of his contributions up to 2003 — Google Scholar will give you a list of the hundreds of publications he has co-authored since that time.
One of those more recent publications — David Chiang, Aravind K. Joshi, and David B. Searls,  "Grammatical representations of macromolecular structure", Journal of Computational Biology 2006 — reminds me of a favorite Aravind Joshi memory. (Though it's actually about something that happened before the Rumelhart Prize award.)
Together with David Searls, a former Penn colleague who was then Senior Vice President for Computational Biology at GlaxoSmithKline, Aravind had organized a workshop on the mathematical analysis of two types of strings of discrete elements: sentences and macromolecules.
One of the presentations was by Yasuo Uemura, Aki Hasegawa, and Satoshi Kobayashi, who presented work published as "Tree adjoining grammars for RNA structure prediction", Theoretical computer science 1999, which was "concerned with identifying a subclass of tree adjoining grammars (TAGs) that is suitable for the application to modeling and predicting RNA secondary structures". They explain their motivation for choosing the TAG formalism:
TAGS have attracted great attention in linguistics for the reason that they have the ability to represent certain discontinuous constituents. For example, cross-serial dependencies in a string such as a1a2a3b1b2b3, where indices represent dependencies, is easily captured by a TAG, but not expressed by any context-free grammars. For another example, a string such as xuyvxRwyR, where x, y,u, v and w are strings and xR(yR) denotes the reversal of x(y), can also be readily expressed by a derived tree by some TAG. The structural feature of the latter example is called crossing dependency and as we will see soon, this extra power of TAGS to describe the crossing dependency seems to be just the right kind for a certain practical application of modeling and predicting biological sequence data.
Another presentation was by Elena Rivas and Sean Eddy, who described work published as "A dynamic programming algorithm for RNA structure prediction including pseudoknots", Journal of Molecular Biology 1999. From that paper's abstract:
We describe a dynamic programming algorithm for predicting optimal RNA secondary structure, including pseudoknots. […] The description of the algorithm is complex, which led us to adopt a useful graphical representation (Feynman diagrams) borrowed from quantum field theory.
After Elena's talk, Aravind and Elena spent the coffee break and some time thereafter at the whiteboard, exploring in detail the nature of the connections between Feynman Diagrams and Tree Adjoining Grammars. (Crudely, as I understand it, Feynman Diagrams offer an efficient solution for a certain class of integrals where most of an problematically increasing number of terms cancel as positive and negative pairs; these canceling pairs are analogous to the matching left and right brackets — or lexical dependencies — of a parsed sentence; both formalisms offer an analogy to the matching elements in macromolecule secondary structure. )
This memory may help to illustrate how Aravind, trained as an electrical engineer, could make such important contributions to linguistics and to cognitive science, and also how he made constructive and consequential connections with people in such a wide variety of other disciplines.
I learned an enormous amount from Aravind over the years. And I've been lucky enough to spend several decades inhabiting the wonderful interdisciplinary community that he created. I'll miss him.
Update — a thoughtful Facebook note from Bob Frank:
I just heard the crushing news that Aravind Joshi passed away yesterday. It's hard for me to overstate how profoundly Aravind influenced my career and my life, since he took me on as his PhD student 30 years ago. The content of his work laid the foundations for so much of what I have worked on over the years, and his vision of interdisciplinary interaction shaped how I see the field. I will never forget his insatiable curiosity and intellectual energy, his remarkable ability to identify good problems and insightful solutions, and his gentle kindness and humanity. And I will so much miss the boyish excitement he exuded whenever he would share his latest ideas with me. Thank you for everything, Aravind. You will be missed.
And another one from Julia Hockenmaier:
I can't begin to describe how much I owe to Aravind's advice and mentorship, his intellect, his curiosity, his kindness, and his great sense of humor. It was such a privilege to work so closely with him, even as one of his last postdocs. His impact on our field and our community can simply not be overstated. We've lost one of our founding fathers. Not just because he was one of the few, or probably even the only one, still around from the very early days of NLP. We've also lost someone who has really shaped the intellectual and social culture of our community in fundamental ways. If you are among those that feel at home in our field because of its intellectual richness and diversity, and also because you never felt out of place because you are a woman, you should know how much you owe to Aravind and the legacy of his very many distinguished students, and the culture he and his colleagues created at Penn and in the community as a whole. Rest in peace, Aravind. In sorrow, and gratitude.
---