« previous post | next post »
From Krista Ryu:
Recently on the internet, there was an interesting photo posted that pointed out the unique feature of Southeastern dialect of Korean:  tones (some scholars call it pitch, as it is different from the tones of languages such as Mandarin).
The internet post had the following photo and a question: "is it true that Seoulites (people from Seoul / users of standard Korean) cannot pronounce these distinctly?"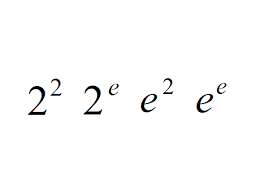 Modern Standard Korean does not preserve the tonal feature of Middle Korean (used between 13th-17th century). Hence all four of the above numbers (or mathematical expressions) are pronounced exactly the same, and a speaker of standard Korean will not be able to distinguish these four different expressions just by hearing them.
However, the Southeastern dialect of Korean actually somewhat preserves the tonal / pitch feature of Middle Korean, and allows the users to be able to distinctly pronounce these four expressions.
More specifically, the number 2 is read "ee (long e)" and the alphabet e is also read "ee" in standard Korean. Hence, all four expressions become ee ui ee seung (ui= postposition to indicate possession like Japanese の, seung = "power of").
However, speakers of Southeastern dialect can distinguish these four by pronouncing the number 2 with a "low" tone, and the alphabet e with a "high" tone.
Another fun example is the phrase:
가가가가?
In standard Korean, the phrase does not mean anything and will just be pronounced "gagagaga."
However, a speaker of Southeastern dialect can pronounce the first "ga" with a "high tone," second "ga" with a low tone, third "ga" with a "high tone," and the last "ga" with a low tone, to actually deliver the meaning "is that (person) that person (he or she) ?" (is that person the person you were talking about?)
I find it fascinating that, because of the relative geographical isolation of the regions using this dialect due to mountain ranges, certain features of the language were preserved over time.
Observations by Ross King:
It is indeed a bit cryptic, but seems to refer back to something that was hot here in Korea online for a while. I think it has to do with the way Koreans pronounce the "e" of, e.g., 'email', vs. the "이" = 2 = 二 "two" in combination with the way they render, e.g., "e squared" or "2 squared."
Because southeastern dialects preserve older Korean pitch accent, "e" and "이" have different pitch accents, on top of which the pattern for "X squared" is "X의 2승" where "의" is the adnominal particle — pronounced 에 usually. (the 승 must be the sinograph for 'squared', but I'm no mathematician).
These short video clips demonstrate the differences:
경상도 사람들의 2와 e 구분법 – 2의 2승
https://www.youtube.com/watch?v=RVj7FbvTjso
[부산남매] 부산사투리 2의 2승, 2의 e승, e의 2승, e의 e승 구분
https://www.youtube.com/watch?v=6M8jbW_jZMg
2의2승을 읽을때 서울과 경상도의 차이ㅋㅋㅋㅋ
https://www.youtube.com/watch?v=83sI0F_cx00
Comment by Bob Ramsey:
There isn't just one southeastern dialect; there are at least two heard in the Gyeongsang area with salient differences. In North Gyeongsang (such as, e.g., in Daegu), the reflex of Middle Korean "上聲" is a long syllable, while in South Gyeongsang, it's a super-low pitch. Don't know how the differences play out with this little game, though.
Oh, and one more bit of pedantry. The pitches heard in Gyeongsang dialects are in actuality significantly different from those recorded in Middle Korean texts.
Once again, we encounter the phenomenon of peripheral and isolated topolects tending to be more conservative and archaic (cf. Wu, Cantonese, and Min with Mandarin and Smith Island, Maryland with Baltimore or Washington DC).
---