« previous post | next post »
Wednesday, Thursday and Friday of last week I was at the University of Maryland, giving the first edition of the newly-endowed Baggett Lectures. The first of the three lectures was on The Linguistic Culture Wars, and most of its content will be familiar to regular LL readers. But in the course of preparing it, I found a few new things that may be of interest. For example, I decided to use the now-available web resources to look for the origins of momentarily in the sense "at any moment; in a moment; soon". This came up because I quoted Dick Cavett's NYT Opinionator column "It's Only Language", 2/4/2007, as an instance of left-wing authoritarian moralist peeving.
Cavett wrote:
When the flight attendant would say, "We will be landing in Chicago momentarily," I used to enjoy replying, "Will there be time to get off?" But I see the forces of darkness have prevailed, and this and many wrong uses are now deemed acceptable by the alleged guardians of our language, the too-quickly supine dictionary makers. Are they afraid of being judged "not with it"? What ever happened to, "Everybody does it don't make it right"?
I chose the quotation because it's an especially clear example of the sentiment that usage, no matter how widespread and how authoritative, doesn't outweigh the peever's sense that a certain usage is somehow morally wrong. But having chosen the passage, I felt in duty bound to check the implication that the evil sense of momentarily is a recent development, limited to ill-educated flight attendants and similar corporate drudges.
The OED's first citation for momentarily in the sense of "at any moment; in a moment; soon" is from 1869:
1869 A. J. Wilson Vashti xi. 149   Robert is bringing her home as carefully as possible, and you may expect them momentarily.
1928 Sun (Baltimore) 13 Aug. 1/2   Arrests were expected momentarily as police continued their investigation.
1951 W. C. Williams Paterson iv. §iii,   The husband is still living but his death is momentarily expected.
MWDEU observes that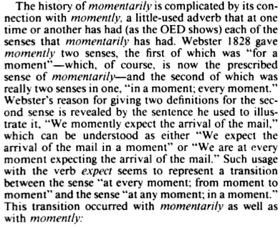 The example given is this:
During the early part of the morning, I momentarily expected his coming; he was not in the frequent habit of entering the schoolroom, but … I had the impression that he was sure to visit it that day.
________-Charlotte Bronte, Jane Eyre, 1847
A Google Books search for "[expect] momentarily" turns up a fair number of earlier examples:
Presently afterwards the whole horizon was covered over with clouds, the storm was expected momentarily to burst.
________[The Lady's Magazine, London 1798]
… the shrieks of the poor sufferers, crying for assistance; the terror of those […] who expected momentarily to share the same fate …
________[The Scots Magazine and Edinburgh Literary Miscellany, 1806]
He expected momentarily to be joined by the ninth corps …
________[Napier, History of the War in the Peninsula, 1831]
… some presents bespoken for the emir, and intended for the ransom of our brethren, were also expected momentarily from France.
________[Dublin Review, London 1842]
Other contexts are fairly common as well:
… liable as England will be to be herself momentarily invaded, any attempt to reconquer Ireland must be wholly out of the question …
________[Cobbett's Political Register, London 1807]
Others may yet be struggling hard, poor, weak, diseased bantlings, waiting momentarily and mournfully their final dissolution.
________[The Universalist Union, New York 1843]
They were half dead with fear; momentarily apprehending outrage and murder.
________[History of France, London 1845]
In contemporary American English (based on a sample of COCA), uses of momentarily remain >95% the "briefly" sense. (A similar sample of the British National Corpus has an ever higher proportion, supporting the OED's note that the "soon" sense is now "Chiefly N. Amer.") But the "soon" sense has been a solid contextually-restricted usage for more than two centuries, on both sides of the Atlantic –- and English has somehow survived this polysemy.
---
The Baggett Lectures are named after their funder, David M. Baggett, who got a B.S./B.A. in Computer Science and Linguistics at UMD in 1992, and among other post-graduate accomplishments, was the co-developer of the Crash Bandicoot series for the Sony Playstation.
David next co-founded ITA Software with two other MIT AI Lab graduates. ITA Software has developed the first new airfare pricing and shopping software in decades, and has licensed the technology to most major US and several international airlines. ITA Software's technology also powers Orbitz, one of the top three online travel portals — as well as many other industry websites.
He's now involved with a new startup, inky.com, which
pulls together all your personal and work email accounts in one place. By providing simple tools to manage your inbox, Inky helps you get things done.
---