« previous post | next post »
In a comment on yesterday's post on "Momentarily", Alan asked
Is there any difference between the language peeves of left-wing authoritarian moralists and right-wing authoritarian moralists? Do they tend to peeve about different kinds of usage?
I don't have a large enough sample to make confident generalizations, but my impression is that peevers across the political spectrum have similar "crotchets and irks" (to use right-wing peever James Kilpatrick's felicitous phrase). The only things I've seen that seem likely to be systematic differences lie in the area of blame.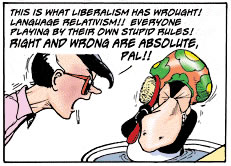 In particular, right-wing peevers sometimes blame the alleged moral laxness or philosophical relativism of liberals:
…[Postmodern] spokesmen try to convince us not merely that no one has such absolute knowledge, or can have such knowledge, but even that there is no such knowledge to be had. They apparently believe that if we give up our absolute beliefs and our belief in the absolute, what will remain is sweet reason. [They] … think that if we give up our belief in objective reality, we will become liberals or progressives or whatever Utopian socialists are called these days. -Mark Halpern, Language and Human Nature, 2009
You might think that conservatives would more commonly position themselves as defenders of tradition, but in fact arguments from tradition (usually false, of course) can be found across the political spectrum.
And you might think that liberals would be more likely to make arguments based on the (allegedly) rational consideration of effective usage, and a collective political effort to settle on explicit rules to maximize communicative efficacy. Indeed left-wingers like George Orwell do make such arguments:
Most people who bother with the matter at all would admit that the English language is in a bad way, but it is generally assumed that we cannot by conscious action do anything about it. Our civilization is decadent and our language — so the argument runs — must inevitably share in the general collapse. It follows that any struggle against the abuse of language is a sentimental archaism, like preferring candles to electric light or hansom cabs to aeroplanes. Underneath this lies the half-conscious belief that language is a natural growth and not an instrument which we shape for our own purposes. […]
Modern English, especially written English, is full of bad habits which spread by imitation and which can be avoided if one is willing to take the necessary trouble. If one gets rid of these habits one can think more clearly, and to think clearly is a necessary first step toward political regeneration […] -George Orwell, Politics and the English Language.
(Presumably, those who persist in their bad habits of writing and thinking may need to be sent to "political regeneration camps", though it seems ironic or even paradoxical to see this as the logical conclusion of Orwell's position.)
But right-wingers also sometimes argue for the linguistic equivalent of a planned economy, in which linguistic rules are to be invented by experts like them, on the basis of rational considerations of optimal communication, and imposed on the rest of us, for our own good:
[Descriptivist linguists] have not absorbed Edmund Burke's dictum: Art is Man's Nature. The nature under investigation by linguistic science is man's nature, of which a desire to construct standards, and use them to correct practice, is an essential element, not an aberration. -Mark Halpern, "The War that Never Ends", The Atlantic 1997
For more on this general issue, see "Authoritarian rationalism is not conservatism", 12/11/2007; "James Kilpatrick, Linguistic Socialist", 3/28/2008. And for a really extreme right-wing position, which equates the Hayekian idea of language as a "grown order" with Nietzsche's "slave morality", see "Querkopf von Klubstick returns", 6/10/2008.
---