« previous post | next post »
The most recent xkcd: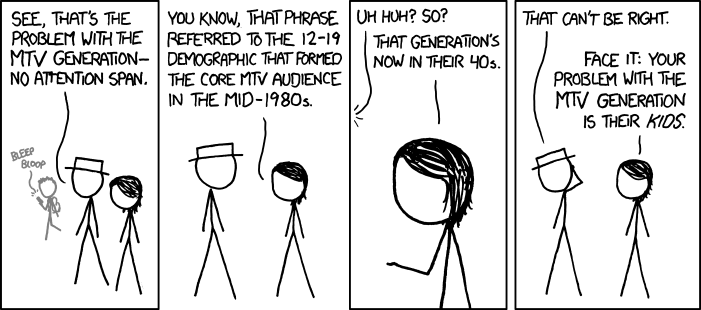 The mouseover title: "If you identified with the kids from The Breakfast Club when it came out, you're now much closer to the age of Principal Vernon."
The Breakfast Club, in case you happen to have missed it, was a 1985 movie about high-school detention.* And the guy who played Principal Vernon was born in 1939 and died in 2006 at the age of 67, so he was 45 or 46 in 1985; and someone who was 15 or 16 then would be 41 or 42 now, so Randall's guess turns out to be quantitatively exact pretty close.
Skipping a generation, the teens who identified with James Dean 30 years earlier in Rebel Without a Cause are now in their 70s. You can do the calculation yourself for Die Leiden des jungen Werthers (1774).
There are plenty of earlier cases where age-graded culture differences (or perceptions of such differences) have been perceived as decay. For some examples, see "Kids today", 3/11/2010.
On the other hand, there are also many cases where people think that "modern" linguistic or other cultural developments represent progress. One striking example is John Dryden's argument (in Defense of The Epilogue: or, An Essay on the Dramatick Poetry of the Last Age, 1672) that
… these absurdities, which [Jonson and Shakespeare] committed, may more properly be called the age's fault than theirs. For, besides the want of education and learning, (which was their particular unhappiness,) they wanted the benefit of converse […] Their audiences knew no better; and therefore were satisfied with what they brought. Those who call theirs the Golden Age of Poetry, have only this reason for it, that they were then content with acorns, before they knew the use of bread …
That particular passage deals with what Dryden reckons to be the implausibility of their plots, but he goes on to complain of their language:
But it is not their plots which I meant, principally, to tax; I was speaking of their sense and language; and I dare almost challenge any man to shew me a page together, which is correct in both.
And he starts the whole discussion in these terms:
It is … my part to make it clear, that the language, wit, and conversation of our age, are improved and refined above the last; and then it will not be difficult to infer, that our plays have received some part of these advantages.
In the first place, therefore, it will be necessary to state in general, what this refinement is, of which we treat; and that I think will not be defined amiss, An improvement of our Wit, Language, and Conversation; or, an alteration in them for the better.
To begin with Language. That an alteration is lately made in ours, or since the writers of the last age, (in which I comprehend Shakspeare, Fletcher, and Jonson) is manifest. Any man who reads those excellent poets, and compares their language to what is now written, will see it in almost any line. But, that this is an improvement of the language, or an alteration for the better, will not so easily be granted. For many are of a contrary opinion, that the English tongue was then in the height of its perfection; that from Jonson's time to our it has been in a continual declination; like that of the Romans from the age of Virgil to Statius, and so downward to Claudian: of which, not only Petronius, but Quintilian himself so much complains, under person of Secundus, in his famour Dialogue De Causis corruptae Eloquentiae.
But to shew that our language is improved, and that those people have not a just value for the age in which they live, let us consider in what the refinement of a language principally consists: that is, either in rejecting such old words or phrases which are ill sounding or improper, or in admitting new, which are more proper, more sounding, and more significant.
The reader will easily take notice, that when I speak of rejecting improper words and phrases, I mention not such as are antiquated by custom only; and, as I may say, without any fault of theirs. For in this case the refinement can be but accidental; that is, when the words and phrases which are rejected, happen to be improper. Neither would I be understood, when I speak of impropriety of language, either wholly to accuse the last age, or to excuse the present; and least of all, myself; for all writers have their imperfections and failings; but I may conclude in the general, that our improprieties are less frequent, and less gross than theirs. […] [M]alice and partiality set apart, let any man who understands English, read diligently the works of Shakspeare and Fletcher; and I dare undertake that he will find in every page either some solecism of speech, or some notorious flaw in sense: and yet these men are reverenced, when we are not forgiven. That their wit is great, and many times their expressions noble, envy itself cannot deny […] But the times were ignorant in which they lived.
The Epilogue being defended was part of his 1670 play The Conquest of Granada:
Fame then was cheap, and the first comer sped;
And they have kept it since, by being dead:
But, were they now to write, when criticks weigh
Each line, and every word, throughout a play,
None of them, no not Jonson in his height,
Could pass, without allowing grains for weight.
Think it not envy, that these truths are told;
Our Poet's not malicious, though he's bold.
'Tis not to brand them, that their faults are shown,
But, by their errours, to excuse his own.
If love and honour now are higher rais'd,
'Tis not the poet, but the age is prais'd.
Wit's now arriv'd to a more high degree;
Our native language more refin'd and free;
Our ladies and our men now speak more wit
In conversation, than those poets writ.
John Dryden, born in 1631, was 39 when The Conquest of Granada was first performed, and 41 when the Defense was published — the same age the fictional Breakfast Club kids would be today, and approaching the age of Principal Vernon (or of the actor playing him, anyhow).
In language as in other areas, it's clear that much age-associated meta-culture is related to such motives of self-justification — which is not to deny the existence of genuine historical change, independent of its evaluation as decay or progress.
* AB writes:
I feel the need to represent my generation (born 1971) and to take issue with your characterization of one of my favorite movies:
The Breakfast Club, in case you happen to have missed it, was a 1985 movie about high-school detention.
"High-school detention" was just the setting. The movie is about confronting and breaking down stereotypes, about (non-)conformity and rebellion, and about finding/choosing one's path along these different dimensions. Principal Vernon's character is particularly interesting and complex in this regard: he's the conformity enforcer, but he's also angry at what he feels he has to conform to himself.
All true. I should have added that if you haven't seen it, you definitely should do so. And if you haven't seen it in a while, you could find many worse ways to spend an evening than seeing it again.
---