« previous post | next post »
I just spent a few days in China, mainly to attend an "International Workshop on Language Resource Construction: Theory, Methodology and Applications". This was the second event in a three-year program funded by a small grant from the "Penn China Research & Engagement Fund". That program's goals include "To develop new, or strengthen existing, institutional and faculty-to-faculty relationships with Chinese partners", and our proposal focused on "linguistic diversity in China, with specific emphasis on the documentation of variation in standard, regional and minority languages".
After last year's workshop at the Penn Wharton China Center, some Chinese colleagues (Zhifang Sui and Weidong Zhan from the Key Laboratory of Computational Linguistics and the Center for Chinese Linguistics at Peking University) suggested that we join them in co-sponsoring a two-day workshop this fall, with the first day at PKU and the second day at the PWCC. Here's the group photo from the first day (11/5/2017):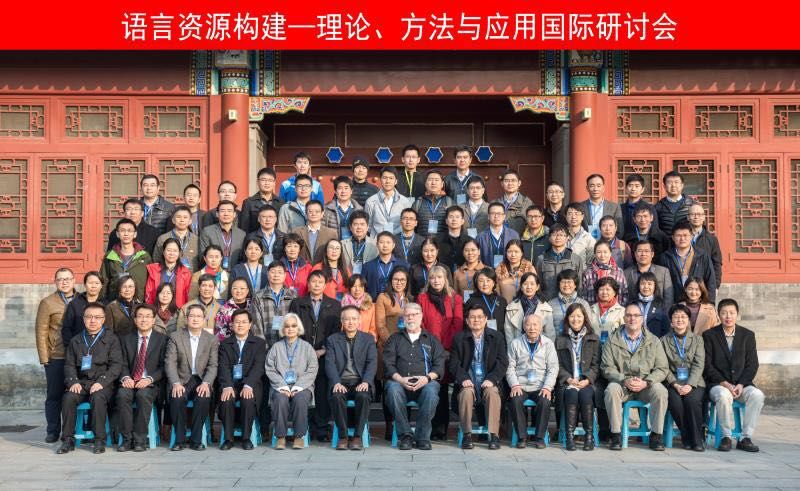 The growing strength of Chinese research in the various areas of linguistic science and technology has been clear for some time, and the presentations and discussions at this workshop made it clear that this work is poised for a further major increase in quantity and quality.
That trend is obviously connected to what Will Knight called "China's AI Awakening" (Technology Review, 10/10/2017):
The country is now embarking on an unprecedented effort to master artificial intelligence. Its government is planning to pour hundreds of billions of yuan (tens of billions of dollars) into the technology in coming years, and companies are investing heavily in nurturing and developing AI talent. […]
China's AI push includes an extraordinary commitment from the government, which recently announced a sweeping vision for AI ascendancy. The plan calls for homegrown AI to match that developed in the West within three years, for China's researchers to be making "major breakthroughs" by 2025, and for Chinese AI to be the envy of the world by 2030.
Some other media coverage: "China Is Using America's Own Plan to Dominate the Future of Artificial Intelligence", Foreign Policy 9/8/2017; "Will The Future Of Artificial Intelligence Look Chinese?", Forbes 11/6/2017; "How China plans to beat the U.S. at technology", CNN 11/8/2017; "How China's AI experts can beat Google and Microsoft at their own game by 2030", South China Morning Post 8/27/2017; "China's Artificial Intelligence Revolution", The Diplomat 7/27/2017; etc. …
The Chinese government's plan is well worth reading — and Google Translate does a good job of making it accessible to those who can't read Chinese.  Overall this plan strikes me as serious and well thought out, but there seems to me to be a potential tension between one aspect of the plan and the current reality. One of the plan's four "basic principles" is "Open Source" — in the automatic translation:
Advocate the concept of open source sharing, and promote the creation, sharing and sharing of all innovations in production, learning and research. Follow the law of coordinated development between economic construction and national defense and promote the two-way transformation and application of military and civilian scientific and technological achievements so as to jointly build up and share resources for military and civilian innovation so as to create a new pattern of deep integration of military and civilian development featuring all factors, fields and benefits. Actively participate in global R & D and management of artificial intelligence and optimize the allocation of innovative resources on a global scale.
This is very much like the approach followed in the U.S. over the past half century or so. But it's increasingly difficult for Chinese researchers to "Actively participate in global R & D and management of artificial intelligence and optimize the allocation of innovative resources on a global scale", given the increasingly restrictive nature of the "Great Firewall".
The Chinese plan, and the international reaction, are somewhat reminiscent of Japanese efforts in the 1980s, including the so-called "Fifth Generation Computer Project", which featured the AI technology of the time as the (software-side) foundation of its approach. Japan's apparent economic and cultural ascendency at that time was promoted by Ezra Vogel's 1979 book "Japan as Number One: Lessons for America" — but it did not end at all well, as discussed e.g. in "'Fifth Generation' Became Japan's Lost Generation", NYT 6/5/1992, "Japan as number one: Land of the setting sun", The Economist 11/12/2009, and "Looking back at 'Japan as No. 1': A rising star no longer, nation has suffered numerous setbacks since 1979", Japan Times 11/11/2010.
Though I'm no sociologist or economist, my impression is that the intellectual and economic foundations of the Chinese plan are more solid and less likely to fail.
[I should note that the "Belt and Road Initiative" is another factor promoting speech and language research in China — see "North America on the Belt and Road?", 7/16/2017.]
---