« previous post | next post »
Zachary Woolfe, "Hyper-High Notes", NYT 11/10/2017:
I wrote this week about the highest note in the history of the Metropolitan Opera, an A above high C currently being sung by Audrey Luna in Thomas Adès's "The Exterminating Angel." In my brief rundown of high-note history, I referred to the French soprano Mado Robin "shrilling" up to a high B flat; my infelicitous phrasing got called out by some Mado fans, one of whom was kind enough to send along a couple of her highlights. Recorded live, this is, my reader tells me, a French version of one of the big Miliza Korjus showpieces from the 1938 MGM musical "The Great Waltz." Its climax takes her up to what I believe (correct me if I'm wrong) is quite a lovely sustained B flat, half a step above Ms. Luna's achievement.
If the cited youtube clip has not been juiced, Mr. Woolfe is indeed wrong — the note in question is a (quarter tone above) a sustained B6, around 2006 Hz.
Here's audio for the note in question (at around 4:00 into the clip):
And here's a plot of the fundamental frequency as a function of time, first in cycles per second: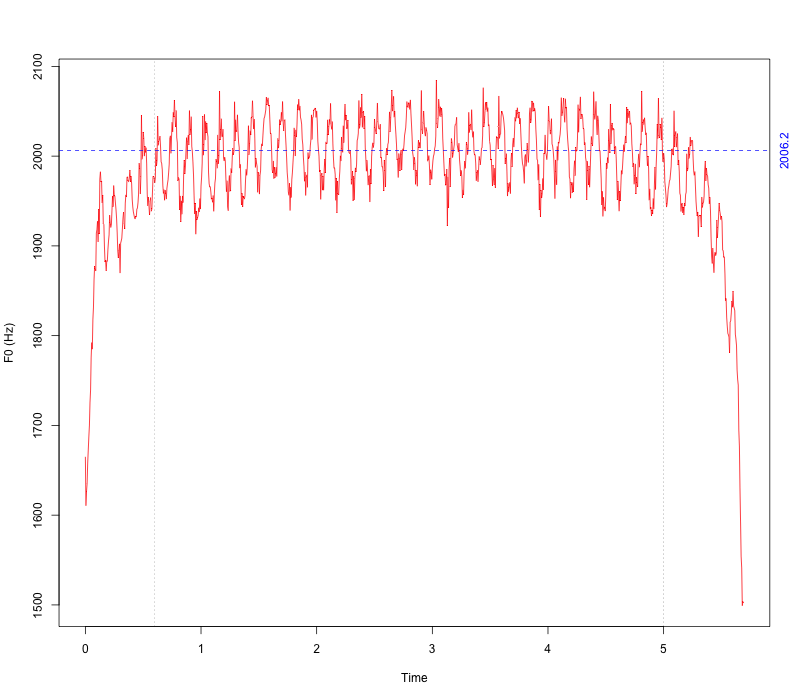 And then in semitones relative to A440: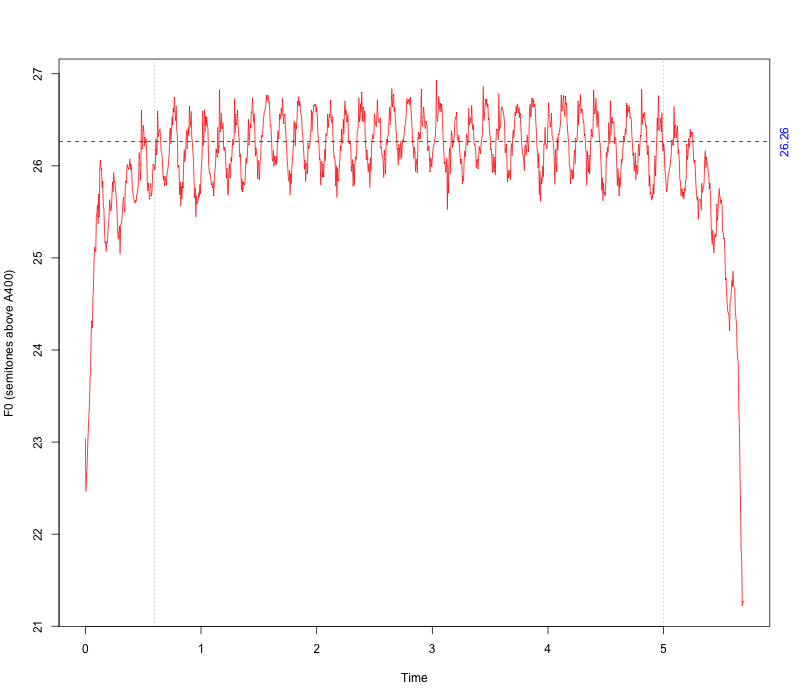 The singer's (7.3 Hz) vibrato is of course very prominent, so in both cases I've taken the mean value of what seems to be the stable middle region of the note, between the vertical dotted lines.
26.26 semitones (12*log2(2006.2/440)) is two octaves, two semitones, and a quarter tone — the two octaves take us from A4 = 440 Hz to A6 = 1760 Hz; the two semitones take us to B6 = 1975.5; and the extra quarter tone takes use to the observed mean value.
Here's the video clip:
I've been told that it was not uncommon, in the mid to late 20th century, to speed up recordings by a few percent, to increase the perceived vigor or intensity of the performance. And a five or six percent speed-up would give an extra semitone. I haven't checked the score of this opera to see what the note in question should nominally be, nor have I checked other pitches in the youtube version to see whether the whole recording plays at concert pitch or above it.
---