« previous post | next post »
From twimg.com (Twitter images):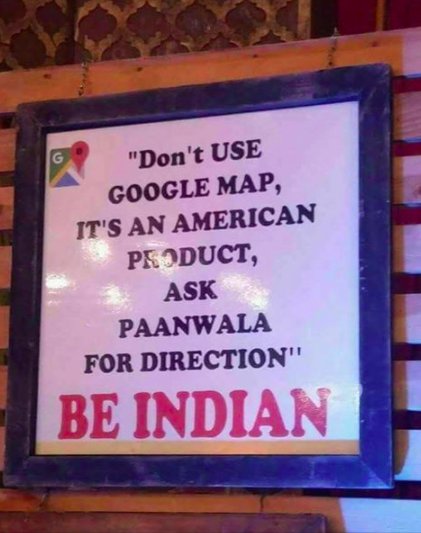 Found this delightful definition of "paanwala" on BRF Dictionary:
This may also be spelled as "paanwallah". Literally taken, this means "betel leaf seller". It is composed of two Hindi words, "Paan", which means "betel leaf" and "wala" (or "wallah") which means "person associated with". Betel leaf and areca nut is a common breath freshener in India and there are other ingredients added as well depending on region, similar to sausage varieties in German towns. It is a chewable product and wikipedia has more information about "paan" in general.
A typical paanwala operates a small stall, roadside booth or push cart and usually is the sole owner of the business. These tiny paan stalls are immensly popular in India and local people generally gather around one to chew the product and talk. Therefore a typical paanwala knows all the latest neighborhood gossip and rumors. Thus in BRF parlance, when a member posts something like "My paanwala says that …" or "According to my paanwala, …", it means that he or she is reporting some unofficial inside information which cannot be independently verified at the moment. The source is usually some insider connected with the project in question, e.g. an engineer, mechanic, manager, accountant etc. The insider may also be a close relative or friend of the BRFite. For privacy reasons and to avoid revealing how the insider source is connected to the project, the BRFite instead credits the source of information to "local paanwala" by convention. Sometimes the information may be true or it may just be an empty rumor.
Also see:
And what is BRF?  Well, it's the Bharat Rakshak Forum.  And what is Bharat Rakshak?  It's the Rakshak of Bharat (India).  And what is Rakshak?   Hindi: रक्षक ("protector; defender; keeper; savior; vindicator; guard"; etc.).  So I suppose we may say that "Bharat Rakshak" implies "Indian Defense".  Checking Wikipedia, I see that it means "Defenders of India" and is identified as "a website devoted to discussing India's military affairs. It was started and is run by military enthusiasts."
The suffix "wallah" is one of my favorite Hindustani expressions.  It signifies a person concerned or involved with a specific thing or business; a specialist in or seller of whatever, e.g., "ice cream wallah".  You can even be a Shakespeare Wallah.  "Wallah" can also refer to a native or inhabitant of a certain place, e.g., "Bombay wallah".
For a learned explanation of "wallah", see Hobson-Jobson, that magisterial dictionary of Anglo-Indian words and phrases by Col. Henry Yule and A. C. Burnell, Ph.D. (1886), new edition by William Crooke, B.A. (1903), under "competition-wallah", pp. 239b-240b.  For a link to the digital version provided by the University of Chicago, click here.
[h.t. Geoff Wade]
---