« previous post | next post »
Linguistics is in the most desirable quadrant according to today's xkcd: low likelihood of being a crucial tool for a supervillain, and low probability of anything breaking out of the research environment and threatening the general population.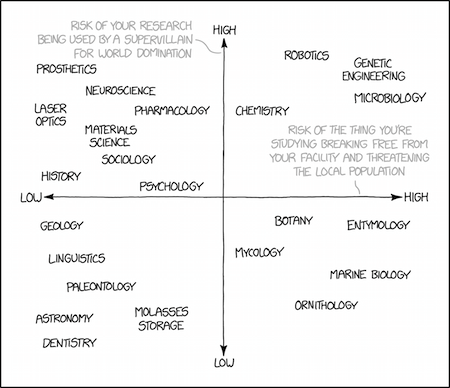 But I'm not at all sure that everything is positioned correctly. Molasses storage should be further to the right (never forget the Great Boston Molasses Flood of 1919); dentistry should be moved up (remember Marathon Man); robotics in its current state is too highly ranked on both axes; and entomology, right now (October 18, 2017), in addition to being slightly too low, is spelled wrong. Lots to quibble about, I'd say. But not the standing of linguistics as a safe thing to work on.
Randall Munroe did not pick molasses as a random threat, of course; his mouseover alt text reads: "The 1919 Great Boston Molasses Flood remained the deadliest confectionery containment accident until the Canadian Space Agency's 2031 orbital maple syrup delivery disaster."
And I think the misspelling of entomology must be another case of him toying with us; he knows people confuse etymology with the study of insects: see https://xkcd.com/1012/. I think he's just messing with our heads. As usual.
Thanks to Joan Maling and Meredith Warshaw.
---