« previous post | next post »
In Lee Child's recent novel The Affair, Jack Reacher visits the home of Shawna Lindsey, one of three beautiful young women who have been brutally murdered, and meets the victim's younger brother. Reacher's interior monologue goes like this: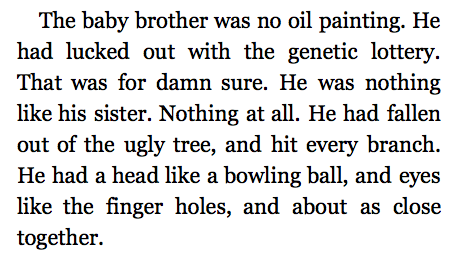 Lee Child is British, but in my experience of his novels, he seems to have a good command of American idioms. This time, though, I think that he's gotten one backwards. The OED identifies luck out as a U.S. expression, a judgment that is supported by the fact that it doesn't occur at all in the British National Corpus, but occurs 32 times in COCA. And the OED gives it the gloss "to achieve success or advantage by good luck in a difficult, testing, or dangerous situation", which seems about right (though maybe this emphasizes the difficulty and danger too much).
But Child seems to have Reacher using luck out by analogy to baseball terms like "strike out", "fly out", "ground out", where the out part means that your outcome in the current trial is complete failure. On that analogy, luck out could mean "fail completely due to (bad) luck". And in some parallel universe, it might — but here and now, in the U. S. of A.,  it doesn't.
I guess it's possible that some errant typing, editing, or typesetting omitted a "not"; but that seems less likely to me than an uncharacteristic misunderstanding on the part of Child and his editor(s).
Update — Lauren at Superlinguo (from Australia) has a nice investigation of regional differences in the interpretation of luck out: "Lucking out", 9/26/2011:
Over lunch with a few friend the other day it transpired there were two very different opinions about the meaning of the term 'lucked out' that divided the group. Half of us firmly believe that it is a good thing to luck out, while the other half thought that it was a very bad thing to luck out.
She adds some corpus searching:
The New York Times up to 2007 had 326 references for 'lucked out', The Independent (UK) had 19 references since 1994 and for an Australian angle The Age had 44 search items with 'lucked out' since 1995. I'd love to spend all day going through the clippings, and tallying which sense is used where, and the oldest reported uses etc, but work calls . With only a quick flick it looks like the NYT references are all using the positive sense. the Independent also mostly uses the positive sence but the term mostly crops up in American references and quotes […]
In The Age there are a mixture of usages, much like our small Australian contingent at the lunch table showed mixed attitudes to the meaning of 'luck out.' […]
In the interest of full disclosure, I only ever use 'luck out' as a negative thing. If you lucked out things certainly didn't go your way.
So it looks like this is not an individual thing with Lee Child, as I mistakenly thought. Rather, luck out has come to be used outside the U.S. as well, but somewhat less often, and with mixed polarity.
But the negative-outcome version must be quite rare in the U.S., if it occurs at all — I've never heard or read it before, and none of the 32 relevant hits in COCA are of that type.
Update #2 — There's an instructive entry in Merriam-Webster's Dictionary of English Usage, which I should have checked earlier:
According to Harper 1985, luck out was commonly used during World War Ii in some such sense as "to meet with bad luck; run out of luck," as in describing a soldier who was a casualty of battle ("He lucked out") or a poker player who lost hist chips. The Harper panelists are asked if they think that the newer sense of luck out, "to succeed because of good luck," has now superseded the older sense. Most of them vote yes, but 26 percent vote no.
We find those "no" votes a bit peculiar, because have collected almost no evidence of the older sense cited by Harper. An entry for it can be found in Wentworth & Flexner's Dictionary of American Slang (1960), indicating that it had "some W.W. II use; some general use;" but have to wonder how common its use ever became. Several World War II veterans on the Harper panel have never heard of it, and our files include only a single citation:
Elementary school children get a day off Feb. 17. . . . Junior and Senior High Schools are lucked out. . . . Both will be in session. — Springfield (Mass.) Union, 31 Jan. 1958
The little evidence we have showing luck used as a verb during World War II is suggestive of good luck, not bad […]
Having participated in similar panel votes, my own guess would be that those 26 votes for the idea that the putative older meaning was still extant in 1985 were probably votes for a general laissez-faire policy: "Sure, if some veterans want to use the phrase in that quaint and peculiar way, why not let them?"
The MWDEU entry continues:
We first recorded this [positive] luck out in 1951:
, , , had been arrested by a plainclothesman, who, as they say in Harlem, had lucked out on him; that is, the officer had picked him up merely on suspicion, searched him in a hallway, and found his dope outfit. — Eugene Kinkead, New Yorker, 10 Nov. 1951
A brief article by James E. Miller, Jr. in the devember, 1954 issue of American Speech testified to the common use of luck out in this sense by college freshmen. By the 1960s it had because established in more general use. It now occurs commonly in both speech and general writing […]
Since Jack Reacher was fictionally 38 years old in the 1997 of The Affair, and thus born around 1959, he would have grown up with the positive version.
But I should not that this item is rare enough (about 1 per 10 million words in COCA) that a few Americans might learn it backwards, and go a long time without encountering clear evidence of their mistake. And if it's entered Australia (and England?) in a mixed form — or been independently coined there with mixed valence — then the resulting confusion could last a long time without being sorted out.
---