« previous post | next post »
Bert Vaux posted this on his Facebook wall, "From Ed Pulford's recent trip to Silk Road towns in Southern Xinjiang":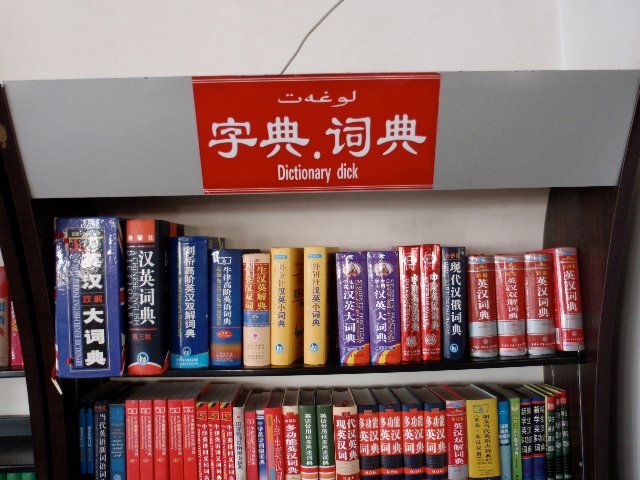 This is a tough nut to crack.  The Uyghur label at the top is no help, because, as David Brophy observes "the Uyghur is just lughät, the standard word for 'dictionary' (Arabic originally)."
The best hypothesis I can put forward for how this weird sign came about is that the translator, faced with two Chinese words for "dictionary" (zìdiǎn 字典 ["character dictionary"] and cídiǎn 词典 ["word dictionary"] ), didn't want to render them by a single English word, so they used "dictionary" for the former and "dick" for the latter.  Of course, that still doesn't explain where they got "dick" from.  I submit that it may have happened in the following way.
The abbreviation "dict." is all over the internet as a stand-in for "dictionary"; it is especially widely used with reference to bilingual Chinese and English dictionaries.  The person charged with translating 字典.词典, being familiar with online sites called "dict." may have written that down on a piece of paper and given it to the sign painter, who misread the final "t" as "k".  That's not so far-fetched as it may seem, since Chinese cursive styles sometimes write "t" in a way that might be confused with "k".  It's common to see "s" being mistaken for "p" and "l" for "t", or "G" being mistaken for "J".
We can expect more of this sort of confusion; after all, cursive and characters appear to be dying arts.
[A tip of the hat to Ben Zimmer]
---