« previous post | next post »
Yesterday, The New Yorker posted an article on its website: "The Error in Baseball and the Moral Dimension to American Life," by Stephen Marche. As originally published, the article contained this paragraph (emphasis mine):
In practice, "ordinary effort" describes, as Bill James wrote, what should have happened. What should have happened in a piece of fielding can have nothing to do with the play of the fielder. Utter offered me a case: The runner hits the ball into the outfield, the fielder baubles the ball, and the runner advances to second. Is that an error? It depends. "What we would have to look at is—is it a single or is it a double? Or is it a single and advance on an error or on the throw?" The way that the scorer determines whether that bauble is an error or not has less to do with the action of the fielder than with the action of the runner. "Was the runner going all the time? Did he never think about stopping at first? Or was he running and looking at the play and then slowed down a little bit and then took off when he saw the little bauble?" If he paused, noticed the misplay, and ran to second, "That becomes the error."
Obligatory screenshot (also preserved for posterity by the Internet Archive's Wayback Machine):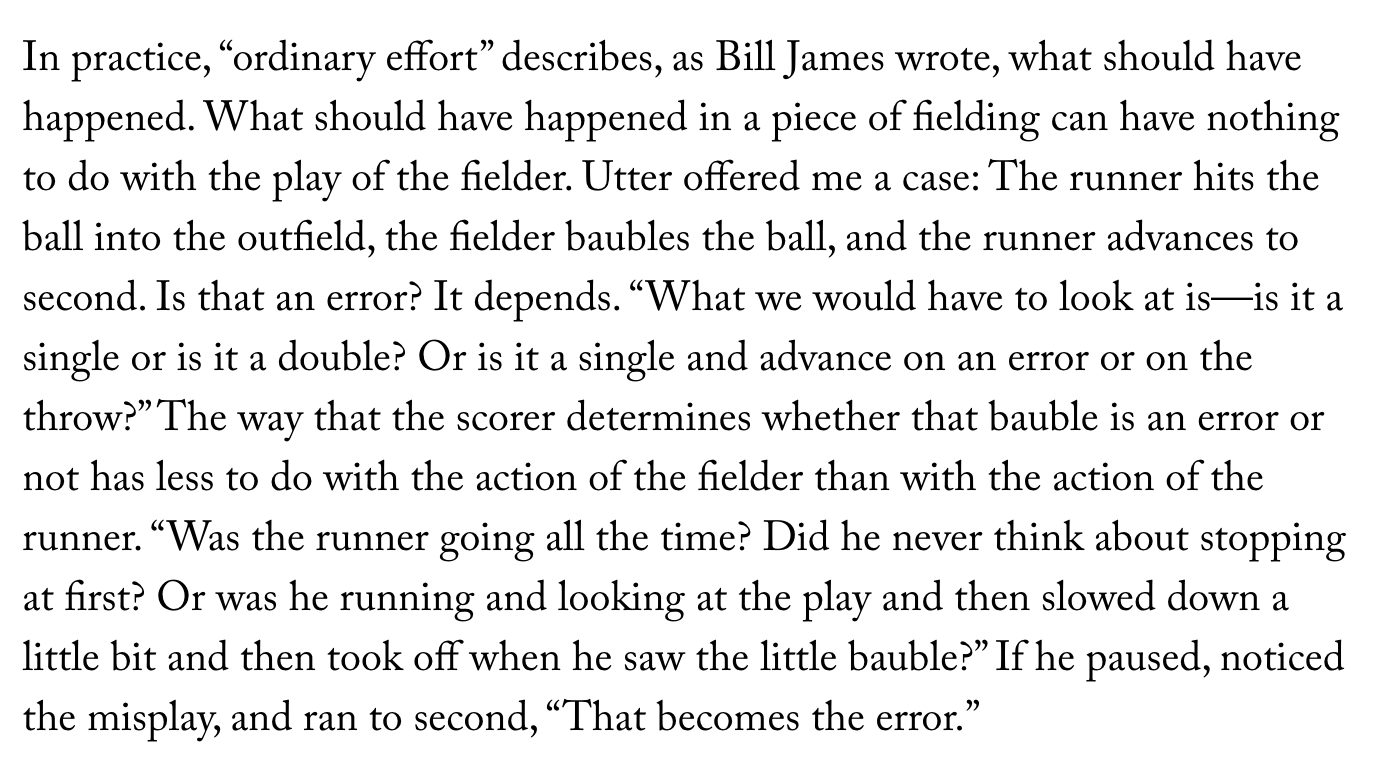 The use of bauble instead of bobble did not go unnoticed on social media.
Really?? "Bauble" instead of "bobble"?!

— rolian (@rolian) October 3, 2017
Somebody bobbled this one @StephenMarche @NewYorker pic.twitter.com/4tlH0FSTlE

— Tom Scocca (@tomscocca) October 3, 2017
But by this morning, the baubles had been changed to bobbles. On Twitter, the author was sanguine about "a spelling mistake in a piece on errors" (reminiscent of Muphry's Law).
Being fixed. You are the seventh person to bring this up, which I guess is natural enough. A spelling mistake in a piece on errors. https://t.co/ibWZwqqOKB

— Stephen Marche (@StephenMarche) October 3, 2017
I brought the bobble/bauble bobble to the attention of the American Dialect Society mailing list, noting that this eggcorn-ish error could be attributed to the cot/caught merger. Those speakers with the merger would pronounce the two words as homonyms. (As J.W. Brewer observes in the comments below, Stephen Marche is Canadian, and the merger is very prevalent in Canadian English.) On ADS-L, Larry Horn wrote:
And here I thought a bauble becomes an error only when you get cold feet before the wedding and seek to become disengaged.  Tough to sort out those diamond miscues.
After the baubles were removed, Larry followed up:
Very sad.  I was really attached to the diamond miscue motif.  I was wondering if you get shifts in the other direction, and searching "fancy bobble" pulls up a couple, including one from On the Wings of a Dove, a novel not written by Henry James:
"Yes, son, three dollars is a lot of money but your Ma is worth every penny of it. Some day I hope you will find yourself a girl to love as much as I love your ma. When you do you likely will find yourself willing to spend the last penny you have in your pocket to buy her a fancy bobble just like I'm gonna do now".
"expensive bobble" fetches a plethora of expensive bobble-head dolls.
In the bobble → bauble direction, one contributor to the Eggcorn Forum in 2006 noted examples of baublehead or bauble head. It's easy to turn up more recent examples, such as:
I got a ginormous bauble head that I have no idea what the hell I am going to do with it. So if any of you guys really want the bauble head, I'll be more than happy to ship it to your house. — Racin' Today, Nov. 18, 2016
And sometimes the bobble/bauble similarity serves as the basis for an intentional pun, as in this "Frank & Ernest" comic strip from Dec. 26, 2011.

---