« previous post | next post »
The most recent xkcd: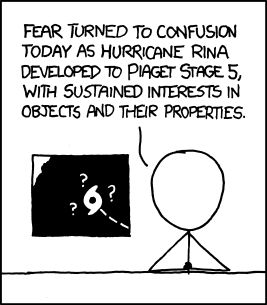 Mouseover title: "Funding was quickly restored to the NHC and the APA was taken back off hurricane forecast duty."
This strip illustrates an important linguistic concept: acronyms and proper names are words too. At least, you need acronyms and proper names in your mental lexicon in order to appreciate this joke.
Specifically, you can't understand why this is strip is funny unless you know that Piaget was a psychologist who developed a theory of the stages of children's cognitive development, that the NHC is the National Hurricane Center, and that the APA is the American Psychological Association. (And yet, there are no acronyms or proper names in the word lists that people use in order to estimate passive vocabulary. More on this in a later post…)
I like the idea that budgetary exigencies might require new kinds of interdisciplinary cooperation. This would be a sort of grown-up version of Walker Percy's recipe for improving the teaching of literature and biology:
I wish to propose the following educational technique which should prove equally effective for Harvard and Shreveport High School. I propose that English poetry and biology should be taught as usual, but that at irregular intervals, poetry students should find dogfishes on their desks and biology students should find Shakespeare sonnets on their dissecting boards …
So sure, put those Piagetians to work tracking hurricanes, and let the out-of-work atmospheric scientists try to predict the behavior of toddlers.
---