« previous post | next post »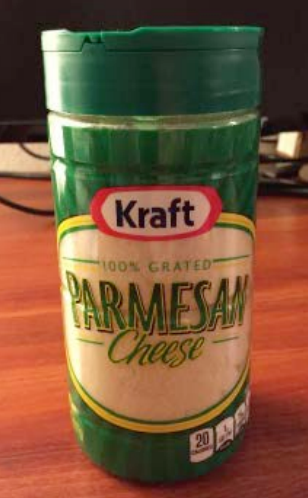 Glenn Lammi, "Food Court Follies: Judge Grates Parmesan-Cheese Multidistrict Litigation", Forbes 8/31/2017:
A recent court case asked the Reasonable Person to put on her "reasonable consumer" hat and determine the meaning of the term "100% Grated Parmesan Cheese" as it appears on containers of shelf-stable, processed shaky cheese.
In February 2016, inspired by overblown media stories, 15 lawsuits were filed in 6 different courts against 7 defendants (Kraft Heinz Co., Albertsons Cos., Target Corp., Wal-Mart Stores, ICCO-Cheese Co., and Publix Super Markets) alleging common-law and statutory violations for those companies' false or misleading use of that statement.
The term is fraudulent, the suits alleged, because the container of grated or shredded cheese included an additive, cellulose, which is included to prevent caking.
On June 2, 2016, the Judicial Panel on Multidistrict Litigation centralized all the actions in one multidistrict litigation (MDL) in the Northern District of Illinois before Judge Gary Feinerman.
In an opinion dated 8/24/2017, Judge Feinerman dismissed the case, on the grounds that
Where a plaintiff contends that certain aspects of a product's packaging are misleading in isolation, but an ingredient label or other disclaimer would dispel any confusion, the crucial issue is whether the misleading content is ambiguous; if so, context can cure the ambiguity and defeat the claim, but if not, then context will not cure the deception and the claim may proceed.
and
… the description "100% Grated Parmesan Cheese" is ambiguous—as are the other, similar descriptions of Defendants' products—so Plaintiffs' claims are doomed by the readily accessible ingredient panels on the products that disclose the presence of non-cheese ingredients. Although "100% Grated Parmesan Cheese" might be interpreted as saying that the product is 100% cheese and nothing else, it also might be an assertion that 100% of the cheese is parmesan cheese, or that the parmesan cheese is 100% grated. Reasonable consumers would thus need more information before concluding that the labels promised only cheese and nothing more, and they would know exactly where to look to investigate—the ingredient list. Doing so would inform them that the product contained non-cheese ingredients.
The judge's general ambiguity claim seems at least technically valid, but Rebecca Tushnet argues that technical ambiguity should not be enough ("'100% grated parmesan cheese' doesn't have to be all cheese, court rules", 8/30/2017):
Ah, implicature, how I wish judges understood you.  A product labeled "100% Grated Parmesan Cheese" is, apparently, ambiguous—it could mean the product has a bunch of different ingredients, but the parmesan component is 100% grated, rather than only partially grated.  This is nonsense for a product that purports to be cheese, though it would make sense for a non-cheese-only product with a "made with 100% grated parmesan cheese" label.  In fact, the common-sense comparison is the challenged phrase with or without "made with"—on its own, the "100%" naturally applies to all the words following it.
The judge's remarks raise another question for me, which is not relevant to the legal issues but is linguistically puzzling.
I get that a phrase of the form  N% X Y  might mean Y that's N% X, not something that's overall N% X Y. Thus a bottle labelled "3% NaCl solution" is likely to contain a solution that's 3% NaCl, not a mixture of 3% NaCl solution with 97% other stuff, say mineral oil or kerosene. (And never mind that there are several different interpretations of "percent" in this context…)
But could a label of the form N% X Y Z really mean Z that's N% Y, with no specification of the proportion of Z that's X, or the overall proportion of the labelled material that's Z? That's the implication of the judge's claim that "'100% Grated Parmesan Cheese' […] might be an assertion that 100% of the cheese is parmesan cheese".
[h/t Jonathan Weinberg]
---