« previous post | next post »
Banner on the side of a fancy car in Sydney, Australia: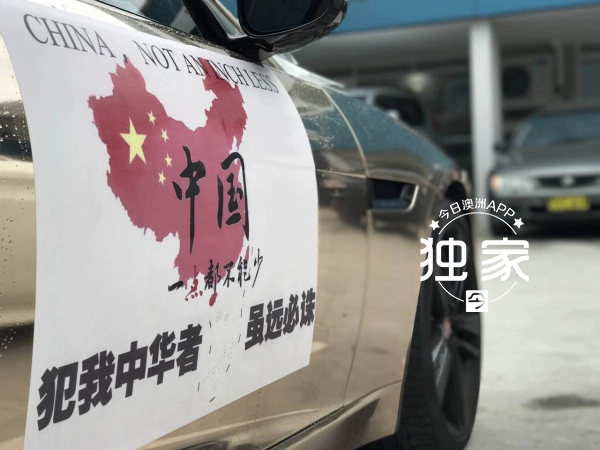 The photograph comes from this article:  "Chinese Australians in supercars protest India on its 70th Independence day", by Heidi Han, in SBS (8/16/17).
It seems that Chinese patriots are angered that Indian forces are not backing down from a standoff that has been going on for more than two months at Doklam in the Himalayas.
Here are some of the latest news items on the situation:
"Chinese State Media Video Mocks India In Bizarre Propaganda On Doklam", by Deepshikha Ghosh, NDTV (8/17/17).  This article includes a rare 3:22 Chinese propaganda film in English accusing India of "Seven Sins":
An actor with a stick-on beard and heavily-accented English parodies Indians to canned laughter.
"Do you negotiate with a robber who had just broken into your house… You just call 911 or just fight him back, right?" says Ms Wang. 911 is an emergency hotline only in the US.
The actor apparently representing a Sikh answers: "Why call 911 – don't you wanna play house, bro?"
Although Twitter is blocked in China, Xinhua has posted the hilarious video on its English-language account, so you can be sure that this is pure propaganda intended only for foreigners.
I found it a bit difficult to view the video from this site, but I persisted and succeeded after about four tries.
Ah, I also found the offensive video in this article, and it is easier to view here:
"Doklam standoff: China's Xinhua agency releases racist video parodying Indians:  A video with racist overtones that seeks to parody Indians has been issued by China's state-run Xinhua news agency to give the country's position on the Doklam standoff", by Sutirtho Patranobis, Hindustan Times (8/16/17):
The video particularly targets the Sikh minority, and for some perplexing reason, the "Indian" is seen to be brandishing a pair of scissors.
"View: Whether China steps back or ups ante, it will lose in Doklam", by Kanwal Sibal, The Economic Times (8/17/17).
The slogan in nine large Chinese characters at the bottom of the banner on the side of the car pictured above reads:
Fàn wǒ Zhōnghuá zhě   suī yuǎn bì zhū
犯我中华者 虽远必诛
"Whoever offends / assails / violates our Chinese (nation), although (they may be) far away, (we will) surely / certainly / necessarily kill / punish (them)."
The first thing that needs to be pointed out about this slogan is that it is not in Mandarin, but rather it is in Literary Sinitic (LS) / Classical Chinese (CC).  If you put this into a Mandarin machine translator such as Google Translate, Baidu Fanyi, or Bing / Microsoft Translator, the results will be gibberish.  It would be like asking a Hindi machine translator to translate Sanskrit, probably worse.
For those who know the basics of LS grammar, lexicon, and syntax, the message slogan is not too hard to understand.  The most challenging part is to grasp the exact semantics of the last character:  zhū 诛.  The basic meaning is "execute; put (a criminal) to death; impose the death penalty; kill", but it is also often used in the diluted or extended sense of "punish".
When I looked online for translations of the whole slogan, most avoided the use of "execute; kill" and chose "punish" or other circumlocution.  It would seem that the majority of translators instinctively sense that "execute; kill" is too extreme a penalty for the crime of fàn 犯 ("offending; affronting; assailing; violating; invading"), except perhaps for the last listed interpretation of the term.  Mind you, though, that zhū 诛 really does mean "execute; put (a criminal) to death; impose the death penalty; kill" in its most fundamental sense.
I asked several bilingual speakers of Mandarin and English how they would render the slogan in English and in Mandarin.  Here are some of the results:
English
Those who invade China will meet their doom regardless of the distance/location.
China will eradicate/punish those (nations or individuals) who intrude upon our nation although distant.
Meaning:  Chinese soldiers will definitely destroy any armed force that threatens the life of Chinese people.
Those who invade China, even though a thousand miles away, will be wiped out.
Those who offend China will be killed however far they are.
Any violators against China are to be annihilated, however far they run.
Mandarin
Fán qīnfàn Zhōngguó lǐngtǔ de dírén, wúlùn yuǎnjìn, bì jiāng zāo dào tòngjī.
凡侵犯中国领土的敌人,无论远近,必将遭到痛击。
Bùlùn jùlí yuǎnjìn, Zhōngguó jiāng huì zhūtǎo suǒyǒu qīnfàn qí guójiā hé mínzhòng de gètǐ.
不论距离远近,中国将会诛讨所有侵犯其国家和民众的个体。
Duìyú qīnfànle Zhōngguó de rén, jiùsuàn jùlí yuǎn, yě yīdìng yào bǎ tā xiāomiè.
对于侵犯了中国的人,就算距离远,也一定要把他消灭。
Duìyú nàxiē qīnfàn wǒmen Zhōnghuá de rén, jiùsuàn shì zài yuǎn, yě bìxū yào bèi zhūmiè.
对于那些侵犯我们中华的人,就算是再远,也必须要被诛灭。
Rènhé qīnfàn wǒmen Zhōnghuá mínzú de rén, wúlùn nǐ zài duō yuǎn dì dìfāng, wǒmen dōu yīdìng huì bàofù dàodǐ.
任何侵犯我们中华民族的人,无论你在多远的地方,我们都一定会报复到底。
Rènhé qīnfàn Zhōnghuá [mínzú lìyì] de rén, wúlùn duō yuǎn, wǒmen dōu bìrán huì jiānmiè tā.
任何侵犯中华[民族利益]的人,无论多远,我们都必然会歼灭他。
For the dedicated philologists among us, the reason the slogan is in LS is because it is based directly on this passage from scroll 70 of the Hàn shū 漢書 (History of the Former / Western Han Dynasty [ 206 BC – 9 AD]) by Ban Gu, Ban Zhao, and Ban Biao, completed in 111 AD, míng fàn qiáng Hàn zhě, suī yuǎn bì zhū 明犯彊漢者,雖遠必誅。, which describes how the Chinese army defeated the Xiōngnú 匈奴 (Hsiung-nu; Huns) in Central Asia and executed their leader because they had killed the Chinese ambassadors to that region.
Two thousand years of resentment against the barbarians are riding on that car door.
[h.t. Geoff Wade; thanks to Yixue Yang, Jinyi Cai, Fangyi Cheng, Jing Wen, Melvin Lee, and Maiheng Dietrich]
---