« previous post | next post »
From a long blog post on contemporary Chinese religious art and architecture: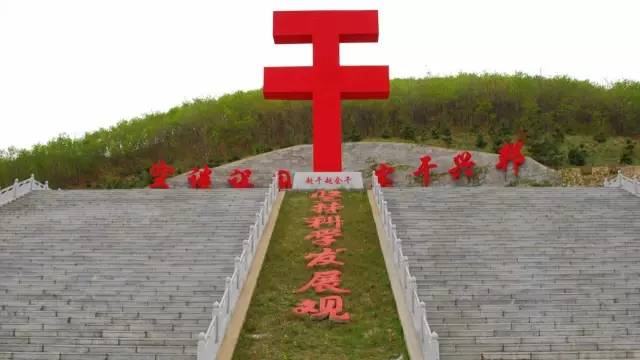 The post contains many other photographs of this monument, some with groups of people standing before it, so it is a real thing.
We know where the monument is:  Dalishucun ("Big Pear Tree Village"), Fengcheng City, Dandong Prefecture, Liaoning Province in China's Northeast (formerly Manchuria).  It is located a hundred miles south of Shenyang and 35 miles northwest of Dandong, not far from the border with North Korea.
This striking red monument, situated on a hillside, is 9.9 meters (30 feet) tall, and can be seen from quite a distance.  The same symbol may be seen on other public constructions in Big Pear Tree Village.  But what does it represent?
Upon first glance, one of my Chinese friends thought that it was a symbol for the Chinese yuan and Japanese yen, ¥, and thus that it was a monument to mammon, a fitting motif for today's China.  But this sculpture lacks the forked prong at the top.
Another friend thought that it was a Cross of Lorraine (French: Croix de Lorraine), the heraldic two-barred cross ☨.  But the vertical member of this sculpture does not protrude above the upper cross bar.
When I showed it to some other, younger Chinese friends, they snickered, confirming my own suspicion that this is none other than the celebrated gàn 干 ("do; f*ck"; it also has many other meanings, including, when read in first tone, "dry"), with which we here at Language Log are thoroughly familiar:
Most recently, we have hearkened to President Xi Jinping's clarion call in his 2017 New Year's Speech for everyone to lū qǐ xiùzǐ jiāyóu gàn 撸起袖子加油干 / 擼起袖子加油幹 ("roll up our sleeves and do it [i.e., work hard]").  See:
The "'gàn' zì wénhuà guǎngchǎng '干'字文化广场 ("'do' character culture square") celebrates local cadre Mao Fengmei 毛丰美 (b. 1949; CCP branch secretary for Big Pear Tree Village) and his lifetime of kǔ gàn 苦干 ("hard work").  Mao exemplifies the spirit of "为民而干" ("'do [it]' for the people") (13,400 ghits).  This is obviously a transformation of the deathless slogan of another Mao, " wèi rénmín fúwù 为人民服务" ("serve the people", more lit., "serve for the people").
Mao Fengmei's watchwords are kǔ gàn 苦干 ("work hard"), shí gàn 实干 ("work steadfastly"), and qiǎo gàn 巧干 ("work ingeniously").  Relying on this spirit, Mao raised Big Pear Tree Village from poverty to a model of rural prosperity.  The towering gàn 干 ("do it") sculpture is the embodiment of the principles that Mao used to turn Big Pear Tree Village from a backward community to national prominence.  In plainest, simplest terms, I suppose we could say that — with his emphasis on gàn 干 — Mao Fengmei was trying to instill a strong work ethic in his fellow villagers.
For his accomplishments in Big Pear Tree Village, Mao attained sufficient national stature that he was featured in this report on the 2014 national legislative and political advisory sessions, at which he had served as a deputy (lawmaker) since 1993.
Here are more pictures and explanations of the "'gàn' zì wénhuà guǎngchǎng '干'字文化广场 ("'do' character culture square").  One of the photos is of a stele inscription commemorating the villagers' work in establishing an extensive fruit orchard, which generated considerable income for them.  The last sentence reads as follows:
Tāmen yòng hànshuǐ quánshìzhe gàn zì jīngshén de zhēndì
他们用汗水诠释着干字精神的真谛
("They illustrate the true essence of the word 'gan' with their sweat") (English translation on the stele)
Party tours are organized around this giant gàn 干.  Notice in the photograph accompanying this article that the railings around the edges of the spacious square are decorated with countless gàn 干 symbols.
Here's a richly illustrated article on a study trip to the monument by Liaoning Prison Administration cadres.
When I called this gàn 干 monument to the attention of Chinese friends and students who didn't know about it before, their reactions were diverse.  Those who were over about thirty-five years of age, and especially those from Taiwan, mostly thought of this respect shown to gàn 干 as a kind of worship.  In other words, gàn 干 veneration for them is a manifestation of popular religion.  Indeed, the local people around Big Pear Tree Village characterize gàn 干 as " shén 神" ("sacred; divine").
Younger people almost invariably cannot help but think first of the vulgar meaning of gàn 干, so for them it seems very strange to see such a huge statue erected to gàn 干 in such an ostentatious, public fashion.  They cannot help but laugh when they see this gàn 干 sculpture.  Even some older folks (over sixty) also reacted to the monument to gàn 干 with hearty laughter.
There's a third type of reaction which looks upon this monument to gàn 干 as "political propaganda and commemoration of the thirty-years of hard work and the economic development of this village".  This sober, scholarly, socialistic approach yields quite a different interpretation of the gàn 干 monument than the previous two.
Here I will let one of the correspondents (basically in the third category and about thirty years old) expatiate upon what she takes to be the overall aim of the article with which this post begins and in which the gàn 干 monument is featured:
I guess the main point of this article is to criticize the ugly and bizarre designs of much architecture in China. This has become a cultural phenomenon in China nowadays.
The elite aesthetic and artistic canon are different from the taste of the lower social classes in most societies. This is why the temples in the villages look so weird. Popular religious cults often absorb foreign deities and even create new deities based on the existing ones. This is what I learned when I was studying ancient Egyptian religion. Local and household shrines did not quite follow the royal art canon and usually look "awkward".
However, many buildings belonging to the elite look ugly too, such as the landmarks of some large cities. This indicates that the new elite, though they have become very wealthy now, do not have the corresponding elite artistic taste. Possibly the owners of these buildings (i.e., the owners of local corporations) come from lower social classes and never received any elite education.
I think the lack of education in art and humanities in China makes the situation worse. Even the best universities in China, such as Tsinghua, do not offer enough courses on art and humanities, let alone middle and high schools. I really hope things will get better in the future and young people can have opportunities to learn more about art, history, culture, and philosophy, rather than merely science and engineering.
Here's another assessment of the article by someone with a more playful, literary background (in her lower twenties):
I have read the article from the first word to the last, and I like how the writer was seriously talking nonsense! He does have a substantial point about the need to respect Chinese popular culture, even though it seems cheap, low-class, and coarse to some. It has always possessed a cute sense of humor, profound wisdom, and strong attachment to the grassroots life of xiāngtǔ wénhuà 乡土文化 ("local / rural culture") that I personally find so attractive. As for "干",it not only means hard work, but also is an equivalent to an English four-letter word starting with the letter after "e". So, if the 干 monument truly exists, the local government definitely has made itself a tremendous laughing stock.
One last thought, from a comparative perspective.  "Just do it" is a wildly popular meme in contemporary American culture, as in the supposedly inspirational video (of which this is a brief segment) by Shia LaBeouf.  What are the nuances we bring to "do it" in such a context?  Probably nothing like the folks in Big Pear Tree Village.  (Notice that some of his gestures are rather explicit.)
Finally, I have overheard people say "We didn't really do it" (i.e., "we didn't go all the way"), which shows some affinity with the vulgar usage of gàn 干.
Strange, though, that nobody looks upon the gàn 干 monument and thinks "dry" — which is most assuredly a possible reading.
Hail, almighty gàn 干, whatever you may mean for your legions of ardent devotees!
[h.t. Grace Wu; thanks to Sanping Chen, Jichang Lulu, Yixue Yang, Jing Wen, Jinyi Cai, and Chia-hui Lu]
---