« previous post | next post »
Usually an unintelligible or partially intelligible Chinglish sign is due to faulty translation, whether human or machine. But not always. Recently, when I was rushing from my room at the Kucha Guest House in Xinjiang (the Uyghur Autonomous Region in the far west of China) through a huge greenhouse to the dining room for breakfast, I was stopped in my tracks by the following sign: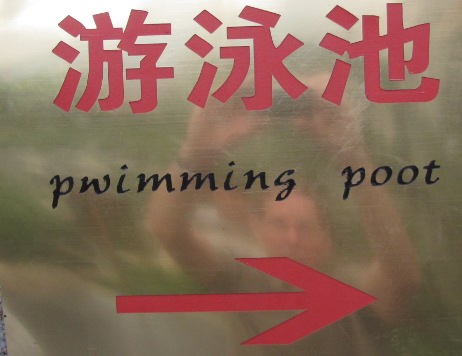 The Chinese text clarifies what the sign points to:
游泳池
yóuyǒngchí
"swimming pool"
But "pwimming poot" is obviously not a translation error. Rather, it must have been an orthographical mistake.
As the comments on a recent Language Log post indicate ("Cursive and Characters: Dying Arts," 4/29/2011),  cursive handwriting can vary widely across cultures, even for the same language and writing system. In particular, I've always been intrigued by Chinese cursive handwriting styles for the Latin alphabet. One common characteristic of Chinese Latin-alphabet cursive is relevant here: the lower case "s" is apt to have a long tail hanging down to the left.  If we take a small "s" like the example given here,

add a longish tail at the bottom left, and make the main body of the letter a bit rounder, it is easy to see how it could be mistaken for a "p".
As for the transformation of "pool" to "poot," both "t" and "l" have a tall, slender axis. If there were a smudge or stray mark across this axis of the "l", it might readily be taken for a "t".
Now the probable history is clear enough. The translator handed the sign maker a handwritten form of "swimming pool"; and the sign maker, who probably knew no more English than MikeTheDudeHenry knows Latin, interpreted the letter sequence as "pwimming poot".
There is only a difference of two letters (the first and the last) between "swimming pool" and "pwimming poot", but that might be enough to throw off a reader who can't decode the Chinese version of the sign. This is especially the case because "pwimming poot" sounds so whimsical that one wishes that it might actually mean something just the way it is written.
---