« previous post | next post »
Lately I've been thinking about "optionality" as it relates to syntactic alternations. (In)famous cases include complementizer deletion ("I know that he is here" vs. "I know he is here") or embedded V2 in Scandinavian. For now let's consider the English verb-particle construction. The relative order of the particle and the object is "optional" in cases such as the following:
1a) "John picked up the book"
1b) "John picked the book up"
Either order is usually acceptable (with the exception of pronoun objects — although those too become acceptable under a focus reading…)
1c) "John put it back"
1d) *"John put back it"
For something like (1a) and (1b) the semantic interpretation seems largely the same, and so the "optionality" refers to the grammar allowing the generation of more than one syntactic variant. In practice however, even if multiple syntactic arrangements are permitted only one can actually be produced at a given time in a given context. Acceptability judgments tend to be more delicate or varied than would be desired here. So if we'd like to investigate what factors govern the production of one form (particle-first) over another (object-first) we may examine the overall rates of use of either variant in a corpus under different conditions. Much has been written about these sorts of phenomena, including particle placement in particular (Stefan Gries has written a whole book on the topic), yet technical constraints often limit the scope of such investigations.
For instance, two factors which have been found to correlate with/against particle-first order are the heaviness of the DP-object (heavy objects tend to follow the particle), and whether or not the object had been recently referred to in context (discourse familiar objects tend to precede the particle). Stefan finds these effects over a few hundred sentences, but because the space of lexical combinations is so large there's simply not way to control for word-level effects which may be co-variate to NP-heaviness of discourse familiarity.
To get around this I wrote a script which extracts instances of verb-particle constructions from the spoken portion of COCA and tags them for particle-order. This requires a few hand-written heuristics so as not to erroneously include prepositional phrases whose order is in fact not option (e.g. "Walk down the path" is possible but not *"Walk the path down"), but nothing too technically involved. Overall, I find a particle-first rate of approximately 60% over a very large sample of roughly 50,000 such sentences. This is in line with previous work dating all the way back to the late 1970's on this topic. However, if we zoom into rates within various predicates, things appear far more varied on a lexical level. Below is a plot showing the rates of particle-first order for the twelve most frequent verbs (each verb appearing in a few thousand sentences in my sample.) The red vs. blue colors simply represent the particle-first ratio being below/above 50%.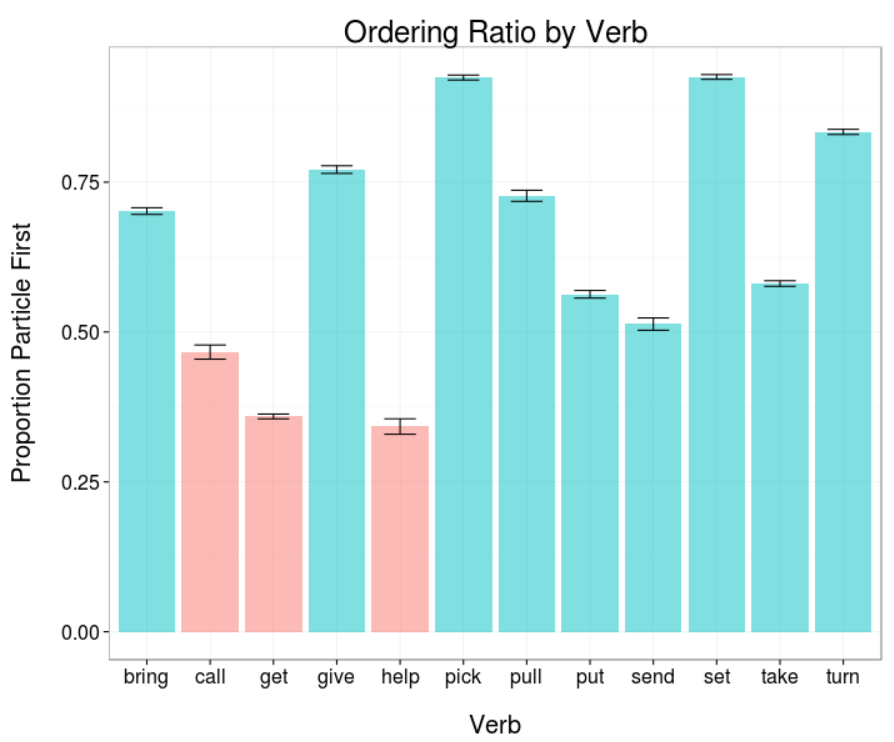 Some verbs (Pick, set) show nearly categorical particle-first order, while others (help, get) are majority object-first.
Subsequently zooming in to look at the behavior under "bring" (since it shows a good split around 70/30), the picture remains varied. For instance, there is a near categorical gap in ordering for "bring about" compared to "bring over".
Notice that "bring back" is roughly 50/50, so conditioning on that and splitting over the head of the object DP there is again frequently categorical split in particle ordering. There are between 10 and 100 sentences for each condition below.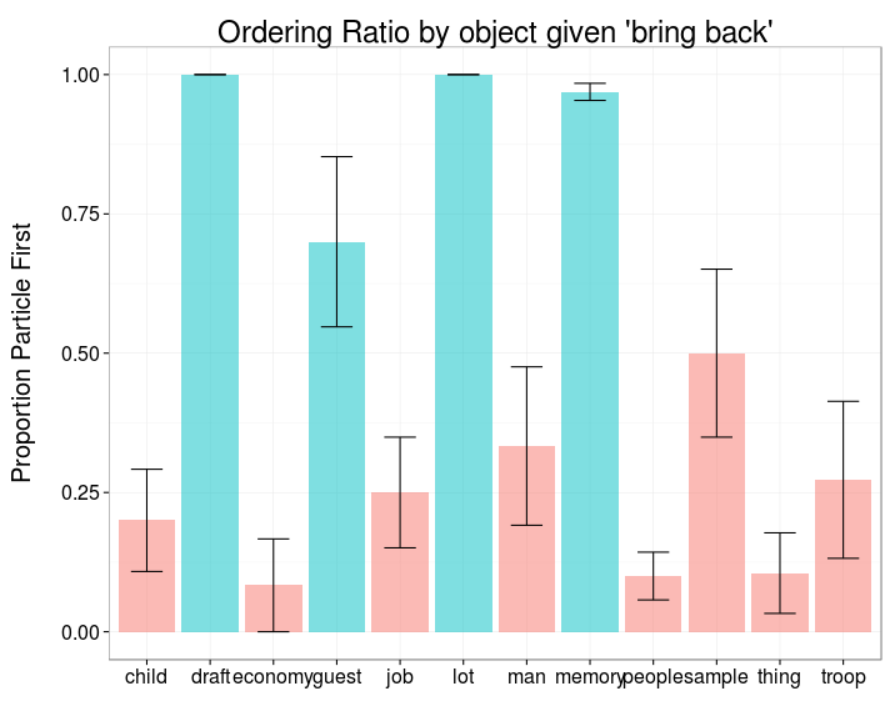 None of this of course explains what's driving these large, lexically conditioned gaps, but it would be interesting to keep digging into it.
---