« previous post | next post »
As I mentioned last month ("My summer", 6/22/2017), I'm spending six weeks in Pittsburgh at the at the 2017 Jelinek Summer Workshop on Speech and Language Technology (JSALT) , as part of a group whose theme is "Enhancement and Analysis of Conversational Speech".
One of the things that I've been exploring is simple models of who talks when — a sort of Biggish Data reprise of Sacks, Schegloff & Jefferson "A simplest systematics for the organization of turn-taking for conversation", Language 1974. A simple place to start is just the distribution of speech segment durations. And my first explorations of this first issue turned up a case that's relevant to yesterday's discussion of "significance".
In Neville Ryant and Mark Liberman, "Automatic Analysis of Speech Style Dimensions", InterSpeech 2016, we found systematic differences among individuals and contexts.
In that paper, we found that speech segments generally tend to be shorter in spontaneous/conversational speech than in fluent reading. The graph below compares density plots for speech-segment duration in three sources of read text and three sources of conversational speech. The largest read collection is  LibriSpeech, 1,571 hours of text reading by 2,484 speakers. The distributions for Bush and Obama are from their weekly addresses, about 14 hours in total. From spontaneous/conversational speech, we have  8.5 hours of the interview program Fresh Air, with the data for the guests and the host (Terry Gross) plotted separately; and 14 hours from YouthPoint, a radio program produced by students at the University of Pennsylvania in the late 1970s.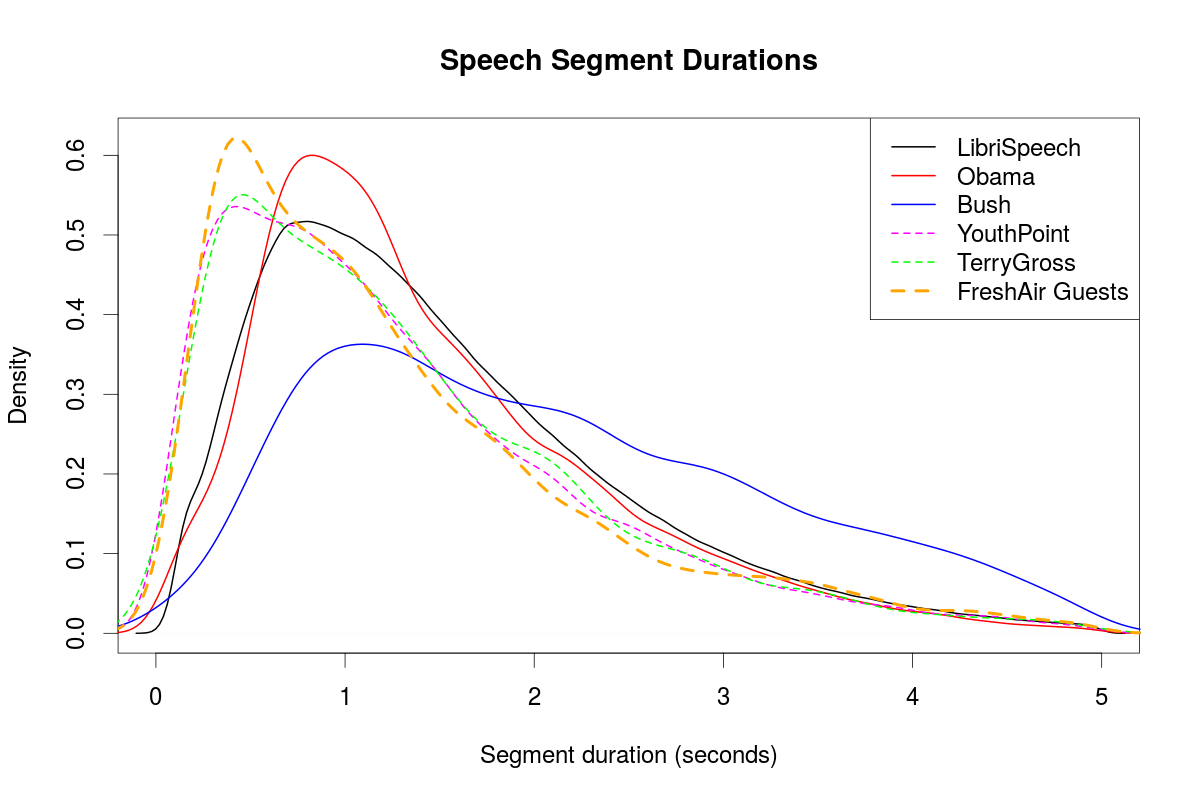 This should not be a surprise — there are several sources of shorter speech segments specific to spontaneous/conversational speech, including backchannels and evaluations ("mm-hmm", "yeah", "right", "I know", "no kidding", "OK", "maybe", …), and pauses that reflect the process of composition, often with repetition or self-correction across the gap.
If we look more closely at individual conversations, we see some where the participants' distributions of speech-segment durations are pretty much the same, and others with significant differences. Here are the distributions for two two-party conversations from the Fisher (English) collection:
In the second case, Speaker A is doing most of the talking: 412.5 seconds in 200 segments, compared with 269.9 seconds in 213 segments for Speaker B.
This reflects an asymmetry in conversational roles — much of the dialogue is like this:
103.70 110.54 A: (( )) here and we have i think it's more healthy too you know the fat and more veggies greens
110.99 111.52 B: yeah
111.65 112.52 B: yes yeah
113.07 115.40 B: certainly more so than like the fast food
116.02 119.18 A: yeah i mean i i gained here uh
119.47 125.98 A: how many like thirty poun- uh pounds or so but then i started on this diet eating
123.29 123.62 B: yeah
126.33 127.96 A: in a at home and
128.39 129.89 A: lost lots of weight even i'm
130.02 130.76 A: thinner than
131.08 132.65 A: than when i came here you know
132.77 133.08 B: yeah
This naturally raises the question of how to quantify such differences, and how to relate them to individual characteristics and social or conversational roles. The Fisher collection is fairly large (23398 conversational sides) and relatively uniform in interactional context (short telephone conversations between strangers on assigned topics). There's no variation in interactional role, and our information about individual characteristics is limited (sex, age, years of education, region), but some of those characteristics are stereotypically related to speech styles.
The simplest way to parameterize the distributions of speech-segment durations is just to look at their means or medians. And if we look at the median length of speech segments by sex in the Fisher dataset, we see something interesting.
The mean value of the median speech-segment durations of women talking with women is longer than the comparable value of men talking with men. This difference is highly significant (in statistical terms), p-value = 6.734e-05 according to Welch's t-test, or less than one chance in ten thousand that the difference is due to sampling error. But the speech-segment durations of women talking with men and men talking with women are essentially the same by this measure (p-value = 0.2211):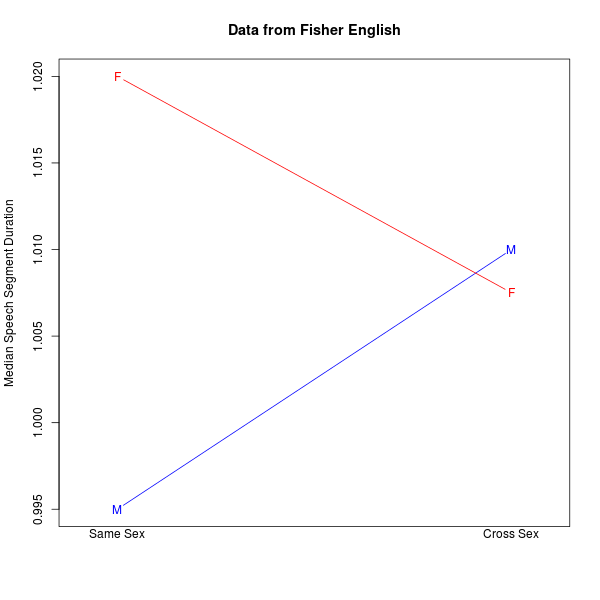 And the differences between the Same Sex and Cross Sex conditions are also "significant". At this point we could wave our hands at various gender stereotypes and talk about accommodation theory.
But if you've looked at the numbers on the y-axis, you'll realize that this is an excellent object lesson in the difference between "(statistically) significant" and "meaningful", as discussed a couple of days ago. The differences, although unlikely to be the result of sampling error, are tiny — and also are small relative to within-group variance.
If we re-plot everything with a y-axis that starts at 0, this become clearer: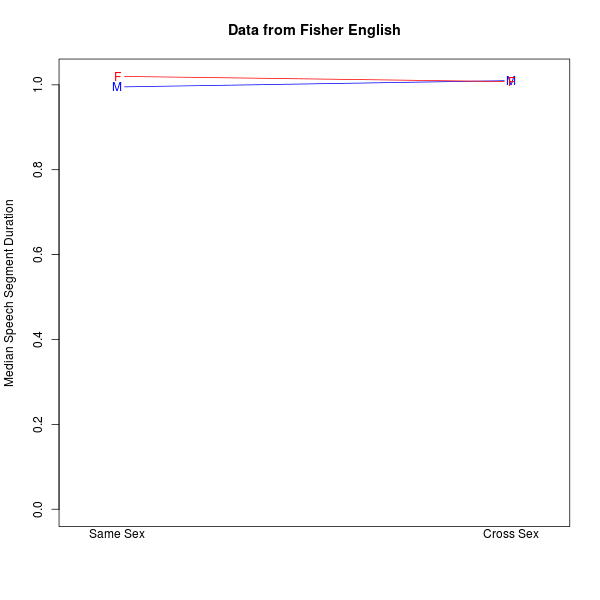 There's plenty of interesting and meaningful structure in conversational dynamics — but the effect of speaker and interlocutor sex on the distribution of speech segment durations is not a good example.
---