« previous post | next post »
Connoisseurs of misnegation will not be surprised by cases where an author who uses three or four negatives in one proposition finishes up with one too many. Thus Jessica McGregor Johnson, Remembering Perfection – Everyday Inspiration for Living Your Spirituality, 2008:
It is also true that we are afraid of our emotions. Part of us believes that if we allow our sad emotions free reign then maybe we will never stop crying. I have news for you — no-one has never not been able to stop crying.
Ricardo Piglia, "Artificial Respiration", translated by Daniel Balderston:
The facts and evidence were so clear that it seems impossible that nobody has never noticed.
"Sussex or Sussex-Devons?", The Farmer's Magazine, Jan. 1870
I do not say for one moment that no one has not for the sake of an experiment crossed Sussex with Devon ; but that the improvement in the Sussex stock of late years is in consequence of crossing with the Devon, or any other breed, I entirely deny.
But it's surprising how often a simple pair of negatives comes out wrong in a similar way. Thus John O'Donohue, "A Second Birth", Third Way, March 2008:
But Meister Eckhart said: 'There is a place in the soul that neither time nor flesh nor any created thing can touch'. A place inside you that no one has never got to, or hurt, or damaged — a place where there is peace, serenity, courage and healing.
Megan Hutching, "After Action: Oral History and War", in The Oxford Handbook of Oral History, 2010:
Some stories are never told, perhaps because no one has never asked or because the events are too traumatic.
Richard Morris, The Evolutionists, 2002:
For example, no one has never seen a cross between a hippopotamus and a giraffe, and no one ever will.
Roy Hughes, Building a Bidding System, 2005
Admittedly, this is a bit like saying no one has never been hurt falling, only landing.
Rajneesh Osho, Zen: The Art of Meditation, 2004:
That's why Buddha never talks about God-because to talk about God is wrong, is to falsify, is to belie, is to betray. lt is something that nobody has never seen.
Adolf Heschl, The intelligent genome, 2002:
This is expressed by the fact that no-one has not yet succeeded in producing a man-made living system in the laboratory.
Patterns like "no one has never" are fairly common, and the proportion of instances in published works that turn out to be over-negated adds to the plausibility of the "negative concord is (semi-) alive and well" theory of why misnegation happens.
And then, in its own category, there's Kenneth King, Writing in motion: body–language–technology, 2003: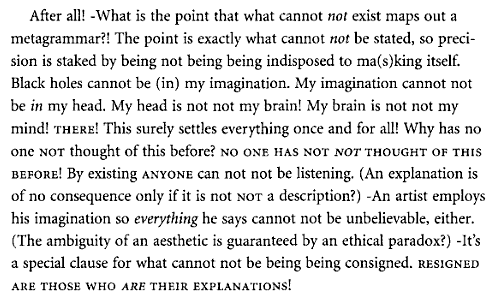 ---