« previous post | next post »
The following sign is posted in the Sanqing Shan district of Shangrao prefectural city (northeast Jiangxi province in southeast central China):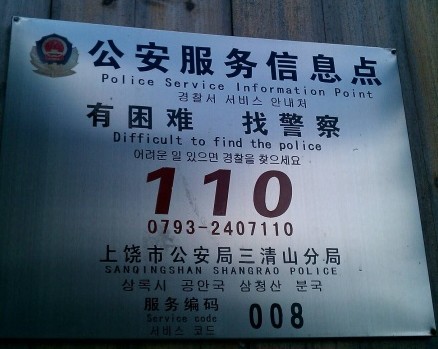 Since a monlingual English speaker in distress who reads this sign will only end up deeper in despair, we need to unpack the Chinese and English to see what went wrong.
The key sentence reads:
有困难找警察
Yǒu kùnnán zhǎo jǐngchá
have difficulty find police
"If you have difficulty, find the police"; "If you are in trouble, call the police"
Google Translate renders this as "Difficult to find the police", just as the sign does. This seems to be additional evidence that Chinese sign-translators are now relying on Google, as we saw in "Google me with a fire spoon", 7/28/2011.
Baidu Fanyi gives us "You can enlist help of the police". This is a bit more positive, though it doesn't indicate that one can contact the police by calling the number that is given. And the suspicious lack of any translation for the 有困难 "have difficulty" gives a hint that perhaps Baidu's training corpus happened to contain some (loosely translated) instances of the whole six-character phrase.
In both systems, if you add a comma after kùnnán, the translation remains the same.
In the case of "There is no Communist Party, there is no New China" (really "Without the Communist Party, there would be no New China"), Google Translate appeared to recognize the implicit "if… then" construction. The failure to recognize the analogous construction here confirms Mark Liberman's opinion that the previous success was due to the presence of (multiple copies) of the famous slogan and song title in the parallel text collections used to train the translation system. 有困难找警察 = "If you are in trouble, call the police" apparently got no similar help.
In the case of "No Communist Party, No New China", it's hard to distinguish the implicit conditional from conjoined negative existentials. In the case of "Have difficulty find police", it's hard to distinguish the implicit conditional from a complement construction.  Since implicit periphrastic conditionals also exist in English and (most?) other languages, this is a ubiquitous problem for any human or non-human language-analysis algorithm, whether the goal is translating into another language or into "mentalese". The fact that a bare sequence of protasis and apodosis phrases is such a common way to frame a conditional in Chinese, even in formal contexts, is one of the things that makes Chinese such a difficult source language for machine translation.
One wonders whether the Korean translation for Yǒu kùnnán zhǎo jǐngchá 有困难找警察 was also done by machine or whether it was done by a person.
[A tip of the hat to Jiajia Wang]
---