« previous post | next post »
Reader KR asks:
How can I prove to an acquaintance that the word "truck" in English is standardly pronounced with an intial "ch" sound?
KR presupposes a conclusion that's a bit over-simplified. There's some variation here, and I don't think we have very good evidence about the distribution and relative frequency of the variants. But he's basically right: the initial consonant of "truck" in American English is often (usually?) palatal or at least post-alveolar rather than alveolar, and its release is often (usually?) strongly affricated.  And in some pronunciations at least, the /t/ and the /r/ are completely co-articulated as a sort of labialized retroflex affricate.
Let's start by defining and exemplifying some of the terms. In English /t/, /d/, /s/, /z/ the blade of the tongue usually touches or comes near to the "alveolar ridge", just behind the upper front teeth. Here's how this is usually pictured: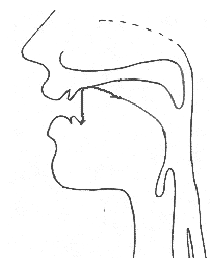 In the fricatives /ʃ/ and /ʒ/ (as in ashen and azure), and in the affricates that the IPA insists on representing with sequences like /tʃ/ and /dʒ/ (as in urchin and urging), the blade of the tongue is further back along the hard palate: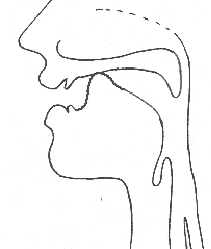 You can feel this difference for yourself if you make an extended /s/ sound, as in the start of the word suck, and compare the tongue position to what you do in making an extended /ʃ/ sound, as in the start of the word shuck.
You should also be able to hear that the sound of the /s/ is somehow higher in frequency than the sound of the /ʃ/. This is because the noise created by turbulent flow at the constriction is shaped by the resonant cavity it encounters on the way out of the mouth — and a larger cavity has lower-frequency resonances.
At this point, if you want, you can skip ahead and try the same proprioceptive experiment with (say) tuck vs. truck. And maybe this would be enough to persuade KR's friend. But in case it isn't, we're going to head out on a small journey into the jungle of real-world pronunciations.
What does these place-of-articulation differences look like in a spectrogram? Well, here's a contrast-filled phrase from NPR's archives ("Moms Brawl at Chuck E. Cheese", 3/4/2008):
Audio clip: Adobe Flash Player (version 9 or above) is required to play this audio clip. Download the latest version here. You also need to have JavaScript enabled in your browser.

____ _1   2     3        4   5
(no) offense to Chuck E. Cheese
I've labelled five fricative regions. (You can see the numbers better if you embiggen the spectrogram by clicking on it.) We'll ignore #1, which is the /f/ of "offense". The others:
2:  [s], corresponding to the final /s/ of "offense" and the initial /t/ of "to", which have merged phonetically into a long [s] sound. (Don't ask, that's another thing.)
3: [ʃ], from the initial consonant in "Chuck".
4: [ʃ], from the initial consonant in "Cheese".
5. [z], from the final consonant in "Cheese". (It's phonetically more of an [s], as word-final /z/ often is in English — the apparent "voice bar" at the bottom of the frequency range is — I think — due mainly if not entirely to the background music.)
Details aside, you can see that the fricative parts of the post-alveolar affricates #3 and #4 are "lower" than the alveolar fricatives #2 and #5.
Here are some other comparisons from fragments of NPR's online archives. Note that these are different speakers, different recording conditions, and so on, though the phonological context is consistent.
/s/ vs. /ʃ/:
| | |
| --- | --- |
| Audio clip: Adobe Flash Player (version 9 or above) is required to play this audio clip. Download the latest version here. You also need to have JavaScript enabled in your browser. | Audio clip: Adobe Flash Player (version 9 or above) is required to play this audio clip. Download the latest version here. You also need to have JavaScript enabled in your browser. |
| "to suck" | "to shuck" |
| | |
And the same again:
| | |
| --- | --- |
| Audio clip: Adobe Flash Player (version 9 or above) is required to play this audio clip. Download the latest version here. You also need to have JavaScript enabled in your browser. | Audio clip: Adobe Flash Player (version 9 or above) is required to play this audio clip. Download the latest version here. You also need to have JavaScript enabled in your browser. |
| "to suck" | "to shuck" |
| | |
Now a couple of examples of Chuck (including the "Moms Brawl" case):
| | |
| --- | --- |
| Audio clip: Adobe Flash Player (version 9 or above) is required to play this audio clip. Download the latest version here. You also need to have JavaScript enabled in your browser. | Audio clip: Adobe Flash Player (version 9 or above) is required to play this audio clip. Download the latest version here. You also need to have JavaScript enabled in your browser. |
| "to chuck" | "to chuck" |
| | |
And finally, we can compare tuck and truck:
| | |
| --- | --- |
| Audio clip: Adobe Flash Player (version 9 or above) is required to play this audio clip. Download the latest version here. You also need to have JavaScript enabled in your browser. | Audio clip: Adobe Flash Player (version 9 or above) is required to play this audio clip. Download the latest version here. You also need to have JavaScript enabled in your browser. |
| "to tuck" | "to truck" |
| | |
You can see that the onset of truck has a fairly prominent low-frequency resonance — generally lower and more prominent, in fact, than is visible in the instances of chuck we looked at.
Here's another pair for comparison, where essentially the same thing is visible:
| | |
| --- | --- |
| Audio clip: Adobe Flash Player (version 9 or above) is required to play this audio clip. Download the latest version here. You also need to have JavaScript enabled in your browser. | Audio clip: Adobe Flash Player (version 9 or above) is required to play this audio clip. Download the latest version here. You also need to have JavaScript enabled in your browser. |
| "to tuck" | "to truckloads" |
| | |
Of course, these are examples, not proofs.  I took the first pair of instances of each "to _uck" pattern that I found in the NPR archives, which supports the view that these are not rare phenomena; but English /r/ is a many-splendored thing, so caution is in order.
(See e.g. Pierre Delattre and Donald Freeman, "A dialect study of American R's by X-ray motion picture", 1968; John Westbury et al., "Differences among speakers in lingual articulation for American English /ɹ/", 1999; Jeff Mielke et al., "Covert /r/ allophony in English: variation in a socially uninhibited sound pattern", 2006; Mark Tiede et al., "Variability of North American English /r/ production in response to palatal perturbation", 2010; Eleanor Lawson et al., "The social stratification of tongue shape for postvocalic /r/ in Scottish English", 2011; etc.)
Update — Coverage earlier this year in John Wells's blog: "how do we pronounce train?", 3/22/2011. Link courtesy of Andrej Bjelaković in the comments.
---