« previous post | next post »
Last Sunday's Foxtrot tries to explain the popularity of texting among teens: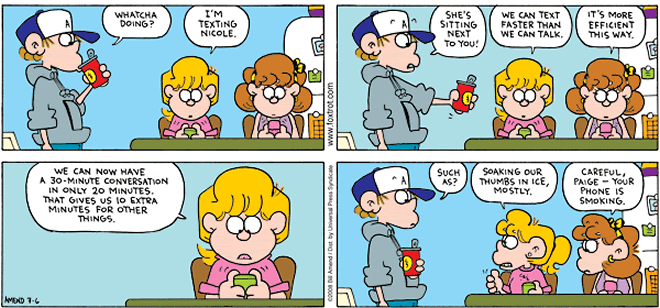 It's a cute theory, but it's almost certainly false.
In the 2008 SingTel SMS Shootout, Jeramy Sng Gim won with a time of 41:40 for texting a (known and practiced) 160-character message. (Second place went to Jeffrey Teo Yi Hao, whose time of 45:33 was about 10% slower.)
Jeramy's world-record texting speech works out to 230 characters/minute for a prepared text. At five characters per word, which is the standard for measuring typing speed, that would be 46 wpm; at 3 characters per word (surely too low, even with extensive abbreviating), it would be 77 wpm.
But average conversational speech rates in English are around 160 wpm (reference), based on actual word counts — and especially fast talkers can easily reach sustained speeds of 250 wpm.
My impression is that even the fastest texters only average about 15-25 wpm in conversational usage, defining "word" in the same way that we do for spoken transcripts. (I'd love to see some empirical measurements of this — if you know of any, please tell us in the comments.)
So talking on the phone — much less face-to-face — is actually about ten times faster, in terms of words per unit time, than texting is. But I certainly know some (pre-)teens who have a strong preference for texting over talking, at least when it comes to long-distance conversations. Since efficiency is not the explanation, this is still a phenomenon in search of a theory.
(For some historical discussion, see "Texting", 3/8/2004; "Texting, typing, speaking", 7/1/2004; "What's the difference?" 3/102008.)
---