« previous post | next post »
Rudis Muiznieks, a skeptical cartoonist whose work appears at cectic.com, posted this strip on May 30: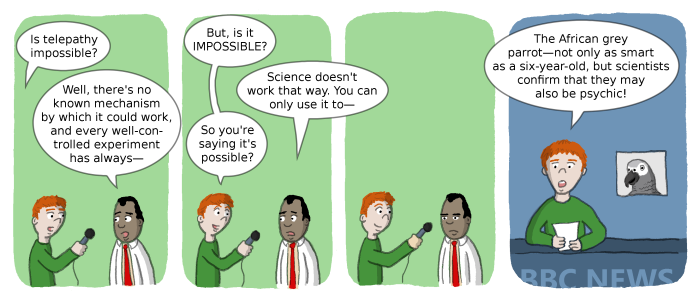 The backstory:
"Parrot telepathy at the BBC", 1/28/2004;
"BBC's duplicity stuns Language Loggers", 1/15/2007;
"Invisible telepathic parrots", 6/30/2007.
In the case of the telepathic parrot, I don't think that the BBC's reporter actually bothered to manipulate a scientist into validating the story line. But the wonderful cow-dialect story of 2006 does provide a documented case of this type: see "It's always silly season in the (BBC) science section", 8/26/2006.
I should also point out that the BBC is not uniquely guilty in this respect, and scientists are not uniquely victimized — when a journalist questions a source, it's often not in search of information, but in search of a quote to slot into a predetermined narrative framework. Some examples of this sort are discussed in "Ritual questions, ritual answers", 6/25/2005; and "Down with journalists!", 6/27/2005.
---