« previous post | next post »
Now playing at Pier 17 in New York, "Bodies… The Exhibition".
Visitors literate in Chinese were welcomed to the exhibit in a particularly ghoulish way: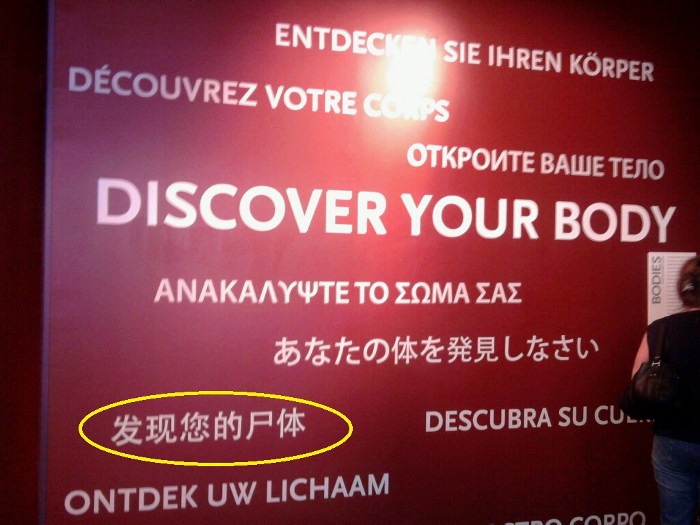 Fāxiàn nín de shītǐ
发现您的尸体
"Discover your corpse."
That is a truly gruesome thought, and especially ironic for Chinese, since all of the bodies in the exhibition were obtained from police in the People's Republic of China.
Adding insult to injury is the use of the honorific form of "you", nín 您. It's as though they were saying "your honorable corpse" or the "corpse of your honor", "your honor's corpse". Perish the thought!
shītǐ 尸体 means "corpse; dead body; remains" — there's no other way around it. Considering the sensitive, controversial nature of the exhibition, such a gross misuse of the term "corpse" to refer to the "body" of Chinese visitors is psychologically ghastly and linguistically inexcusable.
At the very least they could have written
Fāxiàn nín de shēntǐ
发现您的身体
"Discover your body."
In my estimation, it would be even better to use some such wording as the following:
Tànsuǒ nǐ de shēntǐ
探索你的身体
"Explore your body."
Since the organizers failed so miserably with the Chinese, one wonders whether they have made any similar gaffes with the other languages visible on the sign.
[A tip of the hat to Rebecca Fu]
---