« previous post | next post »
Spotted by Howard Goldblatt in Shatin: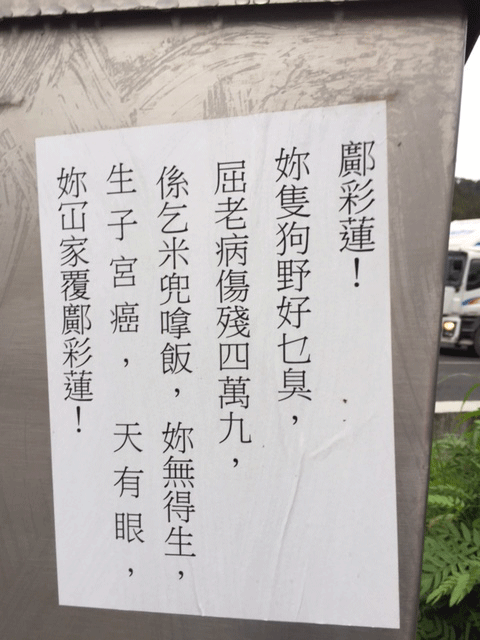 This is not very understandable to someone who only knows Mandarin / Zhongwen.  Bob Bauer kindly transcribed the text, provided Romanizations, and tentative English translations:
鄺彩蓮!
kwong3 coi2 lin4
Kwong Coi Lin
妳隻夠野好乜臭,
nei5 zek3 gau2 je5 hou2 mat1 cau3
Your dog stuff (= cunt?) is quite smelly
屈老病傷殘四萬九,
wat1 lou5 beng6 soeng1 caan4 sei3 maan6 gau2
(you) falsely accuse old sick injured disabled forty-nine thousand (?)
係乞米兜嗱飯,
hai6 hat1 mai5 dau1 laa4 faan6
It's with an alms bowl used to beg for rice that you (get?) food
妳無得生,
nei5 mou4 dak1 saang1
You can't give birth
生子宮癌,
saang1 zi2 gung1 ngaam4
You bore a son your womb is cancerous
天有眼,
tin1 jau5 ngaan5
Heaven has eyes
妳冚家覆鄺彩蓮!
nei5 ham6 gaa1 fuk1 kwong3 coi2 lin4
Your whole family (?) Kwong Coi Lin!
Apparently the person to whom this note is addressed, Kwong Coi Lin 鄭彩蓮, is the female superintendent of a prison in Macao.
And here's another notice spotted by Howard near the same place as the one above: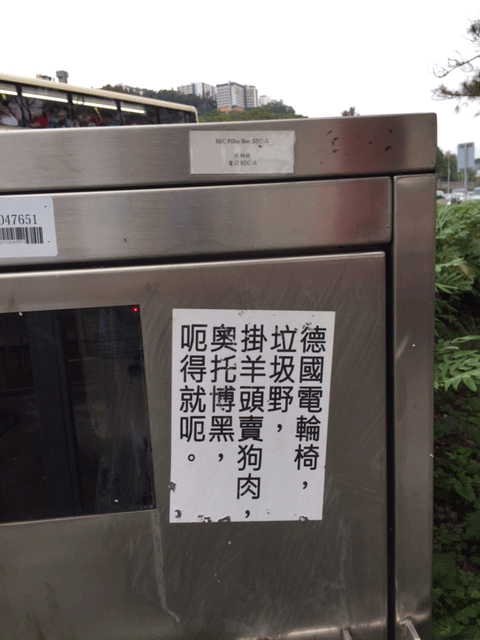 This one is much easier to comprehend, but still requires some explanation:
德國電輪椅,
dak1 gwok3 din6 leon4 ji2
German electric wheelchair
垃圾野,
laap6 saap3 je5
(It's) rubbish/garbage stuff
掛羊頭賣狗肉,
gwaa3 joeng4 tau4 maai6 gau2 juk6
(Literal translation of Cantonese idiom: Hang up a goat's head or sheep's head but sell dog meat)
[So Siu-hing Simon, A Glossary of Common Cantonese Colloquial Expressions, 2002:101: "To cry wine and sell vinegar. To sail under false colours"; Lo Tam Fee-yin, Cantonese Colloquial Expressions, 2007:31: "Do legal things superficially but do the opposite secretly"; Guan Jiecai, A Dictionary of Cantonese Colloquialisms in English, 2010:170: "Foist something on somebody. Label vinegar as vintage. Cry up wine and sell vinegar".]
They pretend to sell you one thing but actually sell you something else.
奧托博黑,
Ou3 tok3 bok3 hak1
Otto Bock is black (that is, bad, unlucky),
(Correct Chinese transcription of Otto Bock, the name of the German company that manufactures and sells wheelchairs: 奧托博克 ou3 tok3 bok3 hak1)
呃得就呃。
ngaak1 dak1 zau6 ngaak1
If you can cheat people then you cheat them.
This is one way to vent one's spleen.
[Many thanks to Bob Bauer for the transcriptions and translations]
---