« previous post | next post »
In a recent article Patriann Smith, a professor of Language, Diversity and Literacy Studies at Texas Tech, makes a bold proposal: that "nonstandard Englishes" such as African American English (AAE) and Hawai'i Creole English be used as the primary language of instruction in educating children who speak them. ("A Distinctly American Opportunity: Exploring Non-Standardized English(es) in Literacy Policy and Practice", Policy Insights from the Behavioral and Brain Sciences, 9/12/2016) Smith reviews evidence that speaking "nonstandard English" (her term) as a first language interferes with children's educational progress, given the way children are taught and progress is assessed. She also questions the privileged status accorded to the "standard" (aka mainstream, higher status) dialect of English (SAE) used in education, business, government, and other institutions, and the traditional view of literacy as the ability to read that dialect. Hence the proposal that children be taught in their native dialect whether "standard" or not.
In this post I'll look at some implications of this proposal for learning to read. The idea that children who speak AAE (or another nonstandard dialect) might benefit from being taught to read using materials written in their dialect isn't new.  Some 40 years ago there was a brief, a mostly-forgotten educational experiment with "dialect readers".  They weren't widely accepted then.  Has their time finally come?
Smith's article is gaining some traction: It was picked up by the Federation of Associations in Behavioral and Brain Sciences (FABBS), a major advocacy group, and an article about using AAE for instruction will appear in The Atlantic magazine some time soon. Many of her observations are accurate and yet her proposal raises difficult, contentious issues, including ones that fall outside the greater Language Log topical area (e.g., who would be willing or able to teach in such programs? Would they create race and language based tracking? Would they be legal?)
The evidence that amount of AAE usage is negatively related to progress in learning to read is substantial (see, e.g., Gatlin & Wanzek, "Relations Among Children's Use of Dialect and Literacy Skills: A Meta-Analysis," Journal of Speech, Language, and Hearing Research, 2015, and articles cited therein). The basic reason is simple: Books are written in the mainstream dialect. Every beginning reader's progress depends on familiarity with this code. Greater use of AAE is usually (though not always) associated with weaker knowledge of the mainstream dialect. The children then have more difficulty learning to read than do mainstream dialect speakers.
Dialect readers were intended to address this disparity.
"Bridge—A cross-cultural reading program" by Simpkins, Holt, & Simpkins from 1977 consisted of five pamphlet-length books. They were written as remedial texts for older children, not beginning readers. The first few stories were written in "Black vernacular." Here's a screenshot from Book 1. Over the course of the series, stories written in "standard English" gradually replaced the Black vernacular ones. The thinking was that the child would initially benefit from language similar to their own speech, and then transition to reading the standard dialect.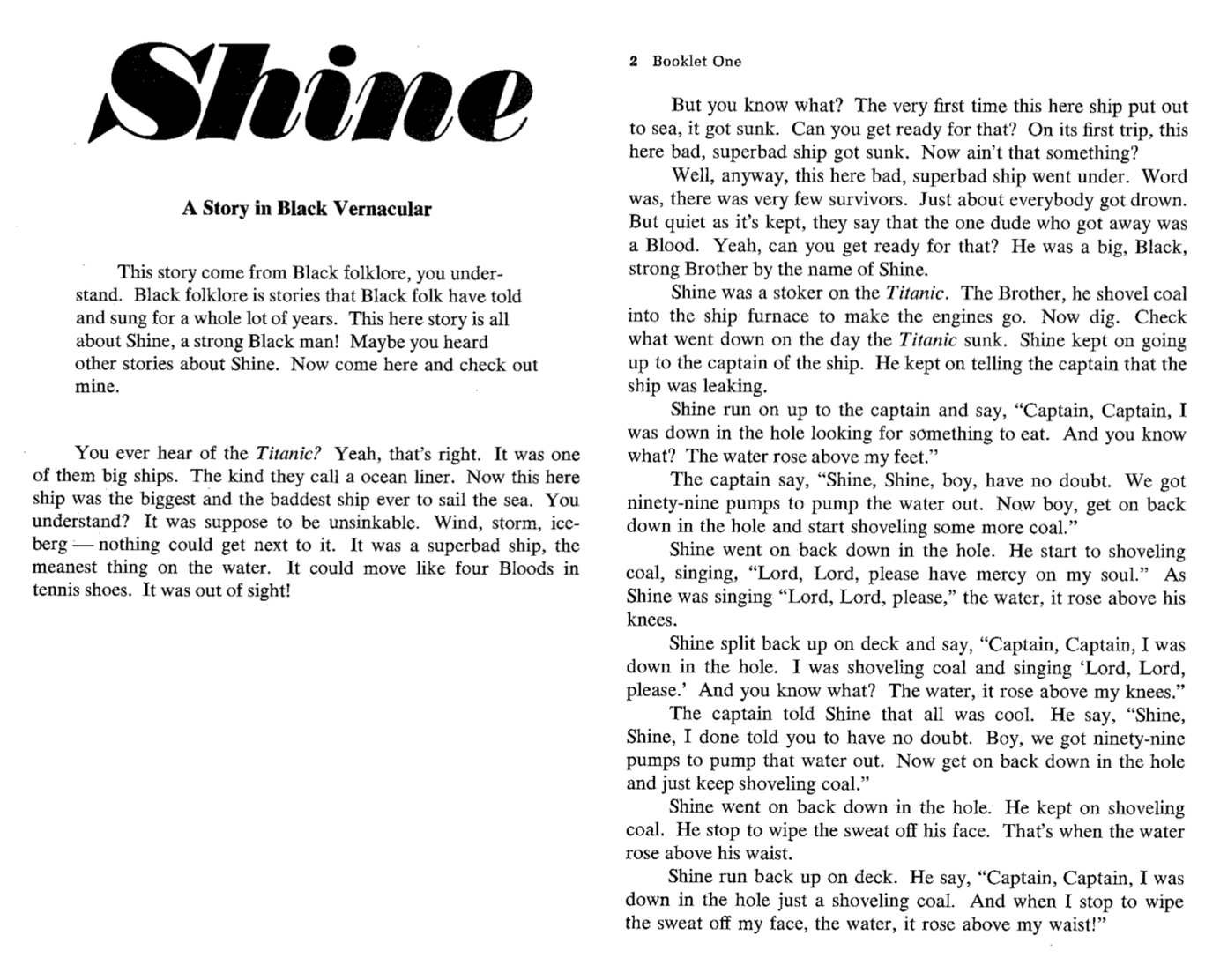 The design of the Bridge series is explained in an article by Simpkins & Simpkins in the 1981 proceedings of a conference at Wayne State University ("Black English and the education of Black children and youth: Proceedings of the national invitational symposium on the King decision"). The "King decision" is better known as the Ann Arbor decision, the famous case (Martin Luther King Junior Elementary School Children et al. v. Ann Arbor School District) about the education of lower income Black youth in the Ann Arbor schools.  Judge Charles W. Joiner (an African American) described, with remarkable linguistic insight, how dialect differences could affect children's education.  The judge ordered the school district to identify Black English speakers and to "use that knowledge in teaching such students how to read standard English".
The Wayne State meeting brought together experts in education, law, literature (James Baldwin attended) and other areas to consider how to create educational practices better matched to African American language and culture in accord with the Ann Arbor decision.  The Bridge readers were a serious attempt to accomplish this for reading. I found the proceedings very moving, an account of people attempting to develop novel solutions to urgent educational problems with little research or precedent to build on, and also revelatory, because they identified basic issues that still haven't been adequately addressed (e.g., the need for teachers to be educated about language variation and strategies for accommodating it; meeting the educational needs of African American children).
Bridge readers didn't get very far. They weren't widely adopted, it wasn't clear whether they were effective, and other research from that era suggesting that dialect differences have little impact on reading or school achievement undercut the rationale for the books and killed off interest in them. The Oakland Ebonics controversy (1996-97) made it harder to incorporate AAE in instruction.
Now there is stronger evidence that AAE usage can interfere with learning to read standard texts and a proposal to use AAE in the classroom. Do dialect readers merit a second chance?
These issues are genuinely intersectional, involving race/ethnicity, gender, socioeconomic status, and history. Let's set aside those factors long enough to look at the linguistic, psycholinguistic, and educational considerations.  The approach is consistent with some common educational tenets. The Bridge authors recognized that books that were more closely connected to students' experience might encourage deeper engagement, a tenet of what is now called culturally-relevant instructional practice.  Using one type of material as a bridge to another is a fundamental instructional strategy. Books for beginning readers are often written in "nonstandard" English: Run, run. Run, Dick, run. Run and see. That Sam-I-am, that Sam-I-am! I do not like that Sam-I-am.  Books can also be written in a nonstandard dialect, and the Bridge readers could be updated.
Although the logic was clear, the approach nonetheless seems seriously flawed. Here are a few major concerns.
1. The goal of dialect readers was to develop children's ability to read standard texts, using stories that incorporated elements of AAE as a transitional tool. The books focused on getting children into reading despite limited knowledge of SAE. But if the goal is being able to read such texts, the linguistic gap has to be filled. Dialect readers didn't address this.
The problem with dialect readers is that the children's problem isn't reading; it's knowledge of the language the books employ.  An alternative approach might be to focus on increasing the child's familiarity with that language (for example, via language enrichment activities in pre-K and after).  Or, the opposite: drop the goal of being able to read standard-language texts, as Smith considers, a radical step that raises many other questions.
2. The concept of writing a book in African American English seems straightforward but what would it involve? American English has numerous regional variants and dialects. No one speaks the "standard American English" used in texts.  Illustration: people don't talk the way this post is written; I certainly don't. Texts are written in a more or less conventionalized version of English that exists mainly because of the ways that texts are used in education, government, business, etc.  Social, historical, political, and economic factors are also involved.  (See previous Language Log posts such as:
"Trevor Noah reflects on language and identity", 12/1/2016
"Mutual unintelligibility among Sinitic lects," 10/5/2014
"About those dialect maps making the rounds…", 6/6/2013
"Understanding across varieties of English," 8/1/2013
and many others.)
AAE also has numerous regional variants (Wolfram & Kohn, "Regionality in the development of African American English"). However, because it is an oral dialect, they aren't anchored to a "standard" version. Prescriptivist dialecticians would have to create one—and then figure out how to render it orthographically and get people to adopt it. Given the regional variants and large individual differences in dialect density, a text written in Standard AAE would still vary in how well it aligned with children's own speech.
3. Would dialect readers be effective?  For whom? Judged by what criteria? Compared to which alternative approaches?  The answers aren't known.
There is no credible evidence concerning the effectiveness of dialect readers, though advocates of the approach can point to some suggestive findings. In "Dialect readers revisited," Rickford & Rickford offered several encouraging anecdotes about the use of the readers, and described the results of two suggestive "mini studies" that were not published elsewhere.
Smitherman (2015), "African American Language and Education: History and Controversy in the Twentieth Century," describes the results of a more substantive study in which 413 children used Bridge readers and 137 used another "remedial reading" program.  When tested after 4 months of instruction,  children who used the Bridge readers were said to have made much more progress than the other children.
The source for these findings is the 1981 Simpkins & Simpkins article mentioned above.  It is another unpublished study that can't be assessed because so little is known about the methods and data.  These findings nonetheless have been repeatedly cited as evidence that dialect readers worked but were abandoned prematurely. They are also repeated because other evidence is lacking.  Evaluating the effectiveness of reading curricula and instructional practices is a notoriously challenging task. Intriguing but unverifiable findings from several decades ago aren't an adequate basis for adopting an approach.  They might at best justify conducting additional studies, if researchers could find enough children, parents, teachers, and educational authorities willing to participate.
The conceptual problems with the dialect reader approach seem insuperable to me, and the prospects for adopting them in the present political context seem remote. However, the pressures to improve literacy outcomes are such that novel, untested educational approaches are often implemented in case they might work. Nor is there evidence that the approach can't be effective in principle. I am not a speaker of a minority dialect and the decision is not mine to make. But the logic of the dialect reader approach is questionable and the evidence that it is effective and superior to other approaches is lacking.
The title of Smith's article frames these issues as "distinctly American" but that isn't entirely accurate. American circumstances are unique but the linguistic phenomena are not.  Dialects exist in languages, not just in English, and there are low status "nonstandard" dialects spoken by lower SES minority populations in other countries. Australia and Canada have programs in which speakers of minority dialects learn mainstream English as a second dialect (Siegel, Second Dialect Acquisition), analogous to learning English as a second language. Language Log readers will undoubtedly be familiar with circumstances elsewhere.
These issues are a reminder that language variation and dialect are not widely understood despite decades of basic research. Non-mainstream dialects are still commonly perceived as "bad English," even by people who speak them. Teachers are conflicted about whether to correct their students' use of a nonstandard dialect. The linguistic integrity of dialects is not clearly distinguished from their sociolinguistic status. Dialect variation needs to be addressed in education, as Judge Joiner stated years ago. But dialect readers are unproved. At this point, introducing them would be like conducting a large, unregulated behavioral experiment.  This country has a long history of experimenting on minority and low income individuals without their knowledge or consent, and educational experiments raise the same ethical concerns.
---