« previous post | next post »
From Ivanka Trump's Instagram account:
Zooming in on the blocks…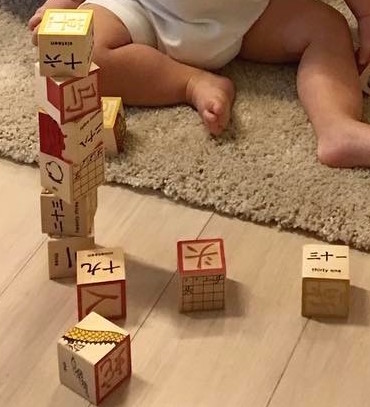 From Javier C. Hernández, "The 'Goddess' Yi Wan Ka: Ivanka Trump Is a Hit in China" (NYT, 4/5/17):
While her father has threatened a trade war with China and criticized China's efforts to build outposts in the South China Sea, Ms. Trump and her husband, Jared Kushner, have embarked on a charm offensive with the country.
It helps that her daughter, Arabella, speaks Chinese, which she began learning from her Chinese nanny. Ms. Trump and Arabella attended a Lunar New Year festival at the Chinese Embassy in Washington in February, an event broadcast on China's prime-time news.
On Tuesday, two days before her father was to meet Mr. Xi, Ms. Trump posted a photo of her younger son, Theodore, playing with wooden blocks emblazoned with Chinese characters.
As for Theodore's sister, Arabella, learning Chinese, see:
"Trump's granddaughter recites Tang poems" (11/15/16)
What about the blocks that Theodore is playing with? I see that the numbers are accompanied by English translations, there are pictures matching the characters, there are stroke order buildups (e.g., the five strokes of tóu, tou 头 ["head"; noun suffix; measure word]), but I didn't notice any Pinyin.  Chinese children learn how to pronounce the characters via Pinyin, so it would be nice to have that on Theodore's blocks too.
[h.t. Ben Zimmer]
---