« previous post | next post »
"The bizarre political scandal that just led to the impeachment of South Korea's president" (Jennifer Williams, Vox, 3/9/17)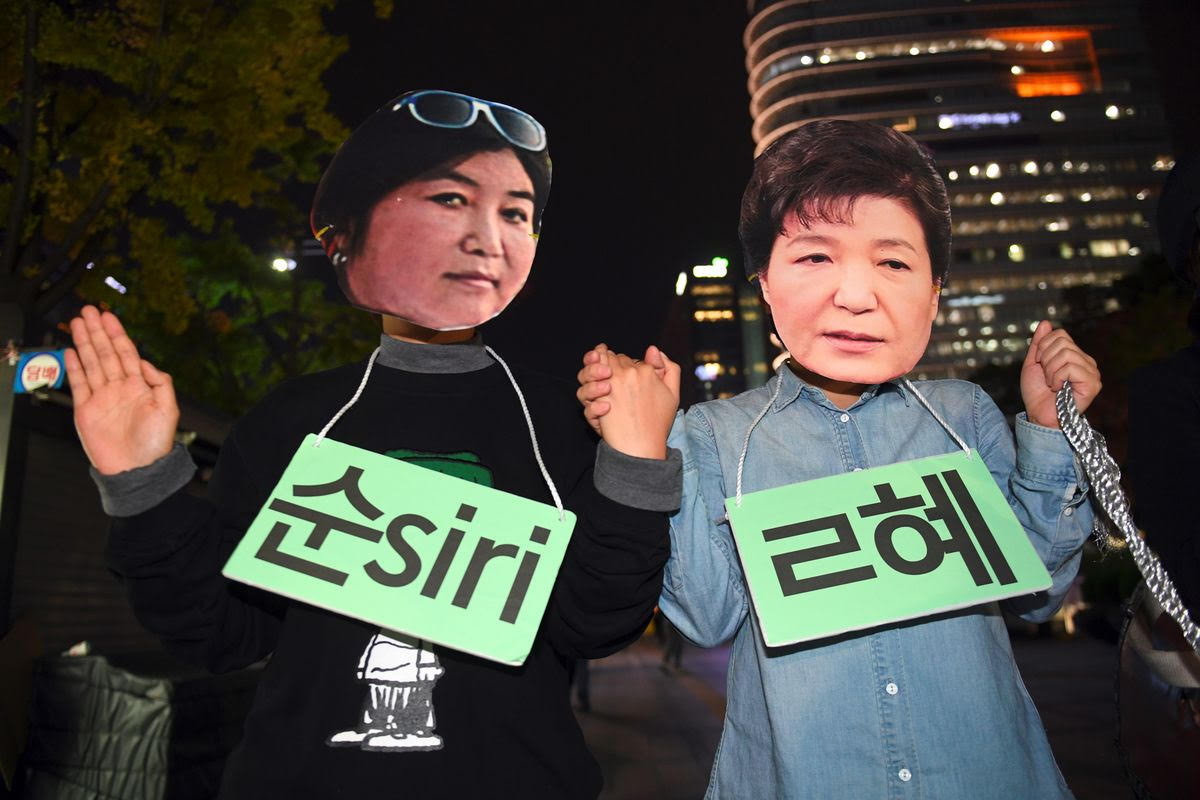 Protestors wearing masks of South Korean President Park Geun-Hye (R) and her confidante Choi Soon-Sil (L) pose for a performance during a rally denouncing a scandal over President Park's aide in Seoul on October 27, 2016. JUNG YEON-JE/AFP/Getty Images
President Park is officially out.  The decision was made last night (10 AM in Korea), and Korea will have a new president in 60 days.
"South Korea Removes President Park Geun-hye" (Choe Sang-hun, NYT, 3/9/17)
But how to explain those signs in the photograph?
순 siri (sun siri): 순 siri is the nickname of 최순실 Choi Soon-sil (romanization: Choe Sunsil). It stems from the fact that Former (!) President Park frequently consulted with Choi about almost everything, so Choi was like Apple's Siri to Park.
The "Soon-sil" -> "Soon-siri" joke was discussed here: "Cheeky new game apps in South Korea parody president Park and her Rasputin-like confidante" (Christy Choi, Vox, 11/3/16)
ㄹ혜 (l hye): Former President Park's full name is 박근혜 Park Guen-hye (romanization: Bag Geunhye).  ㄹ(l), one of the Korean consonants, looks similar to 근 (guen) in her first name, and is often used to replace 근 for making a pun.
Considering the current tensions on the Korean Peninsula, this isn't a joke and it isn't a game.  It couldn't have come at a worse time for South Korea.
[Thanks to Ben Zimmer and Haewon Cho]
---