« previous post | next post »
Cosma Shalizi, "Lyric poetry in Pluto's Republic", 5/8/2011, considers DeWall et al. on pop-culture pronouns in the light of genre and style differences:
The empirical basis for inferring narcissism from using first person singular pronouns appears to be Robert Raskin and Robert Shaw, "Narcissism and the Use of Personal Pronouns", Journal of Personality 56 (1988): 393–404. This shows that, over twenty years ago, there was a modest positive correlation (+0.26) between scores on a quiz intended to measure narcissism, and how often 48 UC Santa Cruz undergrads used first-person singular pronouns in extemporized five minute monologues. Top 100 songs are not spontaneous monologues by undergrads looking for a painless way to get $5 and/or check off a Psych. 1 requirement, and DeWall et al. offer no evidence that this correlation generalizes to any other context. In particular they offer no reason to think that differences over time, as language and culture changes, should be explained in the same way as these differences across people, at a single time and in a single school.
[…] To draw the moral explicitly, even if there is such a thing as a one-dimensional personality trait of narcissism, and even if that was correlated with pronoun use in one particular historical population, in one particular social/rhetorical context, that tells us nothing at all about the correlation in other situations. I don't assert that it can't be true, but there is no psychological or statistical reason to presume that it is true, and so it needs to be established. In more psychological terms, thinking otherwise is not so much slipping into the fundamental attribution error as wallowing in it.
In the genre of lyric poetry, it's obvious that extensive use of the first person singular has a long tradition, starting well before the 1980 beginning of the DeWall et al. study of hit song lyrics, and even before the 1960s R&B that I looked at here.  Thus a literal English translation of Sappho's famous fragment 2 (from around 600 BC) has 13.1% first-person-singular pronouns; and looking elsewhere in lyrics from the first millennium BC, I was able to provide an empirical nugget for an update to Cosma's post:
Mark Liberman points out, by e-mail, that the famous 23rd psalm ("The Lord is my shepherd; I shall not want") clocks in at 14.3% first person pronouns in the King James Version, above the DeWall et al. confidence limits for all but seven [of 28] years. I would add that "Rock of Ages" is a lower but still well-above-average 13.3%. On the other hand, "Rock of Ages" by Def Leppard (a top 100 song in 1983, and so part of the data) is between 4.6% and 6.2% first person singular pronouns (depending on how you want to count "gimme"). Clearly, the only thing saving American popular culture from epidemic narcissism in the early 1980s was preferring heavy metal to hymns.
For the last four years of DeWall et al.'s study, 2003-2007, they cite 95% confidence intervals between 4.8% and 10.9% first-person-singular pronouns  So perhaps American popular music is becoming more biblical, or at least more psalm-like? I don't think so, of course. In fact, as Cosma points out, the evidence cited in DeWall et al. gives no convincing evidence that a quantitative trend even exists, whatever its interpretation:
DeWall et al. also provide a table with the mean and standard deviation of the first person pronoun use for each year, and a 95% confidence interval. (They don't say how they calculated the latter, but I'll take them at their word and presume they did that properly.) This lets me plot the actual data, which looks like this: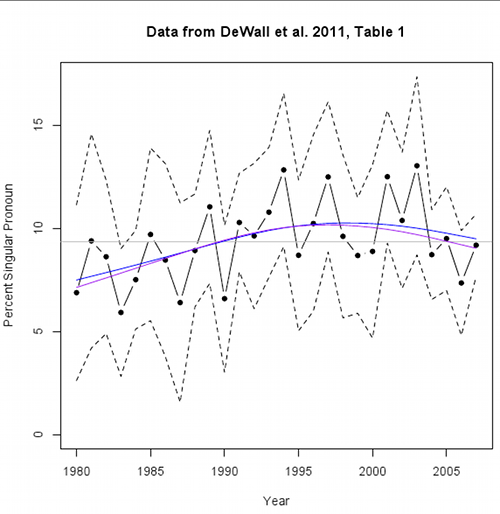 (My code, in R.) The black dots, joined by lines to guide the eye, are the actual percentages. The dashed lines are the 95% confidence limits. The horizontal grey line is the over-all mean percentage, over the whole data set. The two colored lines are two smoothing spline fits, one with (purple) and one without (blue) giving extra weight to years with smaller standard deviations. Making the smoothing splines requires a little knowledge of statistics; everything else just needs the ability to draw the numbers DeWall et al. provide.
The flat horizontal line is inside the confidence limits in 27 of the 28 years. This is exactly what we would expect if there was no signal here whatsoever, and all fluctuations from year to year were just noise. (95% coverage per year and 28 years yields 1.4 expected non-coverage events.) There is nothing here to explain; the appearance that there is something in their Figure 1 is one part bad data analysis to one part How to Lie with Statistics-level bad graphing.
Cosma's overall evaluation of DeWall et al. is not a positive one:
While perhaps not a truly epic fail, this is not a creditable performance. The paper probes a hugely complex tangle of issues relating individual minds, communication, social norms, artistic expression, social change and cultural transformation. There is no shame in not unraveling the whole snarl at once, but between the incompetent data analysis, the failure of logical imagination, and the deep misunderstanding of how works of art are made and used, it does nothing to advance our knowledge of anything.
The author of Psalm 6 expressed himself less temperately:
O LORD, rebuke me not in thine anger, neither chasten me in thy hot displeasure.
Have mercy upon me, O LORD; for I am weak: O LORD, heal me; for my bones are vexed.
My soul is also sore vexed: but thou, O LORD, how long?
Return, O LORD, deliver my soul: oh save me for thy mercies' sake.
For in death there is no remembrance of thee: in the grave who shall give thee thanks?
I am weary with my groaning; all the night make I my bed to swim; I water my couch with my tears.
Mine eye is consumed because of grief; it waxeth old because of all mine enemies.
Depart from me, all ye workers of iniquity; for the LORD hath heard the voice of my weeping.
The LORD hath heard my supplication; the LORD will receive my prayer.
Let all mine enemies be ashamed and sore vexed: let them return and be ashamed suddenly.
14.5% first-person-singular-pronouns. Old school.
---
In lyrics from biblical times to the present, first-person-singular references are often an invitation for the hearer to identify with the author, or rather with the persona presented by the author or the performer. As Cosma points out, this is not at all the same situation as first-person references in the extemporized monologues of Santa Cruz undergraduates participating in a psychology experiment.
---