« previous post | next post »
John Berenberg writes:
An article by Joan Acocella in the February 9, 2017 issue of The New York Review of Books makes a 'no word for X' claim about Japanese and goes even further by quoting a native speaker who happily reports that learning to swear in English and Spanish allows him to say things he otherwise can't.  The full article is here.
The relevant paragraph:
Japan, curiously, does not have swearwords in the usual sense. You can insult a Japanese person by telling him that he has made a mistake or done something foolish, but the Japanese language does not have any of those blunt-instrument epithets—no ass face, no fuckwad—that can take care of the job in a word or two. The Japanese baseball star Ichiro Suzuki told The Wall Street Journal that one of the things he liked best about playing ball in the United States was swearing, which he learned to do in English and Spanish. "Western languages," he reported happily, "allow me to say things that I otherwise can't."
The Language Log Establishment received wisdom cautions us that 'no word for X' by no means implies 'no way to express X' or 'no concept of X'.  Does the opposite seem to you to be the claim made in the article, at least regarding cursing someone out?
I asked Nathan Hopson what he thought of all this, and he replied:
Warning! Unedited rant below
The claim that Japanese has less foul language is bullshit, and it misses the damned point. Not only that, it's pretty fucking unimaginative. It reflects a prejudice in European languages for the creative linguistic use of sex and filth for emphasis or insult. The bizarre equivalency between the two makes it pretty fucking tempting to diagnose a Freudian obsession with bodily function. More than that, shit and fuck are hardly the only ways to emphasize something or insult some asshole. Regarding the latter, Japanese is so sociolinguistically indexed that you don't need to invent a whole separate shit-fuck-abulary to get the point across. A few choice personal pronouns and a verb ending or two will do the trick.
If I were to say that the concept of the second-person personal pronoun is really problematic in English because we only have one (or two, if thee/thou is included), most Americans would laugh and then make some remark about how fucking hard Japanese is. Yeah, that's some choice shit from the language of motherfuckers and douchebags.
I bring up the personal pronouns again because they do so much of the heavy lifting in Japanese. The difference between otaku, X-san, X-chan, X-kun, anata, anta, kimi, omae-san, omae, omē, temē, etc. is stark enough to a native speaker (especially when, as noted, paired with the right verb endings) that there's no need for any fuckery beyond that.
And here's Reina Scully in a video going at it in Japanese and English:  "How to Curse in Japanese".
Yes, you can swear in Japanese.  Here are the basics:
What are some Japanese insults and swear-words?
W.T.F. Japan: Top 5 most offensive Japanese swear words 【Weird Top Five】(RocketNews24
Note that the video stays away from this, the topmost offensive Japanese swear word, which W.T.F. Japan: Top 5 most offensive Japanese swear words puts last, after a large blank space, with a warning: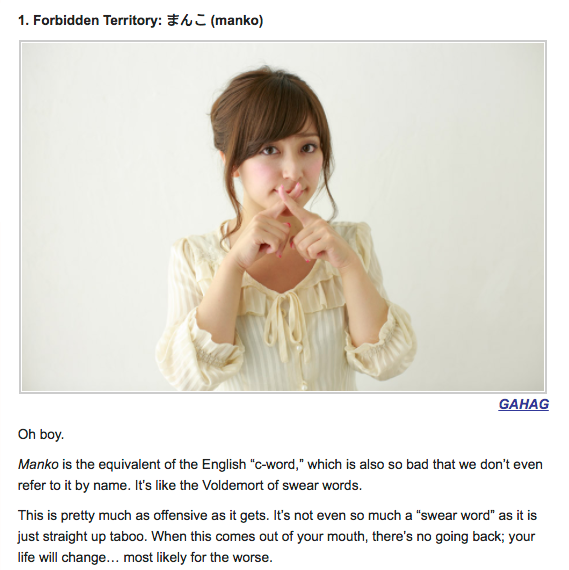 It's really nasty, especially for a woman, even Reina sensei.
For the record, here's what I posted on this subject more than two years ago:  "The paucity of curse words in Japanese" (9/4/14), with vigorous discussion in the comments.
---