« previous post | next post »
Guy Almog sent me this photograph of a detail from a poster that he and I spotted at several places in and around the Haifa subway:

This is the full, unedited poster: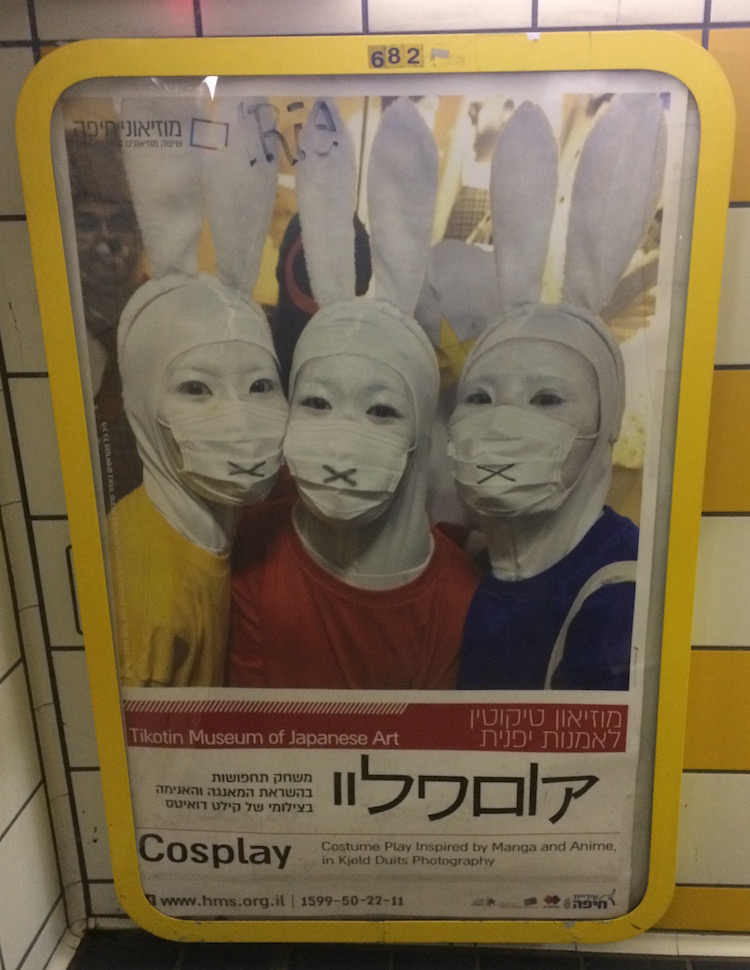 Here we find katakana being used to write in Hebrew a Japanese word that came from two English words, an impressive round-tripper that probably made its circuit in at most 40 years or so: En. cosplay < Jp. abbr. kosupure コスプレ < Jp. kosuchūmupurē コスチュームプレー < En. costume play.  Thus, now it's back in English as a borrowing from the Japanese portmanteau.  As Guy explained to me, the katakana on the poster is being used to write what is supposed to be קוספליי, the Hebrew transcription for cosplay / コスプレ.
This ingenious wordplay (wādopure ワードプレ or just wāpure ワープレ [cf. the native Japanese term kotoba asobi 言葉遊び], both of which I just made up on the analogy of wādopurosessa ワードプロセッサ or just wāpuro ワープロ ["word processor"] for fun) is on a promotional poster for the Tikotin Museum for Japanese Art, which was very close to the hotel where I was staying in Haifa, the Dan Panorama.
For some other recent posts on multiscriptalism in Israel, see:
---