« previous post | next post »
A Korean chain coffee shop, Caffe Bene, recently opened a branch at 38th and Chestnut in University City, Philadelphia.  This is a design on one of the walls: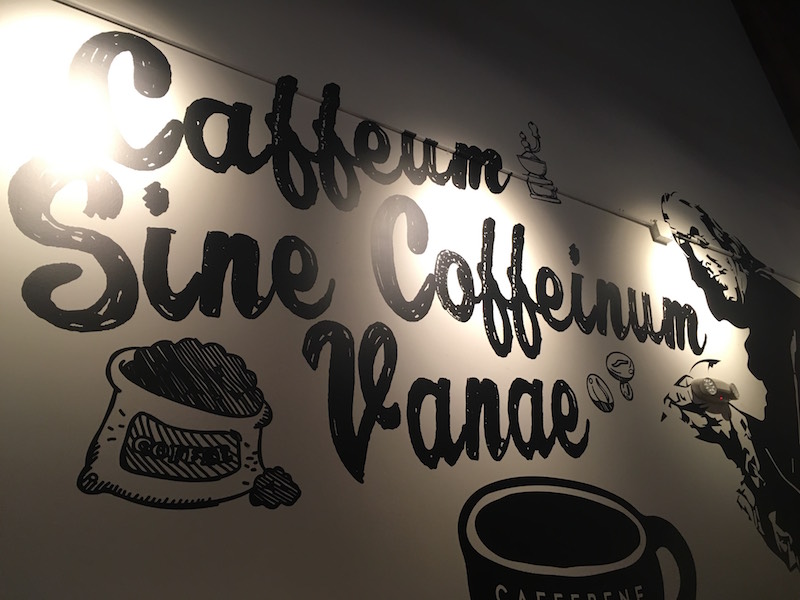 Modeled after the motto of the University of Pennsylvania, "Leges sine moribus vanae" ("Laws without morals are useless"), "Caffeum sine coffeinum vanae" tells us that "Coffee without caffeine is useless".  You may or may not agree with either or both of these mottoes.
Grammatical notes from Joe Farrell:
"Coffee" in Latin can apparently be caffeum and coffea. I'm not sure if the meanings of the two words differ at all. The latter is the name of the botanical genus, so I think maybe I'd go with that. Caffeine appears to be coffeinum, and as the object of the preposition sine it would go into the ablative case, so, sine coffeino. The last word has to agree with "coffee," so that if you said coffea, you would say vana; if coffeum, vanum. If you wanted to allude more clearly to the Penn motto (a quotation of Horace, Odes 3.24.35–36) and go  for maximum intelligibility to English speakers, you could say coffeae sine caffeino vanae, "coffee(s) without caffeine is/are useless." It's not obvious that someone writing about coffee in neo-Latin would spell the plant with an o and the substance derived from it with an a, but stranger things have happened.
[Thanks to Zach Hershey]
---