« previous post | next post »
Chuck Cook, PANDA Group Cooperation Officer of the European Bioinformatics Institute, called to my attention this Blackberry ad that he spotted on the MTR (Mass Transit Railway) in Hong Kong: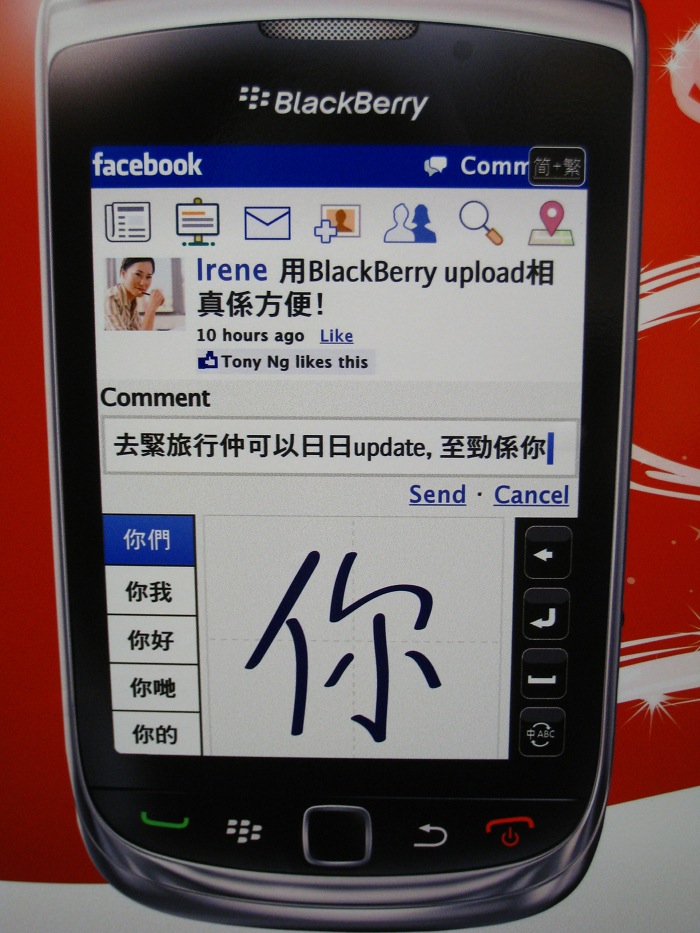 Chuck was particularly interested in finding an explanation of zi3 ging3 hai6 nei5 至勁係你 which, as he said, "I still do not understand, despite asking my wife's cousin, a native speaker of Cantonese who is fluent in Mandarin and competent in English."
Let us concentrate on the entire line
heoi2 gan2 leoi5 haang4 zung6 ho2 ji5 jat6 jat6 update, zi3 ging3 hai6 nei5
去緊旅行仲可以日日update,至勁係你,
in which the particularly troublesome clause occurs.
This line can be punctuated as
heoi2 gan2 leoi5 haang4,
zung6 ho2 ji5 jat6 jat6 update,
zi3 ging3 hai6 nei5.
去 緊 旅行,
仲可以日日update,
至勁係你.
If read in Modern Standard Mandarin (MSM), this would be:
Qù jǐn lǚxíng,
zhòng kěyǐ rì rì update,
zhì jìn xì nǐ.
But even if you pronounced this sentence with Mandarin sounds, nobody would understand what you are saying because of the specifically Cantonese lexical and grammatical elements that will be discussed in detail below.
The sentence may be translated into English as "You can continue to update [Facebook], even while you're on a trip; you're really awesome!"
A possible Mandarin translation might be
Lǚxíng dang zhōng,
hái kěyǐ měi yī tiān update,
nǐ zuì liǎobùqǐ.
旅行當中,
還可以 每一天update,
你最了不起.
Additional grammatical and lexical notes:
The character ging3 勁, originally meaning "force, strength, energy" (MSM jìn), carries in modern Cantonese the connotations "great, smart, capable, powerful", etc. Zi3 至 means "utmost". So zi3 ging3 hai6 nei5 至勁係你 conveys the idea that "the smartest / greatest / most brilliant / most awesome / most capable / most powerful [person] is you" or "You're the greatest!". One can also say zeoi3 ging3 hai6 nei5 最勁係你, but 至 is more colloquial in Cantonese than zeoi3 最. Likewise, you can say zi3 ging3 hai6 nei5 至靓係妳,zi3 lak6 hai6 nei5 至叻(smart)係你, etc., all with roughly the same meaning.
The use of gan2 緊 after a verb indicates continuing or progressive action: so we have ji6 gan2 食緊 ("eating"), jam2 gan2 飲緊 ("drinking"), zou6 gan2 做緊 ("doing"), se2 gan2 寫緊 ("writing"), fan3 gan2 瞓緊 ("sleeping"), heoi2 gan2 去緊 ("going/leaving"); and compare heoi2 leoi5 haang4 去旅行 ("go on a vacation") with heoi2 gan2 leoi5 haang4 去緊旅行 ("during a vacation"). In MSM 緊 is pronounced jǐn and means "tight, taut, close" (i.e., it has nothing to do with continuation or progression as it does in Cantonese).
When there is only a verb, gan2 緊 will be placed right after it, but if you need to denote an object (direct or indirect), gan2 緊 will be inserted between the verb and the object, hence, you have heoi2 gan2 leoi5 haang4 去緊旅行 ("while you are travelling", as indicated on the Blackberry ad), or daa1 gan2 maa4 zoek3 打緊麻雀 ("playing mahjong"),jau4 gan2 seoi2 游緊水 ("swimming"),ji6 gan2 faan6 食緊饭 ("eating"), and so forth. Gan2 緊 is the most common particle for indicating the progressive form (it may be the only one, since I can't think of any other way to indicate the progressive in Cantonese). Cantonese V + gan2 緊 [Verb + progressive marker] is equivalent to Modern Standard Mandarin (MSM) zhèngzài 正在 zheng4 zai4 + V.
In Cantonese, the particle zung6 仲 means "still, even", as in ngo5 ji5 ging1 tung4 nei5 gong2 zo2 hou2 do1 ci3, nei5 dou1 zung6 hai6 gam2 zou6 我已经同你讲咗好多次,你都仲係咁做 ("I have already told you many times, but you still do it this way"). The character zung6 重 is also used to write this Cantonese morpheme indicating "still, even" as well. Cantonese Adv. zung6 仲 ("still, even") functions more or less equivalently to MSM hái 還. In MSM, 仲 is pronounced zhòng and means "second among three brothers; mid-, intermediate". It is completely unrelated to the Cantonese particle zung6 signifying "still, even".
The most obvious indication that the sentence under discussion is Cantonese and not Mandarin is the copula hai6 係, which contrasts sharply and unmistakably with MSM shì 是.
To conclude, even when written in Chinese characters, a Cantonese sentence like 去緊旅行仲可以日日update,至勁係你 is not fully intelligible to a Mandarin speaker because of the distinctive lexical items and grammatical constructions it contains. When pronounced aloud in Cantonese, a sentence such as the one under discussion is totally incomprehensible to a speaker of Mandarin. Curiously, Chuck Cook's wife's cousin, who is a native speaker of Cantonese and who is fluent in Mandarin, got tripped up by the latter part of the sentence. I dare say that, if the cousin had heard that part of the sentence spoken in Cantonese (zi3 ging3 hai6 nei5) rather than merely seeing it written in characters (至勁係你), the cousin would probably have understood it without any difficulty.
[With a tip of the hat to Mandy Chan, Abraham Chan, Bob Bauer, Don Snow, Genevieve Leung, and Wicky Tse]
---