« previous post | next post »
Promoted from a comment on yesterday's post "How Mubarak was told to go, in many languages", this is a protest sign from Italy showing Silvio Berlusconi getting the iconic Italian boot: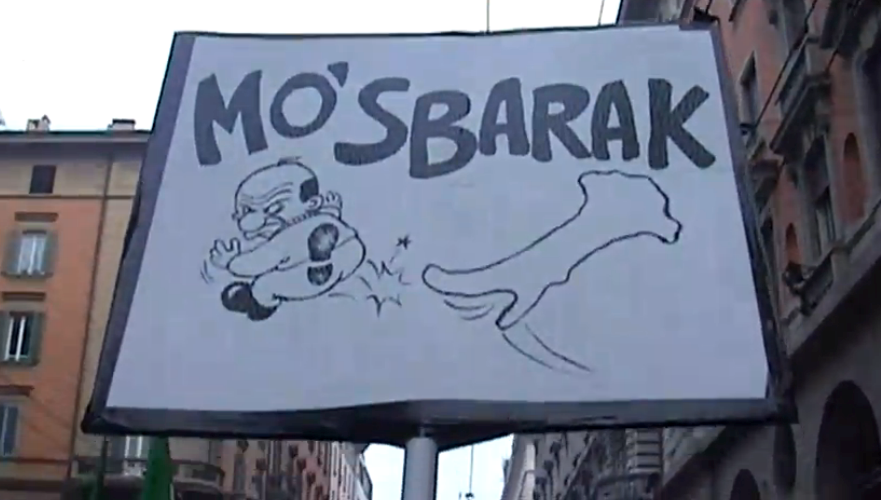 That's a screen capture from this video:
I believe that this involves a form of sbarcare "to disembark", preceded by the regional mo "now".
In more standard spelling it would be something like "Mo' sbarca", with the final '-a' in "sbarca" subject to the apocope that affects some final vowels in some varieties of Italian. As far as I know, the epenthetic 'a' between the 'r' and the 'k' is there purely in service of the witticism — though it would be even wittier if this were in fact an appropriate form of eye-dialect for some kinds of colloquial Italian.
(Those who actually know Italian are invited to correct or extend this analysis…)
Update: as several commenters have pointed out, I was wrong. The verb is apparently sbarracare "clear out", and so the imperative in conventional spelling would be "sbarraca". The final -a is subject to apocope, as I said –and both of the a's in the sign belong there!
Courtesy of Fabio M. in the comments,  the same slogan with a different image from a protest in Bari: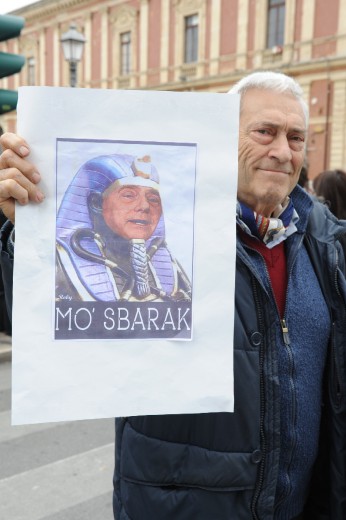 [And just in case you're wondering why Italians are waving signs about their prime minister…]
---